NEWS
Exes Brad Pitt And Jennifer Aniston Recreate Steamy Scene During Zoom Reunion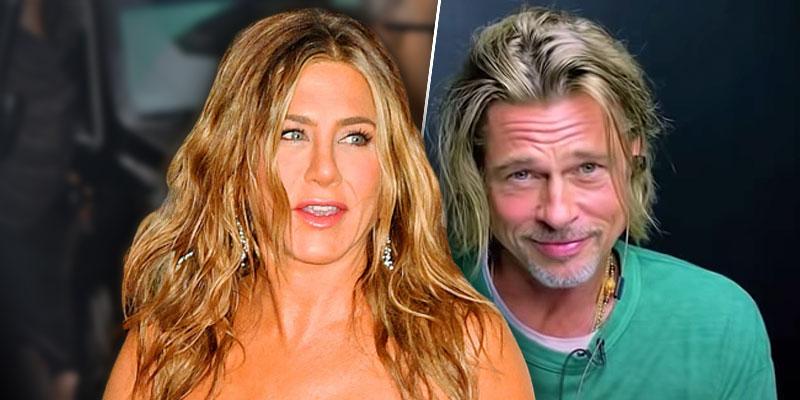 Former couple Brad Pitt and Jennifer Aniston reunited on Zoom on Thursday, September 17, where they read through the 1982 teen movie Fast Times at Ridgemont High.
Pitt, 56, and Aniston, 51, took on the roles of high school students Brad Hamilton and Linda Barrett, respectively, during the reading, which featured other A-list stars. The virtual event raised money for two charities — emergency relief nonprofit CORE and REFORM Alliance, which helps people who are stuck in the criminal justice system.
Article continues below advertisement
"The incredible Linda Barrett's breasts fall loose, lord have mercy," he added. "She takes Pitt's hands and places them on her as she begins unbuttoning his shirt. They're just about to fall into passionate lovemaking when …"
The Ad Astra star couldn't help but blush and laughed about the awkward scenario. "Doesn't anybody f–king knock anymore?" Pitt said while in character.
BRAD PITT AND ANGELINA JOLIE QUIT FAMILY THERAPY AMID ONGOING CUSTODY BATTLE
Article continues below advertisement
Fellow cast members, including Matthew McConaughey, Sean Penn, John Legend and Julia Roberts were giggling throughout the scene.
However, Aniston, who was wearing aviator-style glasses, remained calm and committed throughout the interaction.
ANGELINA JOLIE HITS BACK AT BRAD PITT'S NEW GF BY TAKING KIDS TO NOBU, 'KNOWS EXACTLY WHAT SHE'S DOING'
In the beginning of the reading, Pitt gave a shout-out to his ex-wife, saying, "Hi Aniston." She replied, "Hi Pitt. How you doing honey?"
Of course, Twitter went crazy over the handsome hunk and Friends star reuniting. "Brad Pitt and Jennifer Aniston are singlehandedly saving 2020 for me," while another echoed, "This will definitely stop everyone obsessing over Brad and Jen reunions. #FastTimesLive."
Fast Times Lives was presented by Snack Pop featuring Oreo Cookie Pop and Twix Candy Pop. The popcorn brand is matching $25k donation to Core Response through the end of September on snackpop.com.
Pitt and Aniston met in 1998 and got married in 2000 but called it quits in January 2005. The handsome hunk went on to marry Angelina Jolie, but they split in 2016. For her part, Aniston married Justin Theroux in 2015 but got divorced in February 2018.
Earlier this year, Aniston and Pitt caused quite a stir when they had an adorable interaction at the SAG Awards. Pitt held onto Aniston's hand as she walked away. Despite no longer being together, fans are still holding out home that they will rekindle their romance one day.