NEWS
Angelina Jolie Hits Back At Brad Pitt's New GF By Taking Kids To Nobu, 'Knows Exactly What She's Doing'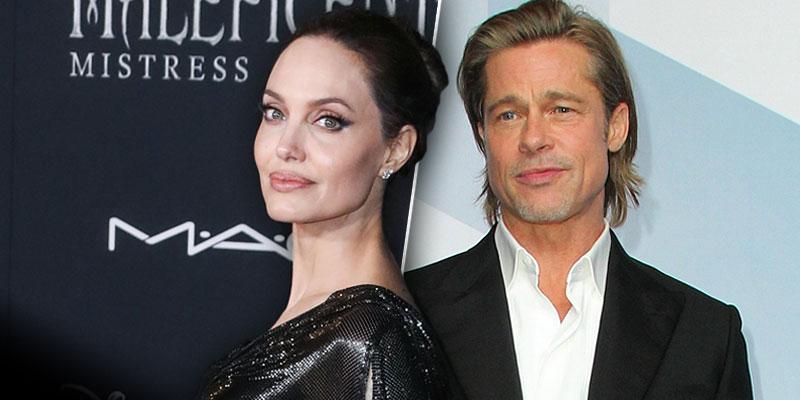 Angelina Jolie refuses to disappear as Brad Pitt and his new girlfriend, Nicole Poturalski, make headlines, which is why Jolie, 45, is stepping out in style, putting on a sidewalk runway performance amid the pandemic. The actress was spotted with her six kids — Maddox, 19, Pax, 16, Zahara, 15, Shiloh, 14, and 12-year-old twins Knox and Vivienne — at Nobu last week, where they enjoyed a family dinner.
Article continues below advertisement
"Angelina is only caught by photographers when she wants to be. She couldn't stand the fact that Brad and his new love were in the news, which is why she decided to step out and take all of her six children to dinner, wearing a red-carpet worthy glamorous silky gold dress from Brunello Cucinelli. This is cynical Angie. No on knows more than Angie that a picture is worth a thousand words. She communicates through photographs, this is how she announced she was pregnant too! While Brad is photographed sneaking around France having a dirty weekend away with his new, young, married girl of the moment, Angie is reminding everyone that she is a fabulous mother of six," sources tell "Naughty But Nice With Rob" podcast.
ANGELINA JOLIE ENJOYS A FAMILY DINNER WITH KIDS AT NOBU AMID BRAD PITT DIVORCE DRAMA
"Of all the restaurants Angie could have gone to in Los Angeles, she went to Nobu. This place is a photo-op that happens to serve food. The only reason stars go there is to be seen. Angie knows exactly what she is doing," adds another insider. "Expect to see a lot more of Angie and the kids doing amazing work with the homeless and puppy shelters as long as Brad keeps getting spotted with his new lady."
Article continues below advertisement
The Ad Astra actor flew into Paris from LAX, while the model "was already in Paris, waiting in the Air France lounge for Brad when he flew in from LAX," the insider added of their meetup.
To make matters worse, the Salt actress was not happy with Pitt's plans to fly to their French estate. "If Brad wants a weekend of sex with his new fling, get a cheap motel like everyone else does. It is outrageous that he has taken her to the family home for a dirty weekend. This is the place where Brad and Angie got married and raised their kids, he couldn't find somewhere else to hook up with his latest squeeze?" friends of Jolie asked OK! "Their Côtes de Provence estate is stuck in custody limbo because the place is very special for both of them and neither wants to give it to the other."
Article continues below advertisement
NICOLE POTURALSKI'S HUSBAND SPOTTED FOR THE FIRST TIME LOOKING DISTRESSED AMID BRAD PITT ROMANCE
"This place was meant to be for the kids future, not as Brad's personal love nest. Angie is livid and this makes her want to fight even harder in October when the two of them next see a judge," added a pal.
Meanwhile, Pitt is ready to "move on" from all of the drama with Jolie. "Brad knows he's taking a risk now that his new girlfriend isn't a secret anymore, he knows Angie can be jealous and spiteful, but for god sake, enough is enough. He deserves to find a little happiness too," added a pal.