NEWS
Brooke Mueller & Charlie Sheen Are Moving Back in Together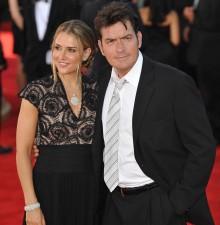 Charlie Sheen and his wife Brooke Mueller will move back into their Los Angeles home together after nearly six weeks of separation.
Brooke's attorney Yale Galanter told E! News that his client got "everything she wanted today" after the couple's Feb. 8 court date.
OK! NEWS: CHARLIE SHEEN TALKS ABOUT EARLY MORNING CAR CRASH
"Brooke's desire was to get the order modified so they could have contact and communicate because of their children," said Galanter. "Judge Boyd was gracious enough to grant that and now Charlie and Brooke are on their way back to L.A. to continue their lives."
Article continues below advertisement
Article continues below advertisement
The couple are parents to twin sons Bob and Max, who will turn one the day before their father's arraignment.
"I know the kids are very well taken care of, better than most," Galanter assured us. "They're only 10 months old but they look great and they're doing great."
OK! NEWS: CBS CLAIMS CHARLIE SHEEN IS "DOING WELL"
As for an inquiry made by child services in L.A. and Aspen, Galanter reiterated, "Those types of investigations when domestic-violence-related charges come up are very standard so it's nothing out of the ordinary."
The attorney stressed that Brooke wants to return to normality.
OK! NEWS: BROOKE MUELLER DENIES GOING TO REHAB DURING PREGNANCY
"This girl has been through hell and back since December 25th," Galanter said. "The assault on the 25th, not being able to get the order modified, wisdom teeth surgery, an infection that went into her blood stream, develops pneumonia, then she just wants to get out and take a couple of days to herself and all these rumors start flying about drug rehab."
Article continues below advertisement
Charlie was allowed to see Brooke when she was hospitalized.
OK! NEWS: CHARLIE SHEEN ALREADY CRACKING JOKES ON SET
"She was thrilled to see him," Galanter told E! News. "When someone is as sick as she was, getting the dire prognosis she was, all the support she could get was well received."
Charlie moved back into their L.A. home to be with the kids after Brooke was released from the hospital.
She and her mother went to North Carolina to rest up at a secluded treatment facility, prompting the speculation that she was in rehab.
"They did a lot of pilates, a lot of yoga, massages, ate well," Galanter said. I think she feels much better, she looks great. She has that healthy glow about her and is doing really well."