NEWS
Darren Criss On His 'Glee' Crush, Playing a Gay Character & His 'Cabaret' Dreams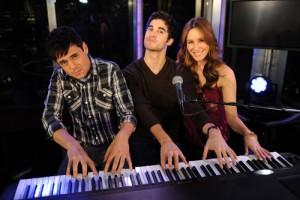 Darren Criss already made headlines by getting Glee's first No. 1 song. And on Nov. 30, after he serenaded the audience at MTV's The Seven, the curly-haired cutie sat down for a private Q&A with reporters. We've broken down the top seven things Darren revealed to help you get to know Glee's newest rising star — plus videos of his performances and interview on The Seven!
OK! GALLERY: DARREN CRISS COVERS "PART OF YOUR WORLD" FROM LITTLE MERMAID!
Article continues below advertisement
1. He's incredibly humble
When asked about his cover of Katy Perry's "Teenage Dream," Darren evaded taking any credit for the wild success of the chart topper.
"I think the large part of the success of that song has very, very little to do with me. I think it's a great song already. Like it or not, it'll never leave your head," Darren said. "I think it fed into the appetite where people in the second season are starting to look for something new and interesting, so it kind of hit that mark."
The star continued modestly, saying that it was the attachment to a great character, arrangement and the mass amounts of guys in blazers that really skyrocketed the song. "I'm this tiny grain of sand at the top that gets to be the kind of face of it," he said.
2. He has very diverse musical tastes
A self-described "musical mercenary," Darren talked about his interest in musicals, folk, pop, Motown and American icons like Cole Porter and Nat King Cole. But Darren also revealed that he has some quirky favorites as well that he would love to cover on Glee.
Article continues below advertisement
"I keep hearing 'Love is A Battlefield' on the radio and I keep thinking how cool of a song that would be to sing," Darren told reporters. "But my other dream is I'd love to be the emcee from Cabaret at some point. So if they decide to open up Season 3 with Blaine singing 'Willkommen' for no apparent reason, I'd be cool with that."
But when it comes to the style of his future full-length album, there's one thing Darren is certain to stay away from: "No Gaga," Darren admitted. "As much as I would love to make a record like her, I'm not her."
OK! NEWS: DARREN CRISS ON 'GLEE' GUY ROMANCE: "I TRUST THE WRITERS"
3. He's as in the dark as we are!
Everyone's wondering whether Blaine will go from Kurt's mentor to something more — even Darren! When asked about how much he knew about the plans for the future of Blaine and Kurt (or perhaps Blurte for short?), Darren insisted, "I don't know anything. Ever."
The star revealed that while he believes the writers do have a basic plan for the couple's future, it all could change depending on audience reactions. Darren doesn't seem to mind being kept in the dark, though.
Article continues below advertisement
"The cool thing about that is that as a fan, I'm consistently surprised just like everybody else, cause I don't know a thing," Darren said. "If you know anything, let me know."
OK! NEWS: KATY PERRY ON DARREN CRISS: "HE'S AMAZING"
4. There's nothing he can't do
Darren wowed OK! when he told us about his many musical talents. "I play mostly guitar and I played drums in my brother's band for a while growing up. And I grew up playing the violin. That's basically how I've expanded to other musical endeavors. That's all from my violin training. I played for 10, 15, something like that years."
But that's not all Darren can do! "I play a mean kazoo. And a harmonica — if I have enough alcohol in me," Darren admitted to OK!. "Not that I condone drinking and playing harmonica, because it won't sound good at all."
OK! NEWS: DARREN CRISS CELEBRATES HIS SIGNED 'GLEE' DEAL WITH 'HARRY POTTER' PREMIERE
5. He's straight!
Sorry, boys! The babe behind Blaine is, in fact, straight.
"I am no more an out and gay teen than Max Adler is a homophobic bully or Heather Morris is a ditzy cheerleader. We're all actors serving a story," Darren told reporters.
Article continues below advertisement
Though, the star was quick to add, "I think it's high time for a character like Blaine on network television, much less Fox. I would take the role anyways because, you know, as an actor you need a job, but the bonus is that it is such a great character — I'm getting goosebumps — and a character that I truly believe in... So I'm very privileged to be the vessel of that."
OK! NEWS: DARREN CRISS' "TEENAGE DREAM" COVER NO. 1 ON ITUNES
6. He has a crush on cast-mate Heather Morris
"I think everyone has a cool crush on Heather Morris simply because she's so amazing at everything she does. She's the one-line mistress and she also is just a fantastic dancer and everyone just wants to hang out with her and be her basically. And by that, I mean me," the star admitted, laughing. "We all just adore her because she's so talented and very, very humble and just a very wonderful person."
Article continues below advertisement
OK! NEWS: 'GLEE' CAP: NEW DIRECTIONS GETS A "SPECIAL EDUCATION"
7. He has a huge heart!
Darren's character on Glee had to transfer schools because of bullying. While the actor may have personally avoided those issues growing up, he spoke to OK! about the importance in recognizing bullying as a serious endemic and how his own experiences have affected his portrayal of Blaine.
"I was very, very blessed," Darren told OK!. "And I recognize that I'm an extreme minority in the country. I've always had a very, very loving support system, both in school and at home, and I think the important thing to recognize about that is that is not always normal."
"I think that's something I always try to bring to the character," Darren continued. "And you know, maybe I kind of relate to Blaine in the sense that I do carry somewhat of a survival guilt. I think he feels that in the sense that he got to run away from this problem and now there's this utopian society where its cool to be anything and anyone. And it's almost too perfect. Sometimes I feel that way about the people that have reared me and have been such a great environment. It's always important to recognize your situation and not take it for granted."
Article continues below advertisement
"So no, I never really had that," he continued to OK!. "But it existed in so many ways and forms and it's not a new issue and it's not just exclusive to the gay-straight thing. It's something that I witnessed growing up and had to deal with as a friend. So I do feel like I've been afflicted in the sense that I've had to watch it happen and it's really a terrible thing. And I guess I've tried to bring that to the character."