NEWS
Demi Moore's Shocking Weight Loss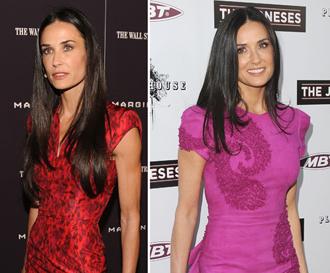 For years, from those nude Vanity Fair covers to her recent, revealing Twitter posts, Demi Moore has used her body to get noticed. And so it's fitting, perhaps, that as her six-year marriage to Ashton Kutcher disintegrates in the wake of his humiliating, Hard Rock Hotel hot tub affair with Sara Leal — a woman half her age — the 48-year-old ex-Brat Packer is reverting to form.
Article continues below advertisement
Only this time, it's a cry for help: Sources tell OK! that as Demi's weight hovers around 90 pounds — on a 5-foot-5 inch frame — friends fear she is literally starving herself for attention, subsisting almost entirely on cigarettes and energy drinks.
OK! has the scoop in this week's issue!
"She's feeling really abandoned and what she needs more than anything is to feel loved," one insider tells OK!. "But it seems the only form that love is taking right now is sympathy — so Demi is kind of courting that. The fact that she's so skinny has everyone clamoring around her and that's the only comfort she has right now."
OK! NEWS: ASHTON KUTCHER POSTS VIDEO ADDRESSING "HONESTY IN PUBLISHING" AMID AFFAIR RUMORS "Demi hasn't sat down and had an actual meal since this whole thing started," the insider adds. "She'll make a salad, and try to eat it, but she'll wind up having a few bites then putting it back in the fridge. When she does eat, it's some kind of sugary snack, like a cookie or something. Most of the time, she's so sick to her stomach, the last thing she's thinking about is food."
FOR MORE ON DEMI'S SHOCKING WEIGHT LOSS, PICK UP THIS WEEK'S ISSUE OF OK! ON SALE EVERYWHERE NOW!