NEWS
Derek Hough's DWTS Blog: Dancing to Finale & Partying Along the Way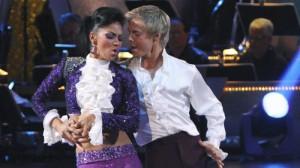 Dancing With the Stars pro Derek Hough has teamed up with OK! to update you every week as he attempts to turn his partner Nicole Scherzinger into a ballroom champion!
DEREK HOUGH'S DWTS BLOG: DANCING TO A PERFECT SCORE IN PASO DOBLE
Hi, everyone, and welcome to my OK! blog for Dancing with the Stars!
Well, what an exciting time as Nicole and I made it to the grand finale next week. Woo hoo! I really feel this has been an amazing season for everybody — starting with getting a great cast, production stepping up their game, and the high ratings that followed. Nicole and I are a great team and it's been an absolute joy. We've shared tears and fears and all the moments and now it's just one more week. We've been very consistent. With Nicole's level of dance, we could quite easily phone it in, but we've pushed each other. We both wanted to do things that people would remember — like, "Hey, did you see that dance last night?" I feel like we've done that. Whatever happens next week, we'll feel like we've accomplished entertaining people every time out.
Article continues below advertisement
OK! NEWS: NICOLE SCHERZINGER — PRINCE INSPIRED ME TO DANCE!
On Monday night, our tango really came together nicely. I was a little worried about it because my neck strain meant I couldn't practice it properly. But Nicole stepped it up and we were able to work around my injury. And what was most wonderful was Monday night was the best we'd ever danced that tango. We had mess ups in rehearsal, but on performance night, we nailed it. It wasn't just the judges' kind comments but the audience's response — they gave us a standing ovation and it got really loud. The perfect 30 for it was awesome, of course, but the roar of the crowd? Priceless.
OK! NEWS: TOM BERGERON SAYS BETTY WHITE IS TOO OLD FOR DWTS
The cha cha was really special because Prince cleared his song "Kiss" for us to dance to. Prince said it was for Nicole and Nicole only, which was really cool. He's an idol of Nicole's. We had fun with the cha cha. We got a 29, probably losing a point because we used a chair in the beginning and Judge Len Goodman isn't a fan of props.
As you saw on the show, I had a strained neck before performing in the semifinals. I have things happen to my neck all the time. For some reason, it's a weak point where I often get injured. It hurt like crazy. I had been saying nothing had happened to me this season, which kind of jinxed it because that's when I had the neck problem — crack! Oh, shoot, the semifinals, not good. But I got the best help I could — I went to an NHL hockey physical therapist who worked it out, iced it for 20 minutes and it freed up. It's a miracle. Now I feel great.
Article continues below advertisement
OK! NEWS: PAMELA ANDERSON SAD TO LEAVE DWTS
Monday night, I also celebrated my 25th birthday. I've never been wished happy birthday so much in my entire life, ever. Everybody on the show, the entire audience sang happy birthday to me during a commercial break. And the icing on my cake was our great dances and scores. After the show, I celebrated at a club with friends like Mark Ballas; I blew out some candles and took a few pictures but I went straight home and went to bed by midnight. Nicole didn't come with me to the club because her boyfriend Lewis Hamilton surprised her by flying in from Monaco so she wanted to spend the time with him. But I laughed so hard when she gave me her gift — a hand towel with the phrase "Sweet Sweat" on it. It's a joke between us because yes, I do sweat a lot during all our rehearsals. Hey, dancing's hard work!
OK! NEWS: TONY DOVOLANI DISHES ON KATE GOSSELIN POST DWTS
In fact, Nicole and I decided to go rehearse right after we learned we'd made it into the semifinals on Tuesday night, just to get the ball rolling. We're dancing rumba and our freestyle this Monday night and two other dances on Tuesday night. It's crazy; we have a lot to do. We're going to practice even more this week than ever and give it everything we have.
Thanks for all your votes, guys, and please tune in and vote again on Monday night! It would be so sweet to hold that mirror ball trophy again!
Derek