NEWS
DWTS Watch: And Then There Were Three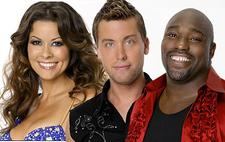 What a shame — Hannah Montana star Cody Linley won't get to see his pal and co-star Miley Cyrus sing at next week's Dancing With the Stars finale — or at least not as a contestant — because he didn't make the cut in this last, critical semifinal week.
At only 18 years of age Cody was the show's youngest-ever competitor— but his adorability couldn't save him from leaving DWTS in fourth place. On Monday night, he received the lowest cumulative score of the night — 46 out of 60 — for his paso doble and salsa with partner Julianne Hough, who came back from appendix surgery to dance with him on Monday.
Article continues below advertisement
Breaking into tears after his elimination and taking time to compose himself, the actor, who will indeed be on hand for Miley's performance, along with all the other eliminated stars — told OK!, "I'm totally getting emotional. I never expected to do this well. I'm proud of myself. It's my goal in life to give 100 percent in everything I do and I felt like I totally did."
Continues Cody, "I look back proud, confident, and excited for the future. I feel blessed and thankful to have walked away from this competition with a true gift that I received from Julianne, from ABC, and the fans especially. "
Cody, who celebrates his 19th birthday on Thursday, has lots of plans: "I'm extremely excited to see where I'm going from here. I'm going home for Thanksgiving and Christmas, hanging out with my family, eating as much food as I can because I've been losing weight on this show."
Then, his character Jake returns to Hannah Montana in a Dec. 7 episode and he's looking forward to fans seeing his starring role in the independent horror film Forget Me Not, set to be released next year.
Article continues below advertisement
"It's really scary and cool. It's a totally new side of me you've never seen before," he said. Additionally, Cody is playing the role of Jesus in The Word of Promise, an audio version of the Bible read by celebrities.
Will he dance again? Maybe. Cody did tell OK! his Hannah Montana schedule might allow him to drop in on the DWTS nationwide tour, which runs Dec. 17 through Feb. 8.
Partner Julianne, who has also been pursuing a country music career, is going to tour in support of her new Christmas album for Target.
Now the final three couples — Warren Sapp and Kym Johnson, Lance Bass and Lacey Schwimmer, and Brooke Burke and Derek Hough — move on to next week's pressure-packed finale, in which they'll each perform a freestyle routine, their favorite dance of the season, and a group samba number.
"It's such a relief," Lance said about making it through. "We're focusing right now and we're about to put our game faces on. We have a week left to really kill ourselves. I think we're well on our way to getting this trophy."
Article continues below advertisement
Lacey revealed their freestyle dance will be in the hip-hop style: "It's his background, my background, we'll make it fun and fresh for the audience."
Brooke told OK! of going to the final, "It's huge. We put so much time and soul and hours into this, it really means a lot to me, to open myself up to doing something I'd never done before, take on the challenge and be rewarded like this. Derek has taught me so much—he's an amazing friend and teacher."
They plan to "take some chances," in the finale, Brooke revealed. "I might fly off the balcony!" Derek elaborated, "I'm going to be doing tricks I've never done before in my life. It's my first final and I'm going all out."
By Carole Glines