NEWS
'DWTS' Watch: Nicole Scherzinger Wins, Kate Gosselin Comes Last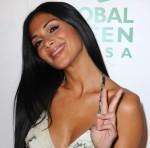 Nicole Scherzinger and her partner Derek Hough ruled Dancing with the Stars on Monday night with an explosive tango that received a near-perfect score of 29 out of 30.
But after having a breakthrough last week, Kate Gosselin, who has been the most talked about celebrity of season ten, was mired in last place as she and pro Tony Dovolani only got 15 points — and a tongue-lashing from the judges.
Article continues below advertisement
DEREK HOUGH'S DWTS BLOG: REVVING UP FOR THE RUMBA
On week five of the competition, all the DWTS couples were required to perform to movie theme songs. And it was Nicole and Derek who made the concept work best for them, as they performed to Roy Orbison's "Pretty Woman" in their dramatic dance based on the Julia Roberts' hit film.
After the show, Nicole told reporters, "Derek is a great partner. I have him to thank for that." She said, "I'm definitely going to go home and watch it. I always do that — what do I need to fix for next time?" Well, according to the judges, not much, as only Len Goodman marked them down by one point.
OK! NEWS: KATE EXPLAINS WHY SHE STAYS IN THE SPOTLIGHT
In their rehearsal footage aired on the show, Nicole and Derek were shown shopping in Beverly Hills, Pretty Woman style, and she said, "I came from such humble beginnings and now it's really nice to go wherever I want to go. I'm really having a good time with it."
At the other end of the spectrum, Kate and Tony's foxtrot to "Don't Forget About Me" from The Breakfast Club had the judges shaking their heads. Judge Bruno Tonioli described her dance as "catatonic" and Len said it was "not really a dance, a stroll."
Article continues below advertisement
OK! NEWS: KATE GOSSELIN: "I BELONG WITH MY KIDS"
Bizarrely, judge Carrie Ann Inaba thought the former Jon & Kate plus 8 star's performance was like the drone of the Charlie Brown cartoon adults — wa wa wa.
After the show, a visibly upset Kate told OK! "let's just say my kids will be turning off the TV before the judges' comments. It's getting to me, I have to say, but it doesn't knock down my determination.
OK! VIDEO: KATE DISMISSES JON'S "ABSENTEE MOM" CLAIMS
"They can knock me down, I'll get back up. I've been knocked down a lot in life and I just kept getting up. I have my little meltdowns here and there but my determination stays."
Tony said: "Considering how exhausted she was, I thought Kate did an incredible job for me. I was very pleased at her on the dance floor — she was present, she smiled. Every week, she's shown me an improvement.
Article continues below advertisement
OK! NEWS: TOMMY LEE SHOWS PAMELA ANDERSON SOME DWTS LOVE
"From a teacher's perspective, it's a little frustrating when the judges," he paused, then continued, "it's almost like we have a scheduled beating. They knock her down then they tell her to come back the next week with confidence. How are you supposed to do that? We're a little down right now."
The mom of eight insisted although the judges didn't recognize it, her new lightness showed on the dance floor: "I was out here having fun and I didn't stress all day."
OK! NEWS: EVAN & ANNA GO FOR GOLD; CHAD WOOS CHERYL
While Kate and Tony licked their wounds, Evan Lysacek and his pro Anna Trebunskaya were enjoying being in second place Monday night with 27 for their rumba.
The judges raved about their dance to the tune from the movie Armageddon, with Carrie Ann particularly touched by their "beautiful, tender sophistication. "We're really happy and excited, it's our highest score yet," the ice skater told OK! backstage.
Article continues below advertisement
OK! NEWS: BROOKE BURKE PICKS HER DWTS FAVORITES
"We're relieved we pulled it off because we've always had fast, happy, spunky, upbeat music so something slow was different for us." Evan confided that their fans requested a romantic dance, so they were delighted to deliver the goods.
Jake Pavelka and his partner Chelsie Hightower's cha cha excited the crowd as the former Bachelor appeared in his underpants to play out the famous Tom Cruise scene from Risky Business.
OK! EXCLUSIVE: 'DWTS' - HOW THEY GOT FIT
Jake told OK! of shaking it to the song "Old Time Rock and Roll," and getting a strong score of 23, "I was 50 percent naked. When Chelsie approached me with the idea I was like, that could be really cool.
"When I took the robe off, everybody started to cheer and it was a big burst of energy. I've never done anything like that and it helped me be in the moment."
Article continues below advertisement
OK! NEWS: SHANNEN DOHERTY ON DWTS ELIMINATION: "IT'S FATE"
His fiancée, Vienna Girardi, who was in the audience, told OK! "I didn't know he was going to be in his tighty whiteys! It was sexy, but he'd be sexy in a potato sack."
Erin Andrews and Maksim Chmerkovskiy channeled the movie Pulp Fiction with a Chuck Berry themed jive that got a score of 22. Judge Len told Erin it was "a little bit hectic but a really good job."
OK! EXCLUSIVE: THE LAST WORD WITH CARRIE ANN INABA
The other jive-ing couple, Niecy Nash and partner Louis Van Amstel, showed a lot of personality in their dance but got only 18 out of 30. Judge Carrie Ann, however, praised Niecy as "the shimmy queen."
Backstage, Niecy told OK! she was feeling upbeat because "the circus came to town this week," meaning her family, some of whom have worked as carneys in the past. Louis said what viewers didn't see on TV was how he taped his chatty celebrity's mouth shut with duct tape so they could actually get some rehearsing done!
Article continues below advertisement
OK! NEWS: ERIN ANDREWS ON DWTS: "THERE WAS BLOOD ON THE DANCEFLOOR"
The season's most surprising dancing star, Pamela Anderson, wasn't as accomplished as last week. She and partner Damian Whitewood got a 21 for their quickstep set to the tune of Dolly Parton's "Nine to Five" from the 1980 movie of the same name.
Judge Len thought the couple used too many props — like a desk and a typewriter — in their dance about a boss and secretary. "I just like being onstage in front of everybody," Pamela told reporters later. "There's a real thrill about it."
OK! NEWS: THE DWTS CAST: WE ALL LOVE KATE GOSSELIN
Chad Ochocinco and dance pro Cheryl Burke performed a quickstep to "Bare Necessities," from The Jungle Book, and garnered a score of 18 with Carrie Ann calling it "strange, uneven," and Bruno clucking that Chad's "frame was terrible."
In rehearsal footage, Cheryl was shown getting emotional under the pressure of teaching Chad — and the football star trying to find out what was wrong. After the show, Chad told OK! "It was really confusing. I didn't know her. She just wanted to be serious this week. That's all it was."
OK! NEWS: PUSSYCAT DOLL NICOLE WALTZES TO FIRST DWTS WIN
Meanwhile, Cheryl sighed of the judging, "I wish they would have given him more credit for the complicated steps."
But now that the fancy footwork is done, it's up to the voters. Tune in Tuesday night to see if Kate's low score will mean elimination — or if the end comes for a different celebrity!
By Carole Glines