NEWS
EXCLUSIVE! What It Was Like to Be in the Same Room as Emma Stone and Ryan Reynolds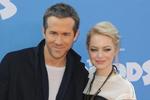 Thursday, March 7 was a cold, snowy day in NYC, but NOTHING was going to stop me from going all the way uptown for a chance to stare, uh, I mean, hang out with Ryan Reynolds and Emma Stone at the press conference for The Croods. Fine, "hang out" is sort of a strong term too, but still, I was offered the chance to attend the press day, which meant I'd be literally within feet of Ryan, Emma, co-star Nicolas Cage (NBD) and the films' two directors, so needless to say, I was in. So I went, survived the slush, and lived to tell this tale of star-struckness to you. So read on for my first-hand account. It's pretty juicy.
Article continues below advertisement
Photos: Get Emma Stone's Makeup from The Croods Premiere
First, I checked into the press conference at the Ritz Carlton hotel and got escorted into this big, open room with 20 or so other reporters. Everyone else was talking about how good the food was at the hotel, so, mental note—hit up the craft services table on my way out.
We were sitting there for about 10 minutes or so until a publicist came in and told us that the talent would be in in about 5 minutes. So we all put our voice recorders on the front table, hit play, and just waited. Waited for the hotness that is Ryan Reynolds to take his seat with everyone else in the front of the room.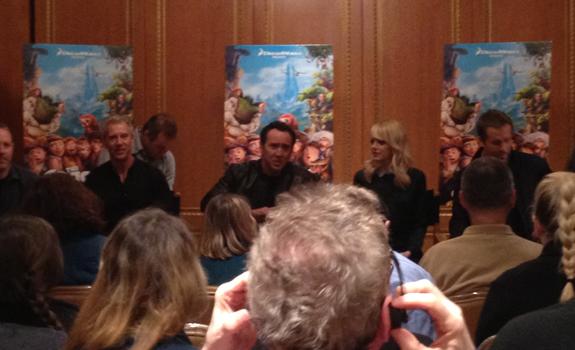 Then, you guys, the moment was upon us. Five people came in and took their seats up front. From left to right sat the film's two directors, Kirk Demicco and Chris Sanders, then Nic Cage, then Emma Stone, then Ryan Reynolds.
Photos: Ryan Reynolds is OK! Hottie of the Day
Reporters started firing away with questions, some great, some meh. One of my favorites was when one journalist asked Emma if she agreed that Eep, her character in the film, was one of the hottest animated female characters, to which she said, "She's the sexiest babe in animation? Who knew?" So humble, that Emma.
Article continues below advertisement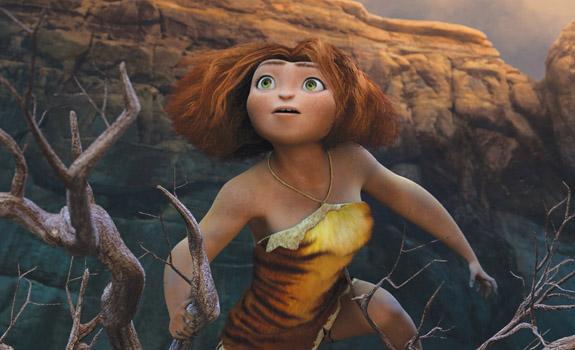 OK! News: Read Our Review of Spring Breakers
Later came questions and answers about the film, like what the balance was between it being a kids' vs adults' film, what it was like to make the sounds of their characters in the voice booths, and more. Nic cage also told us an interesting tidbit about how this animated film was the perfect first one for him to do. He said that he didn't want to do Shrek because he didn't want to look like a green ogre, but Grog, his Croods character, was a better fit. So does that mean Nic originally got offered the part of Shrek over Mike Meyers? Looks like it, folks. You learn something new every day.
As for what the cast would want for their characters if there were to be a sequel to the film, Ryan's response was classic. "I'd like a shirt. Just draw a shirt!" His character, Guy, is shirtless throught the movie, so his request is a valid one.
OK! Exclusive: What It's Like to Be in the Audience of Watch What Happens Live
Then someone asked what the cast would miss the most if they actually lived in pre-historic times like the Croods did, and Ryan said, "Penicillin. Antiobiotics. Top THAT, Stone." Stone totally topped it, replying with "I'd miss flushing toilets." Gosh, I just love that girl.
Article continues below advertisement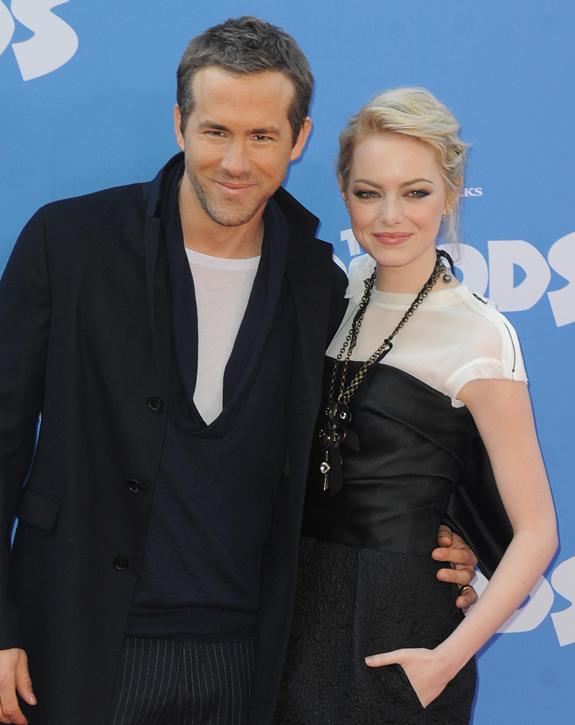 The whole time was pretty much back and forth between reporters in the audience and the talent on stage, but something that I need to mention is that Emma's answers sorta like, piggy-backed off everyone else's. Sure she's got tons to say and whatever, but a lot of her responses to questions were, "Again, I agree." By the end where she had said that a few times already she laughed and kinda realized it, but the audience laughed too because EVERYONE LOVES YOU, EMMA! It's fine!
22 minutes later (give or take) and the whole press conference was over. Everyone rushed out of the room, and mind you, us regular folk were mushed in with the famous folk as we all walked out, so I pretty much could've touched Ryan if I wanted to. OF COURSE I wanted to, but I didn't because I could've gotten arrested. That would be bad (but also maybe kinda worth it?).
OK! Exclusive: 8 Things We Learned Sitting in The Audience Of The Soup
Article continues below advertisement
I almost got into the elevator back up to the lobby with Nicolas Cage but I got scared (like, what is there even to say to him when you're alone for 2.7 seconds?), but instead ended up in an elevator with the film's two directors. I was still scared but didn't realize until it was already happening, so I went along with it and overheard their conversation to the publicist about how much fun they had during that conference and how they hoped it was being recorded. Then as I was walking out of the elevator, I said "It was a really great movie. I really enjoyed it!" and waved. Both Kirk and Chris were SUPER nice and genuinely thanked me and appreciated my compliments, so I didn't regret that I said anything to them even though they're famous and I'm not. I feel like it would've been weirder had I just stood there the whole time in silence, ya know?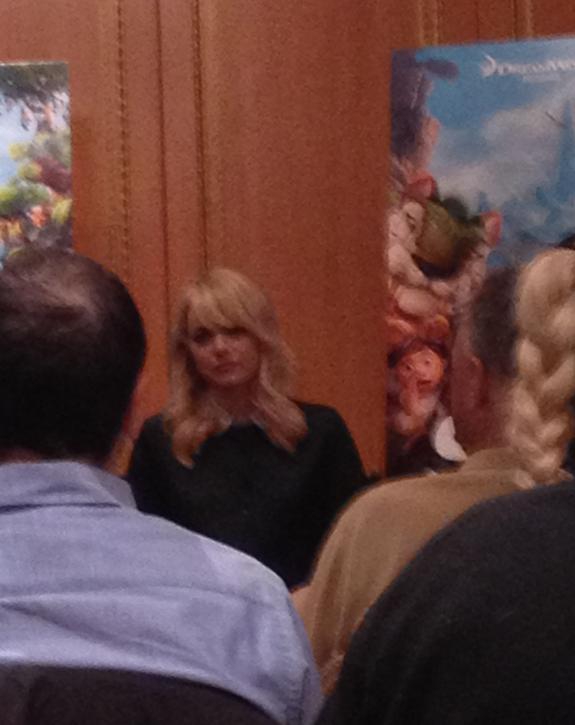 So that was my day at The Croods press conference. When it was all over I trekked back out into the snow, left the swanky hotel, hopped on the subway and returned to my regular person life. But it was fun! And also, the movie was great which always makes it much more fun to talk and hear about. It comes out this Friday, March 22, FYI.
OK! News: Read Our Review of Oz The Great and Powerful
Are you going to see The Croods this weekend? What would you have done if you were in the same room as Ryan and Emma? What's one question you'd ask them at a press conference? Tweet me @OKMagazine or @haleyb221!
And PS: Stay tuned for our OK! Or OMG?! movie review of The Croods coming to OKMagazine.com later this week!