NEWS
Healthy Eats! How Eating Paleo Like Our Ancestors Can Help You Shed The Pounds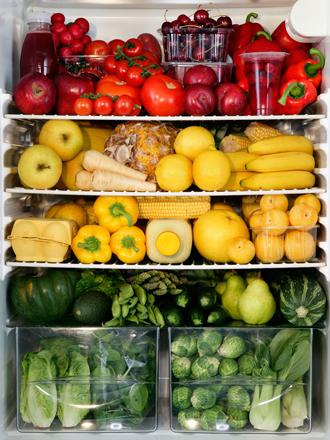 Article continues below advertisement
HEALTHY EATS! PREPARE YOUR HOME FOR WEIGHT LOSS SUCCESS
It's asserted that to combat diseases like diabetes, obesity and heart disease, which are illnesses caused by a modern diet, we need to go back to the hunter-gatherer way of eating which includes consuming just meat, fish, vegetables, fruit, nuts and seeds.
But thrown out of the fridge goes all dairy, legumes, grains, gluten and sugar. Proponents of the Paleo Diet say that this way of eating is more biologically appropriate for us as this is what our bodies were genetically programmed to be able to handle.
STAR BODIES! GET GWEN STEFANI'S ABS WITH THREE SIMPLE EXERCISES
But some nutritionists claim that we have adapted to the broader diet over the years so there is no need to give up dairy, legumes and whole grains.
But Robb Wolf, author of The Paleo Solution - The Original Human Diet recommends the following in order to see weight loss:
Okay To Eat: Fruits, Vegetables, Lean Meats, Seafood, Nuts & Seeds, Healthy Fats. Most of your meals should include 4-8oz of lean protein, several servings of multicolored vegetables, either raw, steamed or lightly cooked and good fats from avocado, olive oil, coconut oil, unsalted nuts like almonds, pecans, or walnuts.
Article continues below advertisement
Avoid: Dairy, Grains, Processed Food & Sugars, Legumes, Starches, Alcohol
Sample Meal Plan: Weight Loss
Article continues below advertisement
Breakfast: Shrimp scramble with basil and steamed spinach. ¼ cup blueberries. Espresso.
Lunch: Chicken salad with red onions, romaine lettuce, artichoke hearts and mixed bell peppers. Dressing: Lemon/Olive Oil with a hint of garlic. Green tea with lemon.
Article continues below advertisement
Snack: Grilled shrimp & veggies with a hand full of macadamias.
Dinner: Baked pork loin with ginger cabbage and olive oil. Dessert: shaved almonds over 1/4 cup mixed berries.
Have you tried or would you try the Paleo Diet? Let us know what you think below or tweet us @OKMagazine! You can also follow me @daclifestyle.