NEWS
Jake & Reese: Sweet Love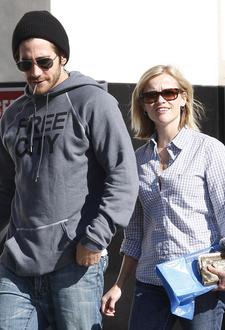 It may be cold outside, but Reese Witherspoon and Jake Gyllenhaal are only getting hotter!
On Dec. 19, the couple, who co-starred in the 2007 thriller Rendition, celebrated Jake's 28th birthday with a romantic dinner — which included wine, champagne and even dessert — at Il Ristorante di Giorgio Baldi in Santa Monica, Calif.
Two days later, the Four Christmases star, 32, introduced her guy to one of her favorite hot spots: Candy Alley at the Brentwood Country Mart.
MORE ON:
Reese Witherspoon
Article continues below advertisement
"Jake fed her one of our orange slices, which was so cute," says owner Joan Fernbacher. "They are very happy together. You can see it!"
Indeed, while the two may only have eyes for each other, Reese's kids, Ava, 9, and Deacon, 5, weren't far from their minds: Following their candy-shop stop, they dropped into Star Toys to pick up Christmas presents for the little ones.