NEWS
Jeremy Piven Dishes on the Status of 'Entourage' Hitting the Big Screen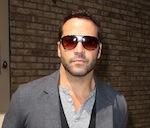 As HBO's Entourage gets prepared for its' final season, star Jeremy Piven opened up about the status of the show's future on the big screen while out in L.A. on Saturday, confirming that once a script is written he would be all ready to film the movie.
"The sooner Doug Ellin can give us a script, the sooner we can do a movie so we need to put the pressure on that guy," Jeremy gushed to reporters while participating in the Spy Kids: All the Time in the World press junket at the J.W. Marriot.
Article continues below advertisement
OK! NEWS: ENTOURAGE CREATOR SAYS "WE'RE GOING TO DO A MOVIE"
With much buzz surrounding the eighth and final season of Entourage, which premiered on July 24, Jeremy thinks that transitioning the show into a movie would be, "really fun."
And just in case money is an issue regarding production of the film, executive producer Mark Wahlberg could always be helpful.
"I would not put it passed Mark to raise the money. I think he is capable of anything that he puts his mind to. It's evident," Jeremy joked to reporters.
Entourage, with Jeremy as Ari Gold, made its television debut in July of 2004, also starring Adrian Grenier, Jerry Farrera, Kevin Dillon and Kevin Connolly.