NEWS
J.K. Rowling's New Book 'Troubled Blood' Under Fire For Cross-Dressing Character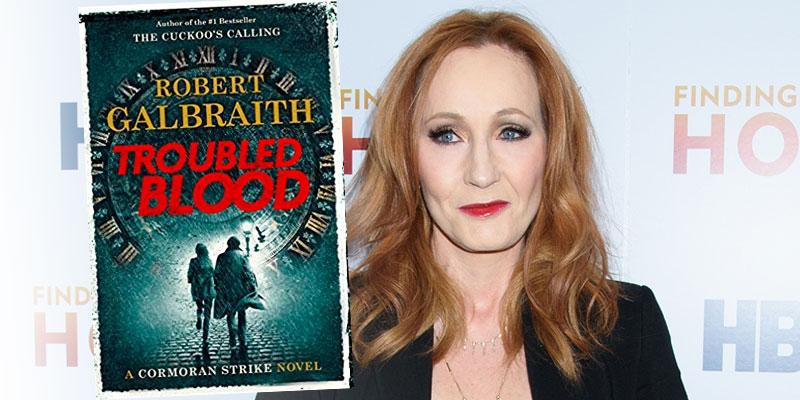 The reviews are in for J.K. Rowling's new book, Troubled Blood, and it's being described as a "book whose moral seems to be: never trust a man in a dress."
According to The Telegraph, "the 'meat' of the 900-page novel is an investigation into a cold case: the disappearance of a woman in 1974, believed to be a victim of a violent cis male serial killer whose modus operandi is dressing as a woman," per PinkNews.
Article continues below advertisement
"One wonders what critics of Rowling's stance on trans issues will make of a book whose moral seems to be: never trust a man in a dress," reviewer Jake Kerridge wrote.
EXCLUSIVE SNEAK PEEK: INSIDE J.K. ROWLING'S SECRET STRUGGLES
Troubled Blood is the fifth installment in Rowling's pseudonymous Cormoran Strike series, which she writes under the pseudonym Robert Galbraith. The second book, The Silkworm, was previously criticized over its depiction of a trans character, who was described as "unstable and aggressive."
In the book, the woman, Pippa, stalks Strike before attempting to stab him. After the attack, the titular detective manages to trap Pippa in his office, where her trans identity is revealed. At this point in the story, Rowling describes the character's Adam's apple and hands, with the Strike character warning her that prison "won't be fun for you … Not pre-op."
"It's an entirely common though insulting trope about trans women — that they are aggressive and unable to overcome their masculine nature, not to mention villainous — that has become all too common from cisgender authors with only a passing knowledge of trans people," trans journalist Katelyn Burns wrote in a 2018 review.
Article continues below advertisement
One day before Troubled Blood's release, social media lit up with criticism and sent #RIPJKRowling to the top of the Twitter trending charts.
"In memory of jk rowling. she ain't dead, but she killed her own career by proudly hating trans people & no one would really miss her that much anyway," wrote one Twitter user.
"#RIPJKRowling she ain't dead but her career is," added another.
"Imagine getting cancelled so hard, we have to pretend that you died," a third user chimed in.
LINDSAY LOHAN SUED BY HARPER COLLINS FOR NOT WRITING BOOK
As many may remember, the Harry Potter author came under fire earlier this summer for controversial tweets she posted about the transgender community.
On June 6, Rowling retweeted an op-ed piece which discussed "people who menstruate" — apparently taking issue with the fact that the story did not use the word women. "'People who menstruate.' I'm sure there used to be a word for those people. Someone help me out. Wumben? Wimpund? Woomud?," she wrote.
Article continues below advertisement
That initial tweet garnered a lot of backlash, but the 55-year-old did not relent and wrote about her views in more detail.
"If sex isn't real, there's no same-sex attraction. If sex isn't real, the lived reality of women globally is erased. I know and love trans people, but erasing the concept of sex removes the ability of many to meaningfully discuss their lives. It isn't hate to speak the truth," she tweeted. "The idea that women like me, who've been empathetic to trans people for decades, feeling kinship because they're vulnerable in the same way as women — i.e., to male violence — 'hate' trans people because they think sex is real and has lived consequences — is a nonsense."
"I respect every trans person's right to live any way that feels authentic and comfortable to them," she continued. "I'd march with you if you were discriminated against on the basis of being trans. At the same time, my life has been shaped by being female. I do not believe it's hateful to say so."
MELANIA EXPOSED: 13 SENSATIONAL REVELATIONS IN EX-PAL'S TELL-ALL MEMOIR SAVAGING THE FIRST LADY
On June 10, Rowling published another a lengthy post on her website and sent out a tweet which read, "TERF Wars." (TERF is an acronym that stands for trans-exclusionary radical feminist.)
Article continues below advertisement
"This isn't an easy piece to write, for reasons that will shortly become clear, but I know it's time to explain myself on an issue surrounded by toxicity. I write this without any desire to add to that toxicity," she wrote. "For people who don't know: last December I tweeted my support for Maya Forstater, a tax specialist who'd lost her job for what were deemed 'transphobic' tweets. She took her case to an employment tribunal, asking the judge to rule on whether a philosophical belief that sex is determined by biology is protected in law. Judge Tayler ruled that it wasn't."
Her stance has caused fans and stars like Daniel Radcliffe, Emma Watson, Rupert Grint and Eddie Redmayne to speak out against her.
Radcliffe was the first star from the franchise to release a statement, where he spoke about how "transgender women are women" and "any statement to the contrary erases the identity and dignity of transgender people and goes against all advice given by professional health care associations who have far more expertise on this subject matter than either Jo or I."
Article continues below advertisement
CYNTHIA NIXON SLAMS J.K. ROWLING'S ANTI-TRANS REMARKS: 'IT'S REALLY BAFFLING'
"To all the people who now feel that their experience of the books has been tarnished or diminished. I am deeply sorry for the pain these comments have caused you," he continued. "I really hope that you don't entirely lose what was valuable in these stories to you ... And in my opinion, nobody can touch that. It means to you what it means to you and I hope that these comments will not taint that too much."
Watson also spoke out in support of the trans community. "Trans people are who they say they are and deserve to live their lives without being constantly questioned or told they aren't who they say they are. I want my trans followers to know that I and so many other people around the world see you, respect you, and love you for who you are," she wrote in a series of tweets. "I donate to @Mermaids_Gender and @mamacash. If you can, perhaps you'll feel inclined to do the same. Happy #PRIDE2020 Sending love x."