NEWS
John McCain Ruffles During Time 100 Gala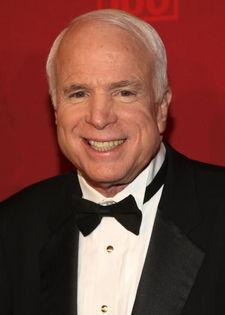 George Clooney is off the list as soon as I arrive at the Time 100 Gala held at Frederick P. Rose Hall in NYC. Bomb-sniffing dogs and security frisks are in order because Republican presidential candidate John McCain is on his way. Mariah Carey's a question mark, reps say. Hmm. Word arrives she won't be here until 9:45 … and they're kicking us out at 8:30.
We set up shop next to the Time For Kids reporter, who is 11. (Red carpet reporters love the kids because everyone will stop for them.)
Article continues below advertisement
Robert Downey Jr. strides in with his dad, Robert Downey. They're laughing and back-patting on their way into the soiree. Tina Fey waves. Here's Ethan Hawke -- with his hair slicked back. Who is he most excited to meet tonight? "Everybody!" he says. "I am."
As SNL star Casey Wilson flirts with Fred Armisen, shakes hands. "It's an absolute pleasure," she says. says he's not doing interviews, but answers lots of shout-outs. "I'll tell you all about Amy's pregnancy," he laughs.
Here's Republican presidential candidate John McCain, who is eager to meet Lance Armstrong. The Time For Kids reporter asks: What would he do to make the United States better for kids?
"I would devote myself to making sure that every young person in America has an affordable and available education, and an opportunity in this nation to go as far as their ambitions will carry them," he says. "Thank you for your hard work, and be careful of some of these people around here. They're not good influences."
Article continues below advertisement
WHAT?! Is John McCain dissing journalists?! Sure, you have to be careful but whoa … you have to be careful not to offend the people you're courting.
Speaking of scandal, Matt Lauer is no stranger to it with his legendary Tom Cruise interview. How does he feel about T.C.'s apology?
"I didn't really see it," he says. "I was traveling. I didn't see the interview. Somebody told me about a little bit of a snippet. I don't think he needs to apologize. I don't feel there are any hard feelings. It was an interview. It was a good moment on television. The door's open. I hope he comes back to see us."
And, one thing that's gone sour during these times is the economy. Is Suze Orman cutting back during the recession?
"No, but I've never been extravagant to begin with," she says. "My rule of thumb is 'the more money you make doesn't mean the more money you spend.' I don't have a lot to cut back on. My main extravagance is flying private, but I do that because otherwise it wouldn't be possible to keep up the schedule that I do. When I'm not working, I fly Jet Blue. And that's true.'
We're out.
Pick up the OK! on newsstands now for more coverage of the Time 100 Gala. Reese Witherspoon and Jake Gyllenhaal/Ready To Wed is the cover line.