NEWS
Kate Gosselin Greets Her Gang at the Bus Stop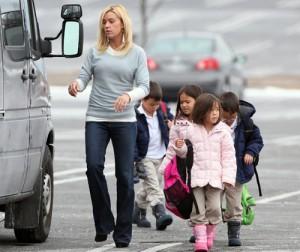 Kate Gosselin has definitely not let her split from husband, Jon Gosselin slow her down. With eight kids, how could she? The mom of eight was seen in her hometown of Wyomissing, Pa. picking up the kids from the school bus. Kate loaded up the family van that we all remember seeing frequently on their reality show Jon and Kate Plus 8. She didn't pick up all eight though, only six. Cara, Mady, Hannah, Joel, Leah and Aaden were all in attendance.
Article continues below advertisement
OK! REPORTS: KATE GOSSELINS KIDS ALLEGEDLY EXPELLED FOR PHYSICALLY HARMING ADULT
According to Radar Online, Alexis and Collin were expelled from school for physically harming adults at school multiple times. Kate shot right back and appeared on the Today show to set the record straight. On the show she stated, "We mutually agreed. I brought them home. I have them with a private tutor, an early education teacher, and she's teaching them one-on-one. They're excelling along with weekly therapy. My kids are back. They're happy, they're functioning, they're well and all is well again"