NEWS
Shots Fired! Kim Kardashian & Chrissy Teigen Clap Back At Maternity Skims Critics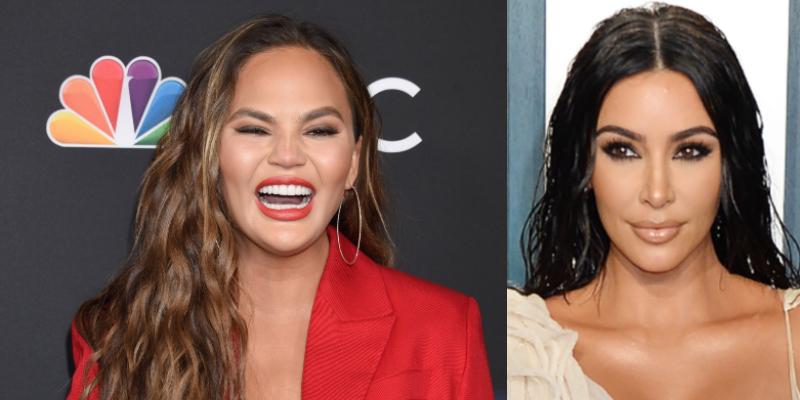 Kim Kardashian fired back at critics who took to social media to shame the upcoming Skims Maternity solutionwear line, which is set to launch on Wednesday, September 16.
Actress Jameela Jamil shared her opinion about the new line on Twitter and Instagram on Sunday, September 13. "It would be so cool if pregnant people could just be allowed to be pregnant and get bigger and not be self conscious and enjoy the miracle taking place inside their body," the Good Place actress wrote. "And not have to worry about feeling embarrassed/shamed that their body is changing for an amazing reason."
Article continues below advertisement
The KUWTK star, 39, announced the maternity line on Saturday, September 12, and quickly responded to her critics. "To anyone who has an issue with maternity solutionwear, and if you haven't been pregnant before you may not know the struggle of what it's like carrying all of this weight the way I did along with millions of strong women, @skims maternity line is not to slim but to support," she said.
THE 10 MOST SCANDALOUS MOMENTS FROM 'KEEPING UP WITH THE KARDASHIANS'
The mother of four — who was diagnosed with preeclampsia after the birth of her first child, North West — described the stomach portion of the maternity line to be sheer and thin to help provide support and protect the women's backs when carrying the extra weight.
As for the leggings, the media personality explained that the compression factor helps reduce swelling and relieve pain, noting it may be helpful for women after giving birth, especially for those who have a cesarean delivery.
Article continues below advertisement
"We launched this category in response to the tens of thousands of pregnant women who wrote us requesting it and because it was something I personally needed when I was pregnant myself," she wrote. "Based on the majority of positive feedback we have received so far from pregnant women around the world, I am incredibly proud to provide a solution that will provide comfort and support during the times that we all need it most, during pregnancy and after."
KIM & KOURTNEY KARDASHIAN ATTEND KANYE'S PARIS CHURCH SERVICE IN LATEX SUITS
Among those who shared positive feedback was Chrissy Teigen, who took to her Instagram story Sunday night to show off her pregnancy belly in the new Skims line, backing up Kardashian's claim that the line is for support and comfort. "I actually decided that I even think it's kind of condescending to think you have to defend us on this," the 34-year-old said defending the founder in a series of video posts.
"Because obviously the message is that pregnant women shouldn't have to feel that they have to make themselves feel smaller. They should feel beautiful and yes. Absolutely. I 1000 percent agree with that. But what you're forgetting is that none of us think that this is making us think we look smaller. Nobody thinks that."
JAMEELA JAMIL SHAMES FAT SHAMERS WITH BODY POSITIVITY
This is not the first time Jamil came after a Kardashian family member. The actress has vowed to continue shaming celebrities, including Khloé Kardashian, for promoting diet products and unhealthy lifestyles.