NEWS
Kim Kardashian Says Romance with Kanye West is Not a "Publicity Stunt": "It Just Happened"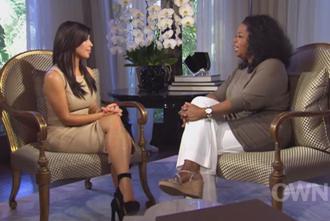 In the second part of Oprah Winfrey's interview with the Kardashian family on her OWN show Oprah's Next Chapter, the host sits down with Kim Kardashian and talks about her new, very public relationship with boyfriend Kanye West.
So is her romance with Kanye Kim's "new fairy tale?" Pretty much!
OK! GALLERY: KIM KARDASHIAN & KANYE WEST LEAVE A YACHT IN CANNES
"We met almost a decade ago, we've known each other for a very long time, we've been friends for six or seven years," Kim said of the rapper. "I don't know why it took us so long to get together. I think we've always had an attraction to each other, but we've always been in other relationships or it wasn't the right timing."
Article continues below advertisement
"One day, it just happened," she revealed of their romance. "It took me by surprise."
Kim is still in the process of ending her 72-day marriage to basketballer Kris Humphries, whom she wed last August in a lavish, on-air ceremony. But the reality TV princess is happier than she's ever been and admits she connects with Kanye on a really deep level.
"It's very comforting to have someone that knows everything about you, that respects you, understands, that has gone through the similar things. I can really relate to his mother passing. He can really relate to my father passing," Kim explained. "I mean, there's so many similarities in our life... I feel like I'm at a really happy and good space."
OK! NEWS: KHLOE KARDASHIAN TELLS OPRAH SHE FEELS PRESSURED TO BE A "GREAT WIFE"
As to what she thinks about people calling her and Kanye's relationship a "showmance," Kim said those rumors are far from the truth and that she's in it for the long run.
"It's your heart you're playing with," she explained. "I couldn't sacrifice my heart for a publicity stunt."
And although she denied any talks of marriage, Kim said: "To have him in my life this way, says a lot about us."