NEWS
'Kimora: Life in The Fab Lane' TV Recap: Kimora is "So in Love" With Baby Kenzo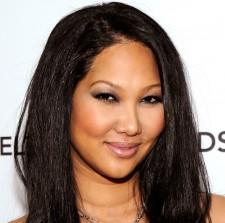 Mogul, model, and mom Kimora Lee Simons oversees the design of her new home and gives birth, declaring, "I thrive on insanity," in last night's eventful episode of Kimora: Life in the Fab Lane.
Heavily pregnant with her longtime love and hubby Djimon Hounsou, and overseeing the design of a safari-themed nursery, Kimora says: "I am having a baby in three weeks and a lot of stuff has to be done. I am kind of worried."
Article continues below advertisement
OK! NEWS: HOW KIMORA LEE SIMMONS OVERCAME DIVORCE
But Kimora notes: "I thrive on insanity, I never stop moving, just like my baby. He kicks and moves, rolls, and jumps like his momma. He likes being busy."
She also gives her daughters Ming and Aoki a crash course in having a little brother around by taking them to Giggles N'Hugs. "Hopefully I can get the girls used to the idea that the new baby is on his way," says Kimora.
OK! NEWS: KIMORA LEE SIMMONS & DJIMON HOUNSOU DO DATE NIGHT
However, Aoki declares, "I won't change diapers. I won't trim nails," which Kimora isn't happy about. "I want the girls to be excited," she says. "That attitude has got to change. She is still in princess mode."
In the meantime, Kimora wants to have her new house done in time for her new addition. "I have a lot on my plate right now with the new baby and the girls and everything that is going on. I am completely exhausted. I am desperate to have Joseph the designer to get the house done, get it done on time, and get it done immaculately."
Article continues below advertisement
OK! NEWS: FAMOUS BUNDLES OF JOY: 2009 IN CELEBRITY BABIES
"Now that baby Kenzo is here, we all need a place to live, like, now!" but Kimora realizes that, "Versailles wasn't built in a day, was it?" and is overjoyed with her new home.
Finally, Kimora goes into labor and checks into the hospital at 4am with her two daughters and Djimon. "It's a very special time for the family and we are very happy." When the pain gets bad she jokes about Djimon, "it's all his fault!"
MORE ON:
Kimora Lee Simmons
OK! NEWS: KIMORA LEE SIMMONS PONDERS POSING FOR PLAYBOY
After giving birth, a proud Kimora says: "He is just like his mom. He is a little fussy. Little baby Kenzo is here and he is so adorable and so sweet. I am so in love and I never thought that I could love a little man as much as I do him."
Kimora's kids also get excited about caring for their little brother: "Aoki has completely turned around and now she wants Kenzo to sleep in her room," says Kimora.
Article continues below advertisement
OK! NEWS: KIMORA LEE SIMMONS READY FOR MORE BABIES
Right after the baby is born, the whole family pose for the cover of Ebony magazine, which poses new problems for Kimora who has to balance breast-feeding with a day at the photo shoot.
"When you re-enter the work force as a working mother and you can't be with your baby all day long, you have to pump while you are also feeding. Right now I have to eat, drink, and pump. Every hour!"