NEWS
Kristen Stewart Argues "I Could Get Pregnant Tomorrow"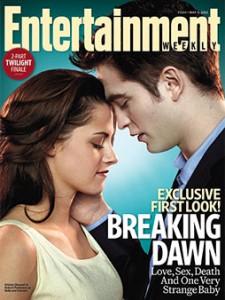 Kristen Stewart didn't have a tough time pretending to be pregnant while filming Breaking Dawn because as she points out, "I could f***ing get pregnant tomorrow."
OK! NEWS: KRISTEN STEWART ON FILMING BREAKING DAWN WEDDING — "SO EMOTIONAL IN SUCH A REAL WAY"
Even though Entertainment Weekly's new issue featuring Kristen, Robert Pattinson and Taylor Lautner doesn't hit stands until tomorrow, Celebuzz got hold of a copy and discovered that Kristen has some pretty strong opinions about the birth scene in Breaking Dawn.
Article continues below advertisement
For anyone who argues that Breaking Dawn is pushing "pro-life" on people, Kristen defends the film.
"I'm so on Bella's side," Kristen tells EW of Bella's decision to keep her half-vampire baby. "The idea of destroying something they made together that could never happen again… It has nothing to do with the pro-life thing."
"I just love the idea of her fighting," she says. "She's been willing to die for so much, but now you actually see her, well, literally die for it."
OK! VIDEO: WATCH ROBERT PATTINSON KISS KRISTEN STEWART AT WATER FOR ELEPHANTS PREMIERE
And Kristen, being 21 years old, can understand where Bella was coming from.
"This really could happen to anyone my age," Kristen explains. "I mean, maybe not the whole vampire thing, but everything else."
"It didn't feel like, 'Oh, how could you have possibly played this? It's so beyond your years!' " Kristen says. "It's like, 'Not really, dude. I could f***ing get pregnant tomorrow.' "