NEWS
Exclusive: Let's Be Cops' Damon Wayans Jr. and Jake Johnson Are Already Planning The Sequel, Let's Be Stewardesses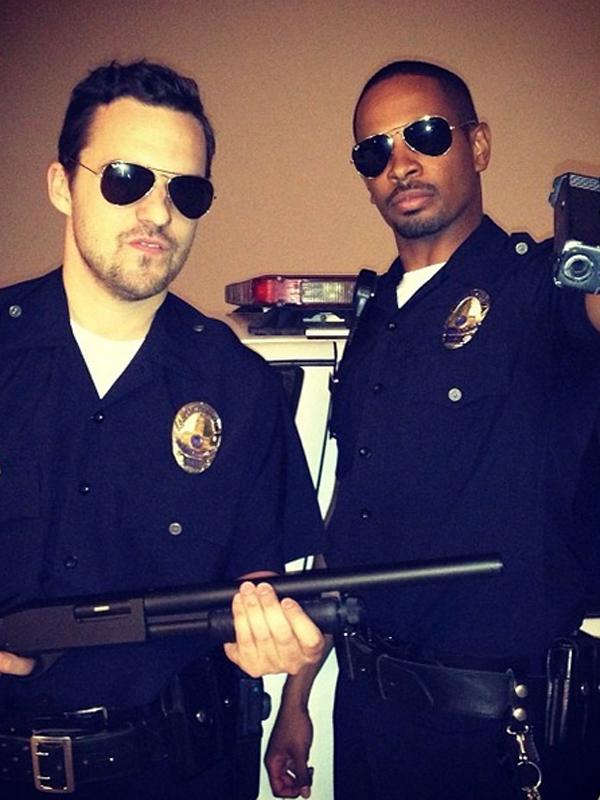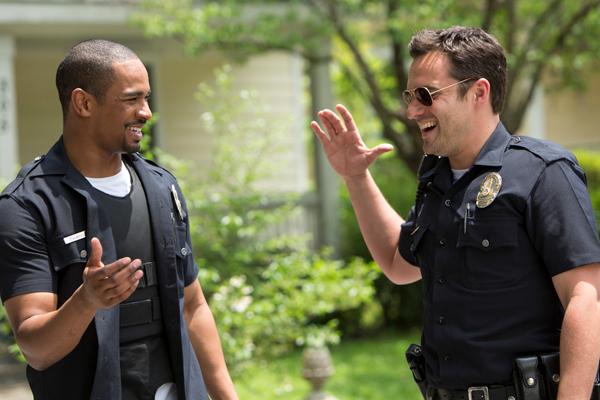 There's no denying that Jake Johnson and Damon Wayans Jr., who co-star as two guys who pretend to be cops in their new comedy, Let's Be Cops, are pretty much best friends off-screen, too. During this chat with the guys about the movie, they kept cracking each other up and just about finished each other's sentences. Aw! See what Jake and Damon, who also star together on New Girl, told us about the film's comparisons to the show, the craziest thing that ever happened to them at a party (Jake's story involves diarrhea and it's gross), and what roles they'll give their New Girl co-stars if there's a sequel.
Article continues below advertisement
PHOTOS: Let's Be Cops and More Movies You Must See Before Summer Ends
OKMagazine.com: I know you guys don't want to call this movie a buddy comedy or a cop comedy, so how would you describe the film?
Damon Wayans Jr.: Uh uh. First of all I would call it a comedy. It's a buddy comedy and we're just dressed up like cops. That's what we do.
Jake Johnson: They're friends first. But we're not against cop comedies because we both found that really attractive to come into it.
OKMagazine.com: Do Jake's New Girl character Nick Miller and Damon's Let's Be Cops character Justin Miller have something in common? The last name can't just be a coincidence.
JJ: I think there's a lot of similarities. Originally I was going to play Justin and I think one of the reasons the studio wanted us to switch characters was so it wasn't too smilar to the character on TV.
DW: Yup, I heard that.
Article continues below advertisement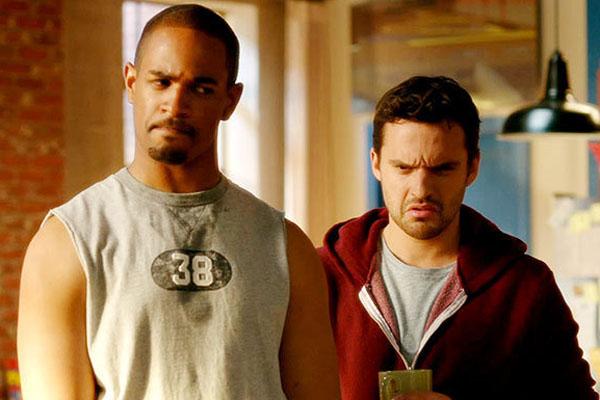 OKMagazine.com: Is the comedic tone of the film similar to the stuff we've seen you do on New Girl?
DW: I think its definitely a little heightened. It's rated R so we get away with saying a lot more than we usually do on tv.
JJ: But I think for fans of the show, I don't think they'll be disappointed.
DW: Not at all.
OKMagazine.com: In the film, your characters buy a cop car off Ebay. What's the craziest thing in real life you've bought off the site?
Article continues below advertisement
JJ: I was living in Iowa when I first got to college there and they didn't have enough housing so there was 8 of us in one room. And this guy Todd took us to a frat party and we were drinking heavily. And then I left and he was loving it cause he was getting real black out drunk and I went out and came home and when I came back to this lounge area with these bunk-beds, there was spray diarrhea all over our sneakers and toilet paper leading back to his butt. So my other buddy and I woke him up and said, "Todd, you took a dump on the stereo and you used toilet paper and its leading back to your bed." And he denied it. And he says, "How do you know it was me?" And the toilet paper was actually leading all the way back to his butthole.
DW: I don't normally go out, but during Halloween I went out one time I think in tenth grade with my buddy and I saw a kid get curbed.
JJ: Really?
DW: With his face right on the curb and he got kicked right in the back of the head like he deserved it! It was so crazy.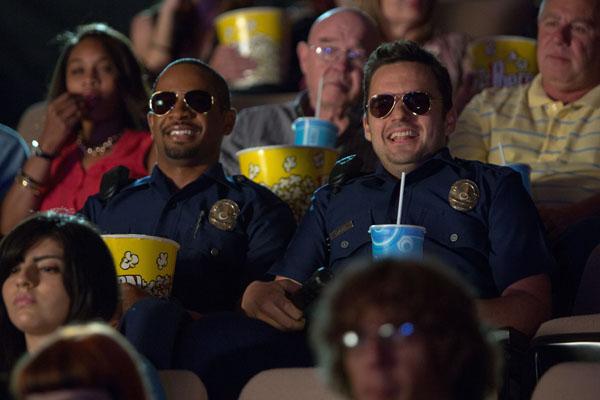 Article continues below advertisement
DW: Jake kinda wants to cut me out of this one but he's thinking of doing Let's Be Stewardesses. It's his lifelong dream to dress up as a stewardess and serve wine.
JJ: I don't necessarily want to cut Damon out. And not just serve wine, I want to serve cashews and olives. I like the idea of doing an international flight for all those business men who are like, away from their families or whatever. They're super successful and powerful.
DW: And super flirty.
JJ: I'd just get to be myself. I think it'd be really funny and flirty and cute. Everyone would have great outfits. I want my hair to be like, REALLY cute. If Damon wants to be in it that's fine, but I'm like the head stewardess. He can be in the back.
DW: That's why I will not be in that. I will not serve them, I will not be in coach. They are wild back there.
JJ: I don't need you flirting with the guys, getting their attention.
Article continues below advertisement
DW: I don't need you taking those really long dumps you always take. (Jake Laughs)
OKMagazine.com: If there's a sequel, will your New Girl co-star Max Greenfield be in it? Because he probably feels really left out.
DW: If we do the stewardess one, for sure.
JJ: What about Lamorne (Morris)? He doesn't feel left out? What about Lamorne, huh? I get it. I see how it is.
OK! Exclusive: Step Up's Ryan Guzman Wants To Have a Dance Off With Channing Tatum!
OKMagazine.com: I couldn't remember his real name! I was just going to call him Winston.
JJ: You know it now! You just curbed him (laughs).
Watch the hilarious red band trailer for Let's Be Cops here:
youtube=https://www.youtube.com/watch?v=eL9UFmz4OC0&w=640&h=360
Let's Be Cops is in theaters today! Are you excited to see the guys together on the big screen? Tweet us @OKMagazine.