NEWS
Woman Who Cut Baby From Mother's Womb Sentenced To Death, A First In 70 Years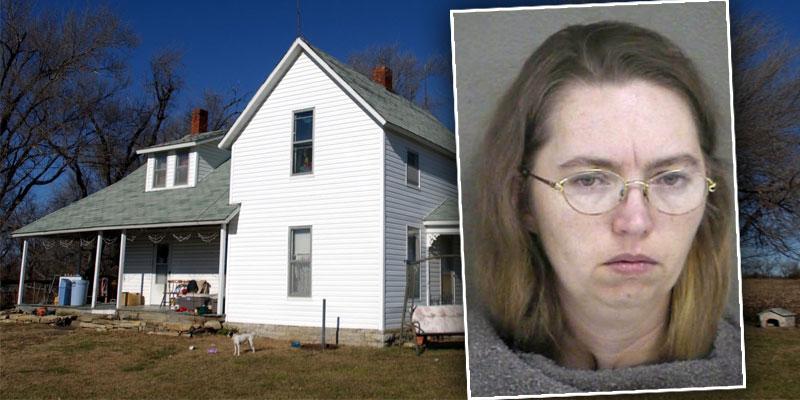 A Kansas woman convicted of a particularly grisly murder has been sentenced to die by lethal injection this December, making her the first U.S. female prisoner in nearly 70 years to be smacked with the death penalty.
Lisa Montgomery was found guilty by a federal jury in 2007 for the 2004 killing of 23-year-old Missouri woman Bobbie Jo Stinnett, which was determined to be premeditated. According to a statement from the U.S. Department of Justice, the already hair-raising details of the murder also included a gruesome kidnapping twist involving an unborn baby.
Article continues below advertisement
Montgomery had driven from her home in Kansas to Stinnett's home in Missouri, under the guise of wanting to purchase a puppy. When inside the house, Montgomery attacked and strangled Stinnett — who was eight months pregnant — until Stinnett lost consciousness.
AMERICAN MURDER STORY: 11 TRUE CRIME SCANDALS THAT SHOCKED THE NATION
Following that, Montgomery used a kitchen knife to cut into Stinnett's abdomen, which caused her to come back to consciousness, and begin struggling. Montgomery managed then to choke Stinnett to death, remove a baby girl from Stinnett's body, and take it along with her with the intent to pass the child off as her own.
Montgomery later confessed to the murder and the abduction. An attorney on her team told the Kansas City Star that Montgomery suffers from complex post traumatic stress disorder as a result of years of family abuse.
Regardless of the question of her mental health, in October 2007, a jury in the U.S. District Court for the Western District of Missouri found Montgomery guilty of federal kidnapping resulting in death. It unanimously recommended a death sentence, which will be carried out December 8 in Terre Haute, Indiana, after her conviction and sentence were upheld on appeal.
WHITE HOUSE SEX SCANDALS! 4 SHOCKING REVELATIONS FROM 'SEX WITH PRESIDENTS' BOOK
The last woman to be executed by the U.S. feds was Bonnie Heady, who was sentenced to the gas chamber in Missouri in 1953 for the kidnapping and murder of a 6-year-old boy.
Montgomery will be the ninth federal inmate put to death since the Justice Department resumed executions in July after a nearly two-decade hiatus.
The baby, Victoria Jo Stinnett, was released from the hospital the night before her mother was to be buried, according to The Sun. After she was given back to her father, Zeb Stinnett, the family did everything in their power to keep Victoria Jo out of the spotlight; she will turn 16 on December 16.