NEWS
Maria Menounos & Derek Hough Get Sultry on 'Dancing With the Stars'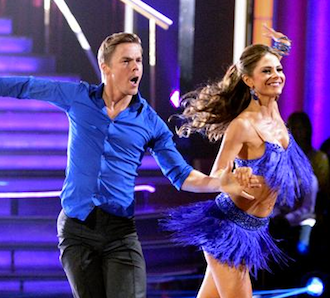 Last night on Dancing With the Stars, to say that Maria Menounos and Derek Hough got pretty steamy on the dance floor would be an understatement! Water-cooler buzz is wondering this morning: Are they more than dance partners?
The new buddies hung out when Maria did WrestleMania over the weekend. She joked about one of her many moonlighting jobs and asked Derek to come along and support her from the crowd.
Article continues below advertisement
She told reporters, "It's crazy… I'll be in a war zone in one day. The next day, I am at the Oscars. It's crazy, my life, because I am the kind of person who wants to do everything and try everything. I want to live life to the fullest. I never want to look back and say that I didn't try something or go for it."
She added with a smile, "So yes, I was wrestling last night at WrestleMania in front of 80,000 freaking people, by the way, and then dancing in front of 20 million today."
Article continues below advertisement
So, what hasn't she done? Maria told reporters jumping out of a plane is still on her bucket list. Derek quickly responded, "What? You have not done that yet?" Apparently, he's done it twice!
"Will you do it with me?" she asked him.
As for his response: "I'll do it…on you…"
"What?"
Derek retorted, "Tandem jumping, guys!"
And so the sexual chemistry continues. As the rumor mill churns about whether or not they locked lips on the dance floor, Derek's response is taken in stride. How exactly does he feel about the rumors? "It's horrific!" he quipped. "I am just kidding."
Reporting by Gena Oppenheim