NEWS
Mariah Carey Reveals Ellen DeGeneres Interview Was 'Extremely Uncomfortable' While Pregnant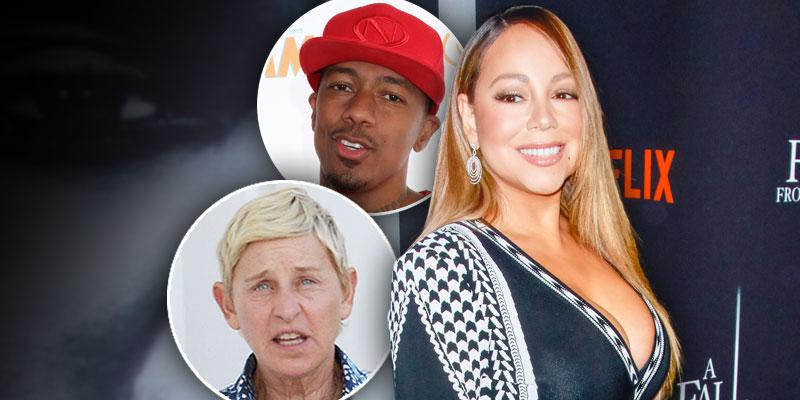 After Mariah Carey appeared on The Ellen DeGeneres Show in 2008, the singer revealed that her time with Ellen DeGeneres was not pleasurable, to say the least. At the time, the 50-year-old singer was forced to reveal she was pregnant after rumors were swirling that she had a bun in the oven.
"I was extremely uncomfortable with that moment is all I can say. And I really have had a hard time grappling with the aftermath," she said in an interview with Vulture, which was published on Monday, August 31.
Article continues below advertisement
ELLEN DEGENERES' PLASTIC SURGERY SECRETS REVEALED: FILLERS, NECK LIFT, AND MORE
Unfortunately, Carey lost the baby soon after she participated in the interview. "I wasn't ready to tell anyone because I had had a miscarriage," she explained. "I don't want to throw anyone that's already being thrown under any proverbial bus, but I didn't enjoy that moment."
The 'Hero' songstress added that there is "an empathy that can be applied to those moments that I would have liked to have been implemented. But what am I supposed to do? It's like, sings 'What are you going to do?'"
The book author spoke with DeGeneres, 62, seven months after she got married to Nick Cannon. After the talk show host brought up the pregnancy rumors, Carey replied, "Don't discuss that."
STARS WHO SUPPORT ELLEN DEGENERES: KATY PERRY, KEVIN HART, ASHTON KUTCHER AND MORE
However, the talk show host wanted Carey to drink some champagne with her, regardless. "I can't believe you did this to me, Ellen. … This is peer pressure. Do you see what Ellen is doing? This is peer pressure!" she exclaimed.
Article continues below advertisement
The two toasted "to the future, and for both of our future," and Carey pretended to take a sip. "It's too early for me," she quipped. "I only drink after 3 p.m."
In July 2020, former staffers from the Emmy-winning series came forward and claimed the show was a "toxic" place to work. As a result, Ed Galvin, Kevin Leman, and Jonathan Norman — who were all top producers — were let go from the show after WarnerMedia launched an internal investigation.
MORE ON:
The Ellen DeGeneres Show
VOGUE'S ANNA WINTOURVS. ELLEN DEGENERES: WHO IS MEANER?
Since then, the Finding Dory star apologized to her staff and held a video call, where she got emotional about the accusations. "I'm a multi-layered person, and I try to be the best person I can be and I try to learn from my mistakes," the 62-year-old told staffers, a source told PEOPLE. "I'm hearing that some people felt that I wasn't kind or too short with them or too impatient. I apologize to anybody if I've hurt your feelings in any way."
Article continues below advertisement
The Grammy winner is set to release her memoir, The Meaning of Mariah Carey, in September 2020, and it seems like she is not holding back. In fact, the mom of one revealed she wrote 'My All' and 'The Roof' about ex Derek Jeter.
"I can never forget that moment," she dished, referring to their first kiss on his apartment building's roof. "I mean it's not like it was some intensely deep, intellectually stimulating — again, it was a great moment, and it happened in a divine way because it helped me get past living here, in Sing Sing, under those rules and regulations."