NEWS
Nick Lachey on Coaching Pregnant Wife Vanessa in the Delivery Room: "I Won't Be Down Below!"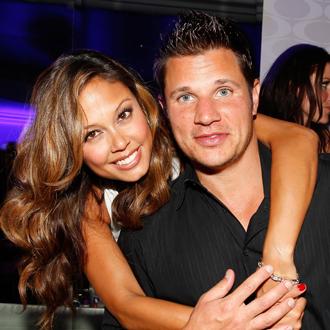 Now that Nick and Vanessa Lachey have revealed they're expecting their first baby, the excited parents-to-be are starting to think about their delivery-room plans. Nick is ready to coach Vanessa through childbirth, although he admits he has already been given some strict rules!
OK! GALLERY: NICK LACHEY & KELLY RIPA DRESS UP AS KIM KARDASHIAN & KRIS HUMPHRIES FOR HALLOWEEN ON LIVE!
"I'm gonna be there, I'm gonna be supportively there, holding hands and coaching, breathing — all that good stuff," Nick told Kelly Ripa while co-hosting Live! with Kelly this morning. "But, apparently, I won't be down below, seeing what's happening. I'll be up above, helping. I've been told — because that's what happens now, I'm told things — that it's going to be a waist-up situation, if you know what I mean," he continued.
Article continues below advertisement
"My work there is done!" he added, laughing. "I was successful there. So we'll keep it waist-up."
And, believe it or not, Nick has a bit of experience when it comes to childbirth. He notified Kelly that he actually taped the delivery of his friend's baby a few years ago. That's right, he got very up close and personal with someone other than his wife.
OK! NEWS: NICK AND VANESSA LACHEY ARE EXPECTING THEIR FIRST CHILD!
"I asked him, 'How do you want me to handle this, do you want me to get in there and get the detail?'" Nick said of his friend. "And he said, 'Yeah.' We all got very close that day."
But even Nick has to confess that his personal experience wasn't as gross as he expected. Actually, it was the complete opposite. "I didn't expect it to be what it was," Nick admitted, "but it was a really incredible, awesome moment."
We can't wait to hear more about Nick and Vanessa's baby plans!