NEWS
O-Town Reveals Which Current Female Celebs They'd Sing About in the 2014 Version of "Liquid Dreams"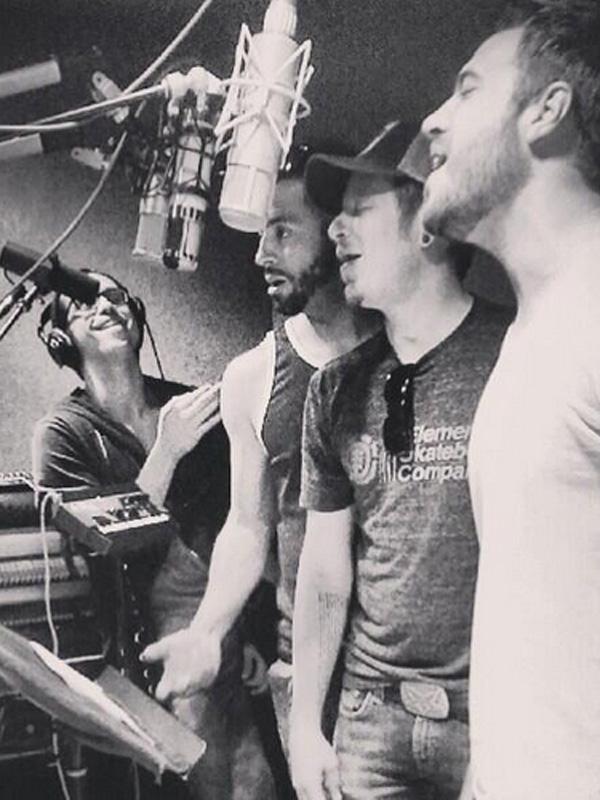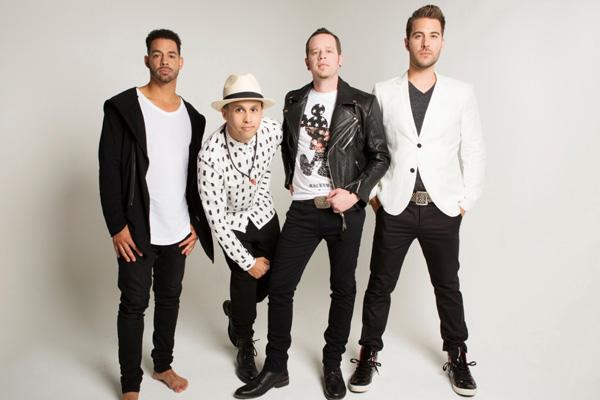 It's a good day at the office when you get to talk to a 90's boy band who you fan-girled over in seventh grade. So it was a GREAT day when Trevor, Erik, Jacob and Dan from O-Town chatted with me about their long-awaited return to music. And for all you people who have been fans since 2000 like I was, I think this interview covers all the bases. Of course we talked about their new song and what it's like playing as a foursome without Ashley Parker Angel, but the guys also dished on Making the Band, their upcoming tour and said that they might be working on a 2014 version of their biggest hit, "Liquid Dreams!" OMG! Read all the juicy, exclusive details below!
Article continues below advertisement
OK! News: 6 Things 90's Boy Bands Will Be Doing in 2014
OKMagazine.com: There's been rumors of a reunion for years now, but why was 2014 the right time to actually make it happen?
Jacob Underwood: I guess we had tried to do this in the past but it has a lot to do with the team. We were scattered across the US so we were struggling to find the right team to make it something that we would want to do. Dan's got a family and a baby so we didn't want to just hit the road and do 320 shows a year like we used to, so now we have a good team of people and good material and the timing felt right for us.
PHOTOS: 17 Celebs You Forgot Were on Dancing With The Stars
OKMagazine.com: Fans know about the upcoming album and tour, but what else can you tell us?
Erik Estrada: The single is called "Skydive" and we just filmed the video for it. It's a different sound because it's four of us and after listening to the records, all of the voices have matured and obviously we've stayed connected to what's going on in music. And even though we're older now, we try to stay as fresh and in tune with how music is evolving. We've tried to incorporate a lot of that contemporary feel into the new music without losing the essence of what made O-Town O-Town, which was great vocals and passionate performances.
Article continues below advertisement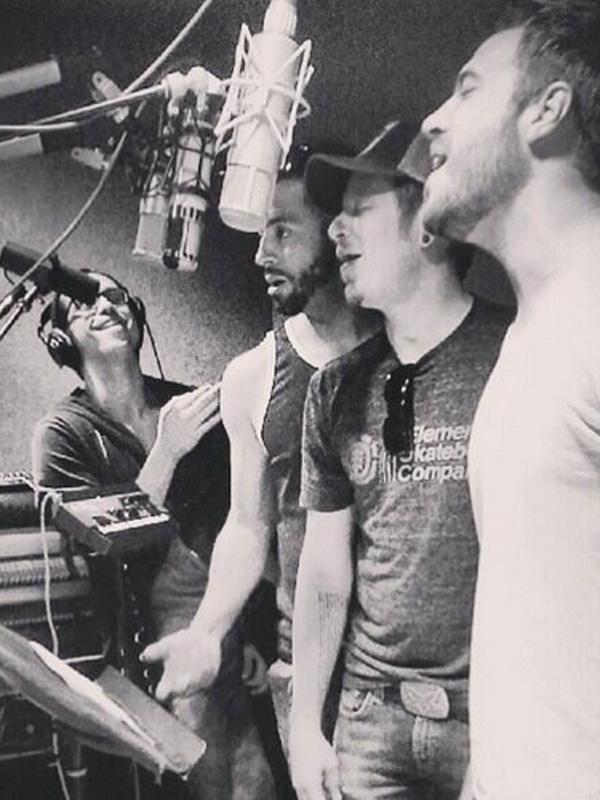 OKMagazine.com: How does being a band of four differ from having five guys? Is it harder with fewer people?
Jacob: Nothing is harder. Actually, what's nice now is it's kinda tough to find five part harmonies all the time. (laughs) It's nice to have four singers because we can find a part for each person and make it a full-on vocal group. I don't want to say we're not lacking anything without Ashley, he's an original member. But it got to a point where we didn't feel like the music was going to suffer too much without him, so we wanted to do it as four. But from day one, everything's been flowing really nice and we've been working together very well.
Dan Miller: The only really hard part is making decisions because now decisions can come up with a 2/2 tie whereas before we could come up on a majority vote. That's the only hard part about it.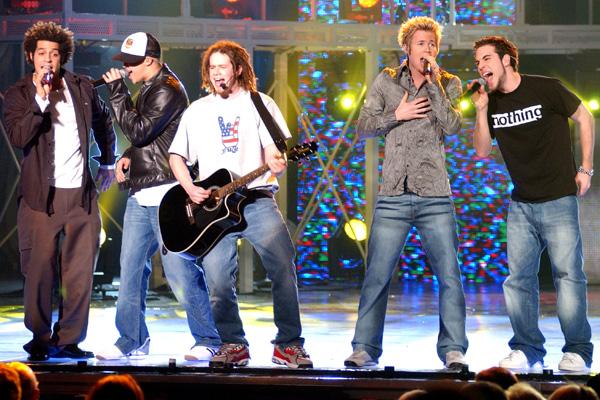 Article continues below advertisement
OKMagazine.com: Taking it back a little bit, do you guys think Making the Band would work if it existed now in 2014?
Erik: For me, Making the Band, it was a cutting edge show. It really set a huge trend in play. We were the last boy band out of the box but we were the first reality network TV show out of the box. We weren't pioneering the boy band thing, but we had our say in pioneering reality TV and that show can't exist anymore. It would never be what it was because there wasnt anything like it on TV at the time. When we first came out you're getting the rawest cast you ever had. You get these raw personalities and I think now everything is so desensitized to reality shows. You have to be outlandish and outspoken and be willing to hate people and get drunk and do this stuff that we find incredibly entertaining and that's why people watch the housewive shows (laughs), but why the show was awesome was because it was really raw and really new and can it be that big again? I don't think it can. Somebody has to come first.
OKMagazine.com: Do you watch reality shows?
Jacob: I don't even have a working television.
Erik: No seriously, I was watching the Housewives marathon last night. Actually my new favorite show is The People's Couch. Its probably the most brilliant show. It's literally just four or five different groups of people in their homes on their couch watching reality TV and their reactions to reality TV. I think its brilliant. There's three old ladies, two girls, two jock guys and everyone's so different.
Article continues below advertisement
Jacob: SO we're now watching people watch reality? This is why I don't have a television.
OK! Exclusive: 98 Degrees' Jeff Timmons Reveals The Boy Band Concert Where He Met His Wife
OKMagazine.com: Ok, back to the music. In "Liquid Dreams," you sung about tons of ladies who were famous back in 2000. Who would be in the 2014 version?
Trevor Penick: It's so funny you say that because obviously with that song, it's a millennium song, we've talked about doing a live version and throwing in girls from today. So that's funny that you asked that. 2014 "Liquid Dreams." We have our picks but would love to hear what the fans would pick and who knows, if we can get a great response we might even revamp the song and do an updated version of it.
youtube=https://www.youtube.com/watch?v=yYOFXp38jBI&w=640&h=360
OKMagazine.com: Put Miley Cyrus in there. That'll get a lot of buzz.
Jacob: We never talked about a crazy girl though, did we?
Erik: She definitely has to have a tongue like Miley.
Dan: I like that, that's good!
OKMagazine.com: Ha! So back to the tour. Are you going to perform the old stuff at the shows?
Jacob: Absolutely.
Dan: It's 80 percent of our show. We have a little bit over an hour to fill and obviously people want to hear that old stuff so we're trying to find ways to incorporate new stuff, old stuff and we love to do covers and were putting together a medley of covers. That's like a staple of our show. Each one of us comes out and does a cover. This one's an ensemble type of medley but we're trying to fit the new stuff with some covers and all the old favorites.
Article continues below advertisement
OK! News: Are James Maslow and Peta Murgatroyd Dating for Real?
OKMagazine.com: Can you tease the covers?
Erik: Trevor and I will definitely be rapping and rocking the mic.
Jacob: I think you can say some artists?
Trevor: It's a mix of current artists and old artists. I know Jacob pitched a Sam Smith song and we loved it. We wont tell you which one though! We might throw some Jay Z in there, Macklemore, Otis redding....just a random little mix of hits from yesterday and today.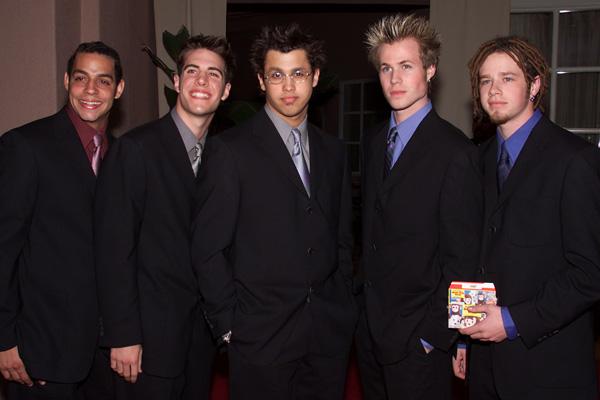 OKMagazine.com: Amazing! So will there be choreographed dancing?
Trevor: We cannot hide from what we are. That's going to be in there. It's not going to be every song because we do have a lot of midtempos and ballads.
Jacob: There won't be any routines.
Trevor: No matching outfits.
Erik: There will be continuity but but we won't be in shiny denim.
WATCH: A Look Back at Ashley Parker Angel's Amazing Reality Show
O-Town's new single, "Skydive," will be released on July 27! Check out more details on their tour and new music at OTownOfficial.com. What do you think of their reunion news? Will you catch them on tour? Tweet us @OKMagazine.