NEWS
OK! Exclusive: Jeff Timmons Reveals The Boyband Concert Where He Met His Wife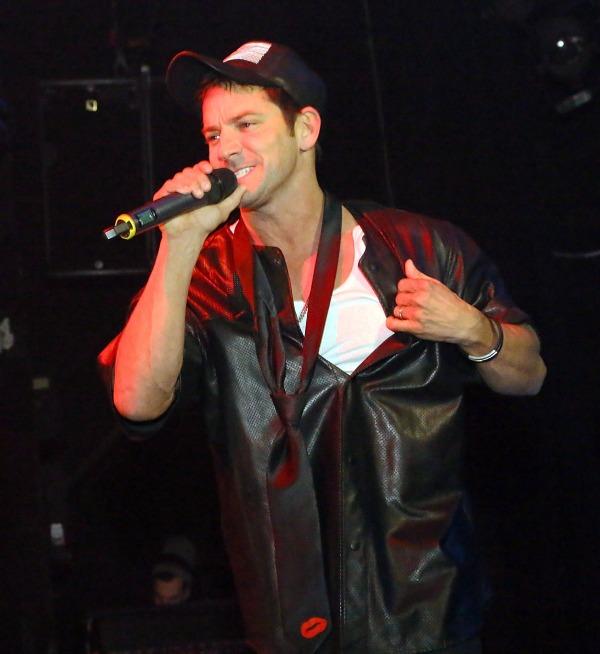 Get ready to see a lot of Jeff Timmons. Like, A LOT. Ok, well not that much.The 98 Degrees star's new show Men of the Strip premieres on E! on June 1st and it's going to be good. Real good. The show follows Jeff's latest project, a grown up boyband, that have performed all over the country and will star in the new show. We caught up with Jeff who talked about G-strings, why it was weird seeing Kevin Costner in the crowd and the boyband his wife is a total fanatic for. Plus, see an exclusive clip of the new show below!
Article continues below advertisement
radar_embed service=5min.com src="http://pshared.5min.com/Scripts/PlayerSeed.js?sid=1126&width=570&height=351&playList=518237276"
OKMagazine.com: Ok, tell us everything about the new show Men of the Strip and what we can expect to see.
Jeff Timmons: Well, when I was asked to host the Chippendales years ago, I was very reluctant about doing it because it has a raunchy, cheesy connotation to it. My wife encouraged me to do it. She's a boyband fan. She's not a 98 Degrees fan she's a NKOTB fan, but she was like, 'Look, you host the show, you're not stripping, it's Vegas, it's a well produced show, it's a well choreographed show, you'll be singing in it, you'll get to be on billboards all over Vegas, you're going to get a lot of press,' and that's exactly what happened. We ended up breaking box office records in Vegas. And I had all these fans when we were out (with 98 Degrees) that were 13, 14, 15 years old and now are 23, 24, 25, and all the way up into their 40's and we made it like a rock concert. I sang all the 90's stuff, sang some original up-tempo stuff, and had the place hype. You couple that with some guys that look like boyband guys but are more ripped, that dance and sing as well and you have a good formula for success. The Chippendales were limited in what they would let me do, I wanted to make it a mainstream, cool, sexy thing. Get these guys singing music, recording music; I had a pretty big vision for it and they weren't interested in that. So what I decided to do was create a new version of it, couple myself with some very talented people, choreographers who have worked with Ricky Martin and Michael Jackson who had a distinct vision of picking certain guys for girls, different looks and more importantly talent and personality. We made it a little sexier and a lot less raunchier and now we have Men of the Strip. After The Package Tour was such a success, we decided to do a promotional tour, very small, at clubs where we knew we could sell out. We put it together very quickly and we wrapped the tour bus with the guys pictures on it. E! caught wind of it, got excited about it and decided to make a docu-series on it. We're really going kind of balls to the walls with the whole thing and it's going to be great.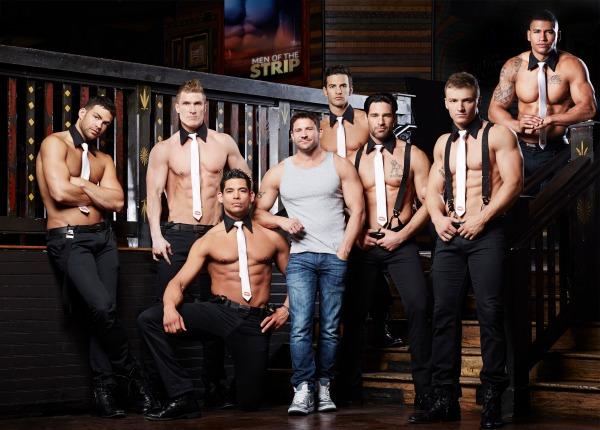 OKMagazine.com: What are the guys like?
JT: These guys are bananas. Some of the guys are scholars they're doing this to get through school, some of the guys are rock stars, partiers, some of the guys are womanizers and then some of the guys are like really serious folks. All the guys are good-looking and all the guys are talented. What fascinated me about the whole thing was these guys and their lives. How they interact with each other, how they compete with each other and how they're all brilliant in their own respects and how they have their own fans.
Article continues below advertisement
OKMagazine.com: Can we still expect lots of drama from them?
JT: Oh yeah, you've got these guys that are ripped and trying to lift the most weights they possibly can but at the same time they have a gay guy choreographing them and making them melt and cry through this boot camp that they're doing. It's bizarre to watch these extraordinarily well-built individuals go, 'I'm tired I need a break, I can't do this anymore.' Of course you have some fighting but you also have the camaraderie of basically if you were on a sports team. The guys care about each other, when someone gets down, they might be in a competition, they might fight, but at the end of the day they're all partying together and trying to achieve the same goals.
OK! News: This is how you woo a lady at a baseball game
OKMagazine.com: How have the ladies in the audience been reacting to it?
JT: The fans for this are just as crazy as when we were out as a boyband. And now that they're adults and you add alcohol into the mix...It's a ladies night out. Guys get a pass sometimes, to go to the strip club and they're just guys being guys but it's always taboo for ladies to go out have a good time, let loose, drink, party, whatever. But you'd be surprised to see how bananas the girls act in the audience towards these guys and they know that a lot of the guys are taken but it's their ladies night out and that's the intention. It's 2014, girls are allowed to go out and have fun, they're allowed to let loose and at the same time they can experience a fantasy of seeing these amazing guys get up on stage dance, sing and give them personal attention but it's harmless. They're going to end up going back to their husbands or their boyfriends or whatever…hopefully! Sometimes it's not the case, but the majority of the time, yes. When I was hosting the Chippendales I saw some really crazy stuff with the girls, really crazy stuff.
Article continues below advertisement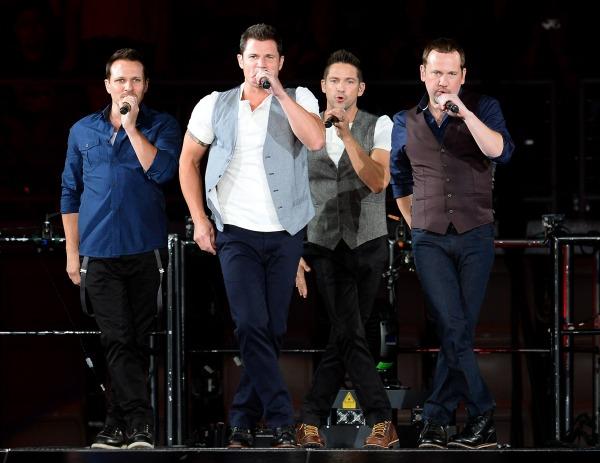 OKMagazine.com: It actually sounds pretty similar to The Package Tour or any boyband shows.
JT: I think Donnie Wahlberg and the New Kids are doing exactly the same thing that we're doing. Donnie rips his shirt off, the guys take all their shirts off, pours beer all over himself, makes out with the girl in the audience and all I'm reading on Twitter is 'I cant believe he's making out with that girl,' but then when I get to the shows and they have 4 or 5 meet and greets, the girls are like, 'I wonder if I'm going to be the girl that he makes out with tonight.' You know what I mean? So there's that double edge scenario with it and that's all this is. Just pushing the envelope enough for girls to actually have fun, go out there and enjoy themselves. We're not targeting it strictly for girls, we know guys are going come and really there's no better place for guys to meet girls than that place because there's 8 guys on stage and 4-500 girls in the audience. So it's open for everybody, it's not supposed to be too dirty, it's supposed to be fun. And that's what we're trying to accomplish with this. It's been a difficult task for me especially folks thinking that's its strictly a raunchy strip club where guys are just grinding in girls faces and that's not what this is, at all.
OK! News: See the most awkward moments from the Billboard Music Awards
OKMagazine.com: Is it ever weird if you see any of your friends in the audience?
JT: No, I think it's cool. There was a time when 98 Degrees played New York and Kevin Costner was just standing in the middle of like a sea of 15-year-old girls. And I remember seeing him like during "I Do (Cherish You)" and he was with his kids, but I looked over and whispered to Nick (Lachey), 'Is that fucking Kevin Costner right there?' And he couldn't have been less enthused. But it is still cool.
Article continues below advertisement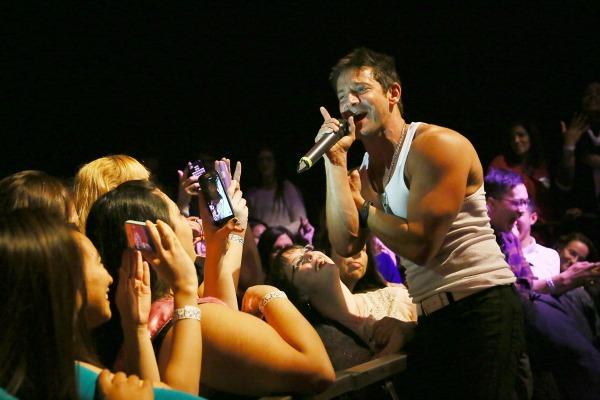 OKMagazine.com: How much interaction with the audience will happen during the show?
JT: We're tying to figure out right now how far we want the interaction to go. We don't want it to go too far to where it's boring, we want to have a certain amount of prestige to the guys, we want them to go into the audience. There's a dilemma whether we're going to have the guys do lap dances and all that. I don't want that part. I want them to go out, I want them to have meet and greets after or pre-show but I don't want girls stuffing dollar bills in the guys' G-strings. I really don't. Well, there are some girls there that want that to happen so we're figuring out that part of the show.
WATCH: Stars of your favorite E! shows reveal their own guilty pleasure TV show
OKMagazine.com: What cities do you look forward to performing in the most, are some crazier than others?
JT: 98 Degrees has a huge following in the northeast. They have always been very embracing of the group. And particularly men. Guys, these tough guys, would come up and be like, 'Yo man I used to sing your songs to my girl.' It's cool hearing it from a guy once in a while. Now LA: no love. No love. Too cool for school. Midwest is amazing, Hawaii is fantastic, northern CA, The SF Bay area, incredible. The south, Florida great. But we always had trouble with the lower west coast, Phoenix, Vegas, those were always tough crowds for 98 Degrees.
Article continues below advertisement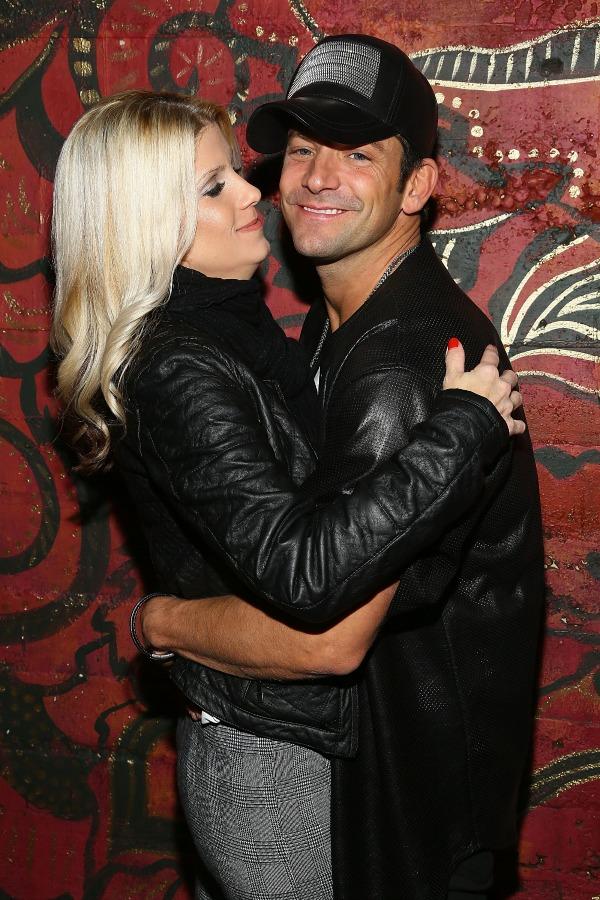 OKMagazine.com: How much did your wife chime in on the Men of the Strip idea, do you ask for her opinion on things like that?
JT: My wife is involved with everything I do. She's the brainchild behind the rebirth of my career right now. I listen to everything she says. I'm a real corny guy but read books like The Secret and there's this brilliant guy named Napoleon hill who wrote a book called The Laws of Success, and one of the things he said is, 'Behind every man is a good woman.' And I didn't have such a good marriage before so I thought, I'll continue to have success on my own, I'll just never have that element that he's talking about. Not until I met my current wife, did I experience any success to the point that we're starting to get to now. So I attribute it all to her. You know what, women have a sense of reasoning that guys don't. Anything that happens forward, if it's a successful endeavor, you can be assured that she's behind it. I know it's cheesy but it's absolutely true.
PHOTOS: See how the Kardashians are getting ready for the big wedding
OKMagazine.com: What was it like when you introduced her to NKOTB?
JT: You know, I actually met my wife at a New Kids on the Block event. Jordan Knight had this thing called Jordan Idol, he called me up when I was in LA and asked if I would co-host the event. I said yes, but I was going through my divorce at the time so I had my kids part-time and I had them that night and I was like, I have to teach my kid spelling, should I go, and I almost cancelled. But I went and she was there. She was in town doing clinical research for some pharmaceutical company, her friends took her out there. She'll never admit it, but she is a New Kids fanatic. So I was there early and she was standing at this table and I started shooting some game ,I was like, 'Hey what's up, you must be one of the younger New Kids fans,' and she's like, 'No I'm actually 32,' very coldly. She was a total bitch to me!
Article continues below advertisement
OKMagazine.com: Did she know who you were?
JT: No she didn't! And you know, I'm trying to show my tat and everything, she has no idea. She's like, 'By the way you're standing at my table, we paid for this table,' so I was like, ok cool, I'm out, I got it. But then I was judging the contest and her and her friends got totally drunk and started acting a fool while all these girls are getting up and singing, they're making fun of them and making clowns of themselves, I'm looking at her like, cut it out, be cool. So I had to actually leave to go teach my son spelling. So she followed me out and was like, 'So they told me who you were, so you're some big deal or something?' and I'm like, 'Apparently not because you don't know who I am!' She wanted to keep in touch and I immediately thought she was gorgeous so I put her on Twitter and she's like, 'That's kinda fast, you're desperate.' Meanwhile there's a treasure trove of females in there that are at anybody's disposable. But it was intriguing and what fascinated me about it was, I really do believe she didn't know who I was and we got to know each other in an organic way. I like to think that, but it ended up being a good situation. I guess it was the challenge that attracted me. We started talking and I had such a bad previous marriage I had no intention of ever having a serious relationship again. But I just started seeing her and one day it just kinda clicked in my head that she was making me a better man so I thought I might settle down and get my shit together with her.
Men of the Strip premieres Sunday June 1 at 10 p.m. ET.
Are you excited to see Jeff on the Men of the Strip show? Tell us in the comments below or on Twitter @OKMagazine.