NEWS
OK! Exclusive: Prince Royce Reveals How He's Spending Valentine's Day!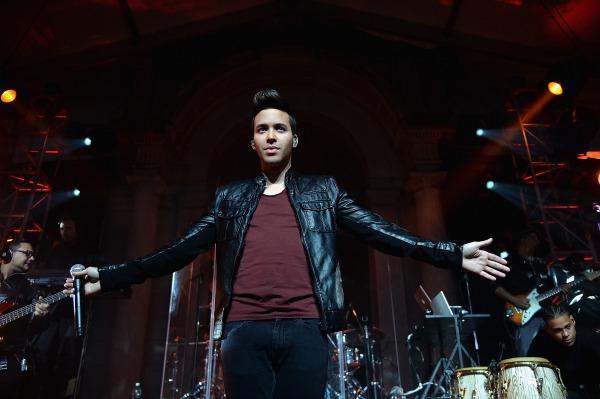 New York City was taken over by the Super Bowl last week and one of the highlights included a performance by Latin superstar Prince Royce at the #PEPCITY dome in Bryant Park. His performance in the unique space in Midtown Manhattan was part of Pepsi's "Hyped for Halftime" campaign which brought unsuspecting moments to fans. OK! spoke to Prince Royce exclusively about his performance, staying sexy in the cold weather and how he'll be spending Valentine's Day this year.
Article continues below advertisement
OK!: Let's talk about the Pepsi campaign and your performance at #PEPCITY. Since it's all about creating unexpected moments, was there an unexpected moment you had today?
Prince Royce: An unexpected moment today? Well I hit my toe against the table today and it hurt. That was unexpected. I did not expect that today!
OK!: Ouch! How about in your career, anything that stands out?
PR: Well, one of the songs that really got me known was "Stand By Me" with the Spanish twist and when I got to perform it with Ben E. King at the Latin Grammys. He was the guy who was very involved in the songwriting and was the original performer of that song, 50 years ago. I've still kept a strong relationship with him, we're still in touch, so to me that stands out. How a song from decades ago, in another language, because I did it in Spanish, how 50 years later that same song could be a hit to another market, to a whole other community and then later performing it with Mr. Ben E. King himself, that stands out to me.
Watch: Find out how these celebs celebrate life's big wins
OK!: It's freezing cold out right now so how do you keep it sexy and keep warm when it's so cold?
PR: Once those cameras are on and you see those flashes and that red light, that cold leaves. I think every performer can agree to that. There's just something about being on stage and being with the people that once that camera turns on, you find the strength to keep it cool, look good, act like you're not cold, act like you ain't nervous, act like you aren't scared, I think that comes with confidence and practice.
Article continues below advertisement
OK!: When it is this cold, what's your favorite warm place to escape to?
PR: My favorite warm place? Dominican Republic or something simple like the Bahamas. Even Miami. During the day it's warm, at night it gets down to 50 degrees which is pretty good. I like Miami in the winter, there's no humidity, no bugs, no mosquitoes. You go out and wear your jacket and you're all good!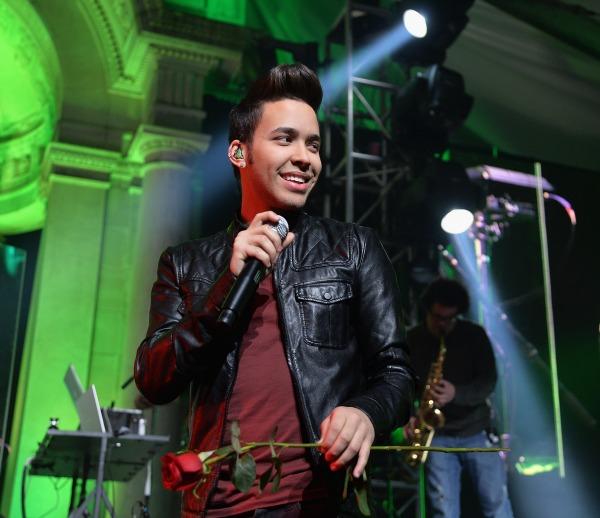 OK!: What are your Valentine's Day plans this year?
PR: I'm actually going to be in Ecuador, I have 3 concerts there Valentine's Day and the day before so I'm going to be spending time with my fans.
OK!: Whats the most ideal Valentine's Day for you, the best way to spend the day?
PR: I just think Valentine's Day is a day to really appreciate the person you love no matter who it is and to spend time with them. I don't think it's all about fancy presents or whatever. I think it's about sending that quality time with that special person.
Article continues below advertisement
OK!: But you're not mad at some chocolates.
PR: I ain't mad at some chocolates or some flowers or some champagne.
OK! News: What did you think of Bruno's big performance?
OK!: You worked with Selena Gomez before, is there another artist you hope to work with soon?
PR: I would definitely love to work with somebody like Jay Z or Rihanna. I'm actually working on my first English album so I'm going to have some collaborations on that, so I'm excited. I'm excited to coach on La Voz Kids which is the Spanish version of The Voice with kids, so for me it's been fun working with kids and mentoring them and getting them to know the ropes early in their careers. It's going to be an exciting year for me!
How would you spend a Valentine's Day with Prince Royce? Tell us in the comments below or on Twitter @OKMagazine.