NEWS
OK! EXCLUSIVE: Secrets of 'Dancing With the Stars'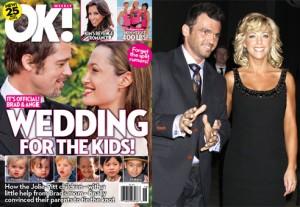 OK! has the exclusive secrets of the backstage intrigue of Dancing With the Stars you won't see on television. Pamela Anderson wants to wow her partner, Mark Ballas sang a song for Chelsie Hightower, Kate Gosselin and her partner diet together, Derek Hough can't stop competing and Jake Pavelka finally made a date with Vienna Girardi!
OK! NEWS: DWTS WATCH — KATE GOSSELIN ELIMINATED
Pam, who's currently single, is desperate to please her partner Damian Whitewood. "He is the only man in my life," she says. "I am a little lonely. I think that's good for the dance. It makes me excited to go to work every day." Says a friend of Pam: "I wouldn't be surprised if one thing led to another; they click."
Article continues below advertisement
OK! NEWS: KATE GOSSELIN EXPLAINS WHY SHE CHOOSES TO STAY IN THE SPOTLIGHT
Derek is so confident in his dancing with partner Nicole Scherzinger, he challenged the show's other contestants to a dance-off as they unwound at Industry in L.A. after filming on April 12.
OK! NEWS: JAKE PAVELKA AND VIENNA — WE'RE NOT MARRIED!
Practicing for the show made Jake too exhausted to romance his fiancée, Vienna. "He practices six or seven days a week and recently pulled a muscle in his neck," says a set insider. But Jake recently promised Vienna that he'd take her to the movies. "Bless her heart — she has been such a trouper," Jake tells OK!. "We've got it on our calendar to see our first movie together."