NEWS
OK! Exclusive: VMAs Exec Producer Dave Sirulnick Talks *NSync Rumors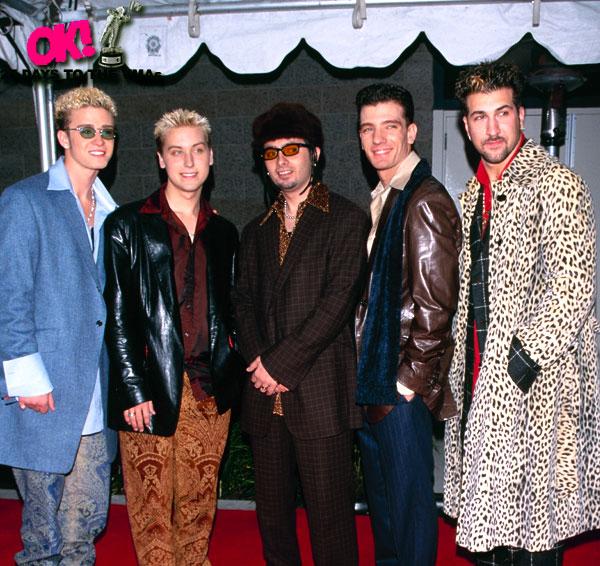 Just when you think you can't possibly get any more excited about the VMAs on Sunday, MTV invites you to hang out and snoop around the Barclays Center as they make final preparations. T-minus 3 days to go!
Photos: Check out the top 50 best VMA outfits of all time!
I hit the floor to check out the giant sets that MTV has constructed. They wouldn't let me take pics of the sets, but I was allowed to capture the oh, 60 foot moonman designed by New York-based artist KAWS.
Article continues below advertisement
Then I strolled between the (in my humble opinion, Jay-z, don't kill me) really uncomfortable Barclays seats to find out who is sitting where. A few thoughts:
Lady Gaga and Katy Perry are sitting together! Rivalry, schmivalry. With Gaga opening the show and Katy closing it, ladies are running the 2013 show.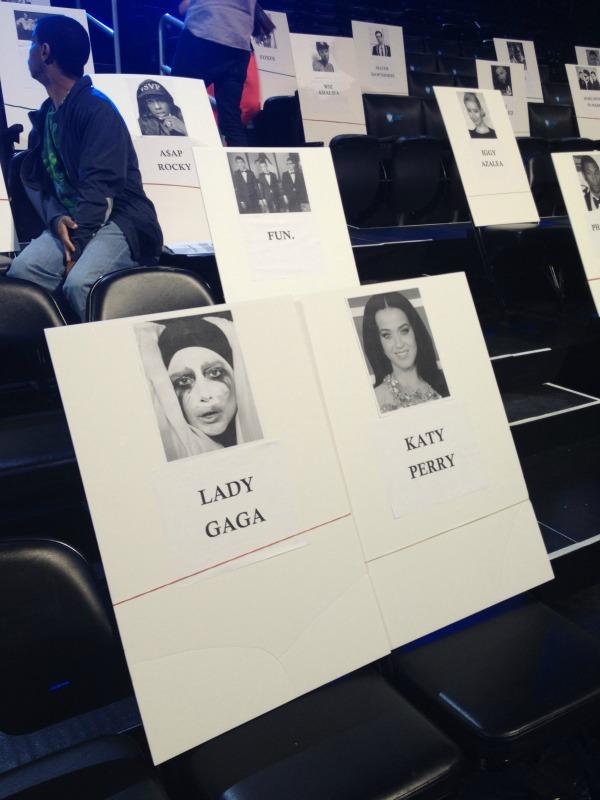 Recently-announced performer Drake is sitting next to fun, which can only mean one thing—Drizzy will be definitely be next to Lena Dunham, who's dating fun's Jack Antonoff. Of all the possible combinations on Earth, nothing makes me happier than the idea of sitting in between my boyfriend Drake and my best friend Lena.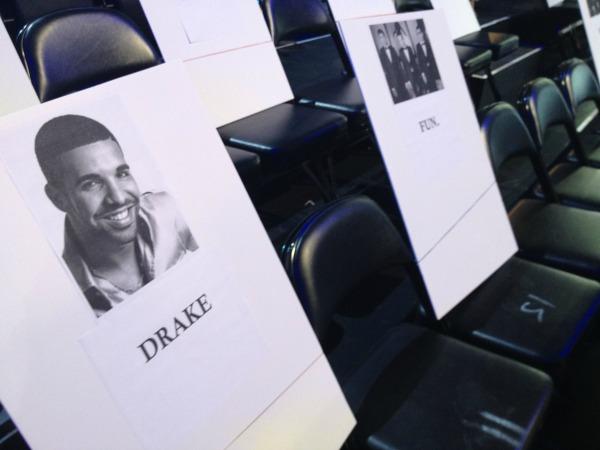 Oh, except for these two. Justin Timberlake and Kanye West, who are both performing, are sitting next to each other, and perilously close to Kanye's noted VMAs pal Taylor Swift. Also, how does Shailene Woodley have one of the best seats in the house (and in front of One Direction, no less!)?! Probably has something to do with MTV premiering footage of her movie Divergent at the awards.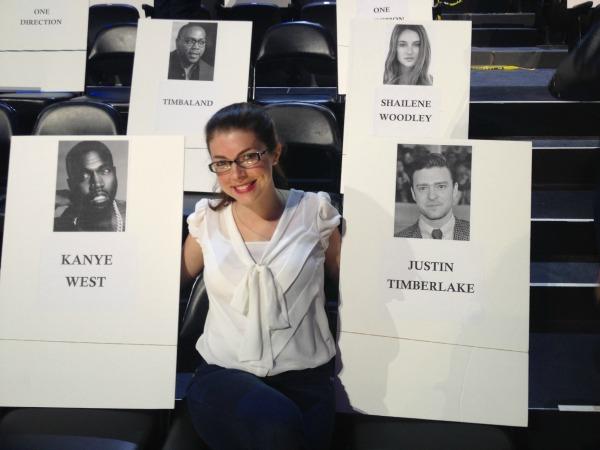 Lastly—Danity Kane?! What!
Article continues below advertisement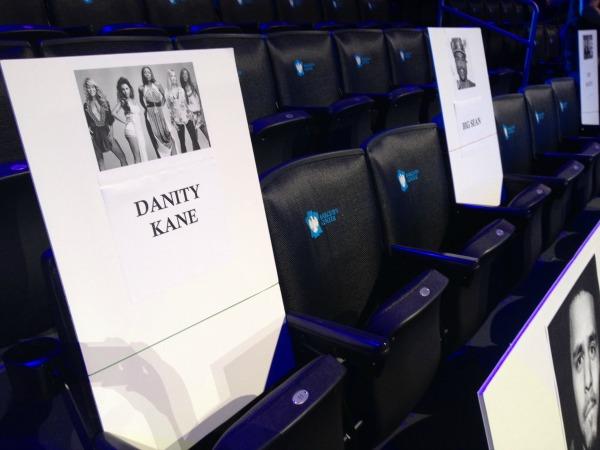 I chatted with MTV's legendary Executive Vice President of Production, News, and Music Dave Sirulnick about the show, namely, the biggest rumor of the week—that Justin Timberlake will be performing with his *NSync.
OK! News: Enter our sweepstakes to win the VMAs gift bag!
He couldn't confirm or deny, but he was firm that they won't cancel just because everyone already knows about it, saying, "Looking back, we have never cancelled something we had planned, so no." For a team trying to plan a whopping eleven performances this year, it's no skin off MTV's back. "On occasion, some of those things get out, but we just keep moving on," Dave says.
OK! News: MTV2's Charlamagne the God chats the VMAs (and why he hates Kanye!).
The VMAs are all about surprises, whether MTV knows about them or not. "There have always been planned surprises, and unplanned surprises," Dave says, making me wonder who could possibly surprise this man. "Beyonce being pregnant. We worked for weeks and weeks with her, and knew nothing of it." Another notorious VMA moment he didn't help with: "Lady Gaga came out of her dressing room in 2010 and was wearing a dress made of meat. We had no idea. She sat down, we saw, and we said... what's that? The cameraman focused in, and was like, 'It's meat!' That was an opportunity she wanted to take." Very diplomatic, Dave.
Article continues below advertisement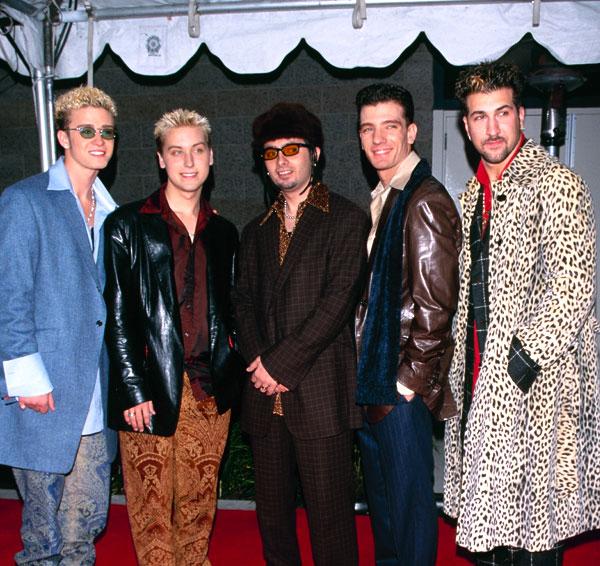 Dave also shared that MTV had been hoping and planning to hold the VMAs in Brooklyn before the Barclays Center was even finished. As for his favorite performance planned for this Sunday, he couldn't pick one. "Over the years, and I will not name names, we think this is the performance that will steal the show. But things change with an audience here. You don't know until you watch the show and go, Wow. That blew me away."
Which performance are you most excited to see? Which VMAs surprise was your favorite? What do you think of the seating arrangements? Tell us in the comments below or tweet us @OKMagazine.