NEWS
OK! Exclusive: 'The Voice' Winner Danielle Bradbery Talks the Future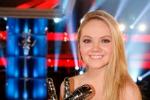 Season four of The Voice is over, and the winner is Danielle Bradbery, the adorable Texas gal with a taste for country. Oh, and she's the youngest winner ever, at just 16 years old.
OK! News: Blake Shelton's best one-liners ever!
Danielle talked to OKMagazine.com about her immediate career plans and flirting with a certain celebrity guest on the show.
OK!: You were the favorite going into the finale. Did you feel like that?
Article continues below advertisement
Danielle Bradbery: Not really, because everyone else in the competition was so good. And I'd heard that a lot of them were people's favorites and I never really got the word around that I was the favorite. I was just trying to do my job. Yeah, it never really crossed my mind.
OK! News: Read all of OKMagazine.com's interviews with The Voice contestants!
OK!: What will you miss about being on the show?
DB: Being around the other contestants. We all kind of grew this relationship that was like a family. We all helped each other out. That'll be the main thing I miss.
OK!: What is your immediate plan? Are you really recording next week?
DB: Yes, I am. I go to Nashville Monday and start working with my songs. So it's coming pretty quick.
OK!: Do you have plans to go back to school in the fall?
DB: The school thing has been up in the air so far. I went to high school at my regular high school but had to get out of it for all this Voice stuff, so I'm in online schooling for students who travel. Right now that's probably the best I can do. I'm debating on whether I should go back or not.
Article continues below advertisement
OK! News: Christina Aguilera flaunts her major weight loss on The Voice!
OK!: Has Blake given you different advice now that you definitely have a record deal?
DB: He's been putting in a lot of good words about the right people I need to working with. He's definitely been helping me out a lot. He and Miranda always tell me that if I ever need anything I should just talk to them, so that makes me feel good.
OK!: I was watching your performance with Hunter Hayes, and I have to say you guys had crazy chemistry! It seemed flirty on stage. Do you like him?
DB: laughs I mean, of course. He's Hunter Hayes. So I have that celebrity crush. I tried to embrace every moment of singing with him on stage, because I never thought that would happen and it finally did. They always tell us "connect with each other on stage," so I take advantage of that! laughs
Article continues below advertisement
OK!: Did you get to talk to him at all?
DB: Yeah, before the performance we rehearsed off the stage and just kind of talked a little bit to get to know each other before we performed. And we actually saw each other again on the Today show. He got me a brand-new guitar! So that was crazy.
OK!: What are some other things you want to do this summer that aren't music related?
DB: Just hang out with my friends and family, and let everything soak in more. Have a break for a little bit, then get on my feet!
Were you rooting for Danielle? Can you believe that she's only 16 years old? Do you like her country sound? Tell us in the comments below or tweet us @OKMagazine.