NEWS
OK! Interview: Idol Castoff Didi Benami!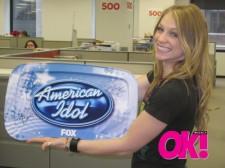 Didi Benami may have cried often on her American Idol journey, but the 23-year-old from Knoxville, Tenn., is still smiling after getting cut on March 31. By coming in 10th place, Didi will be on the Idol summer tour and as Didi puts, "I'm going to open the tour!" The bubbly blonde stopped by the OK! offices to chat about her awkward moment with Ryan Seacrest, her pre-Idol encounter with Kris Allen and how she wants to be like Jennifer Aniston!
Article continues below advertisement
Were you expecting to get voted off?
I had a feeling that I was going to be in the bottom three. It wasn't one of my best performances. You always have to be prepared regardless. You never know what's going to happen.
Tim Urban had been in bottom three for three weeks in a row, Katie Stevens had been there two weeks in a row, what did you think when that was who you were with?
I felt that you never really know what's going to happen. I had my song ready just in case. I was hoping I wouldn't go.
OK! BLOG: ANOOP DESAI'S IDOL DISH
What was it like to sing for the save? Did you think they would save you?
I thought there was a possible chance that they might save me. I wasn't ready quite yet to go, but at the same time, I was kind of exhausted and I was getting really sick. I was hoping I could get through it without squeaking. I was on the brink of having bronchitis.
Article continues below advertisement
How do you even sing when you are sick?
The show must go on! That's the music industry. I was sick the whole time. I had a really bad sinus infection and I didn't say anything about it. The producers knew, but it was part of the reason why I chose "The Way I Am" at the very beginning of the top 24. I needed to do something low-key otherwise it was going to blow out my vocals. So I was sick the whole time and it got really bad toward the end. I think it was because we weren't getting sleep and we didn't have enough sleep to get better. But it was an amazing experience. I am so grateful and blessed.
How bummed were you to miss Lennon/McCartney week?
I was bummed out. Of course, I'm a Beatles fan. That was a bummer! Of all the weeks to go. Can you just save me so I can sing a Beatles song, please! laughs
What would you have sang?
I was either going to do "Across The Universe" or "Blackbird."
OK! NEWS: TOP NINE IDOL CONTESTANTS CHAT LENNON/MCCARTNEY PERFORMANCES
How was Miley Cyrus as a mentor?
She has more experience than we have in the entertainment industry. She's been performing way longer than any of us have. So she had advice to offer. I was asking about how nervous you get. All of us are pretty young, so going into the entertainment industry, I think she was a great mentor.
Article continues below advertisement
What do you think of Adam Lambert as next week's mentor?
I don't know. I didn't really watch last season. The only thing I watched was the finale with Adam and Kris Allen. It's really funny. I ended up waiting on Kris when I worked at a restaurant that's really close to the management company. It was after he won. His family came in before and they were really really sweet. I remembered them because they were so nice. And then I went over to the table and he looked so familiar. I was like, "Aren't you the guy who won American Idol?" He was like, "Yeah." So I told him that I was about to go audition for American Idol. He asked what I was going to sing, I said "Hey Jude."
He said, "I'm singing that on tour, that's such a great song." I asked for advice and he said, "Honestly, just be yourself, do it." And then when he came to visit the show, I asked if he remembered me. He was like, "Oh my gosh! I just put two and two together." But his wife Katy apparently came into the restaurant and asked for me again. They were so sweet. She was like, "I came in and asked for you and here you are!" Kris was like, "Dude that's so crazy." That was the week before I did "Lean on Me" because I remember talking to him and her about it.
Article continues below advertisement
OK! NEWS: DIDI BENAMI ON IDOL ELIMINATION — "IT'S BEEN A CRAZY COOL RIDE"
What do you think of the group songs?
Did you see my fall during Wham? It was a graceful fall, I picked myself up. I lost my balance, that step forward as we were about to walk right in front of the judges. I was like, this is so embarrassing! Ellen DeGeneres was like, "Are you okay," while we're in the middle of the song laughs. That was embarrassing! They are cheesy, they are totally cheesy. But group rehearsals are always fun when we're doing them on stage. We are totally silly and goofy.
OK! NEWS: LINDSAY LOHAN APPEARS IN AMERICAN IDOL AUDIENCE
Do you regret talking about your friend who passed away when Ryan tried to get you to talk about it again?
I didn't at all. It's something that means a lot to me and that's the reason why I am doing music today. She's my inspiration for my career. I just didn't want to talk about it on live television. It was a fairness thing for me with everyone else. I didn't want to do this whole sympathy thing. It's something really personal to me. It wasn't just Rebecca. I was very brokenhearted about her passing away, but it was also a compilation of everything that has ever had me brokenhearted I put into that song. It was meant to be an inspiring song. It was supposed to be dramatic. I just didn't feel comfortable using that. I respect my friend a lot, that to me felt a little bit disrespectful. I wanted to honor her through this and didn't want to sit there and talk about it the whole time. I wanted to convey it through the music. I wanted to make it through the competition based on my vocals and to be able to be in the song. It frustrated me because Simon said it was overdramatic. But I wasn't going to sit there and talk about why I did the song.
Article continues below advertisement
RED CARPET CONFIDENTIAL: DARIUS RUCKER — "SOME IDOL HOPEFULS CAN'T SING"
Do you think the judges were too harsh?
I think they meant well. I think they all wanted us to succeed, that's why they put us there. I had a hard time sometimes with the criticisms, sometimes felt a little too much. There's nothing wrong with constructive criticism. I actually feel that people absorb constructive criticism more than the negatives. I realize that some of it is for entertainment value. As a performer you have to learn to take it as a grain of salt.
How was the experience doing the Idol Twitter?
I always forgot to Tweet. I've gotten a lot better about this. I never even had a Twitter before the show. It's actually great. Now I can use Twitter and Facebook to communicate with my fans. You can follow me at twitter.com/dbenami or on Facebook it's dbenamiai9. I should be putting the same updates on both of them. You're welcome to follow me. I will post when interesting things come up. I will be posting during the tour. I wish I could reply to everybody, but I haven't had any time. I really appreciate the support, it's amazing. They've been the biggest part of this experience, they got me here.
Article continues below advertisement
Have you been recognized a lot?
One guy, I think it's the same guy has wanted me to sign his guitar. I think it's four guitars now. I think it's the same guy! laughs I think I saw him at the airport and then he saw me at the hotel. I don't know.
OK! NEWS: AMERICAN IDOL DAVID COOK GIVES BACK IN ETHIOPIA
What are your plans now? Singing, acting?
All of the above. I want to have a record out by this time next year. By the end of the year is my goal, but I don't know how logistics will work out after the tour. I already started writing some songs, so I don't know if I could get an EP out by the end of the year and then do a record the following year. I definitely want to do a compilation of Rebecca's music. I would eventually like to act, that would be fun. I would love to do sitcoms, like Friends. I love Jennifer Aniston, I think she's amazing. I would eventually like to write a book about all my experiences since I moved to L.A. About losing a friend, being an inspiration and turning something bad into something good.
OK! INTERVIEW: AMERICAN IDOL CAST-OFF LACEY BROWN
What was it like visiting Alex Lambert at the If I Can Dream House?
It was awesome to see Alex. He has a great voice. It was really really great to see him. He definitely has an unique voice. I really hope that he gets picked up and something happens with him. He's a sweetheart, too.
Are you single? What are you looking for?
Yes, I am single. I am looking for Paul Wesley Stefan on The Vampire Diaries laughs. I am a huge fan of him. I would love to meet him. Yeah, somebody who looks like a vampire laughs. I like somebody who is deep. I don't always go for the best looking, model-type guy. I'm about what's on the inside, what kind of person you are, if you're spiritual. It's about first attraction, too. When it's right, it's right and you know it. I have to put my career first right now and if Paul Wesley comes along, well then. I might make a little time for him laughs. In the meantime, I really want to stay focused on my career and I think God has a plan and whenever my soulmate is supposed to be there, he will be there.