NEWS
OK! Old School: 14 Pop Rock Bands From the 2000's You Probably Forgot About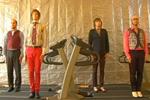 Confession—the best day I had at work ever was when I wrote the OK! Old School post about the best forgotten girls' songs from the 2000's. There were so many high school memories and emotions happening that I left work that day and looked at my senior year scrapbook to add to the nostalgia. True story.
Watch: The Best One-Hit-Wonder Girl Songs of the 2000s
And I think today is going to be the second best day at work ever, because today, its the boys' turn. I was going to write a post about the best forgotten boy bands, but how many times can a website write about BBMak and LFO? Instead, we're going to take a stroll down memory lane with these awesome pop-rock one hit wonders from bands like Bowling for Soup, Panic! At the Disco and more. Let's get rolling...
Article continues below advertisement
Crazy Town—"Butterfly." I always associate this song with this one guy who I kinda sorta liked in 8th grade in 2001 because he was obsessed with it. I liked it too though and wasn't just pretending to for the sake of him, because that would be lame.
Jimmy Eat World—"The Middle." I remember feeling cool in 2003 when I actually had this song on my iPod (or was it discman back then? I forget) because it was like a real person song that wasn't my usual fave of bubblegum pop.
Fountains of Wayne—"Stacy's Mom." I'm pretty sure this song started the MILF trend, and I'm ok with that. Because even though nobody knows who Stacy is, to this day, this song is a classic.
Article continues below advertisement
The Ataris—"Boys of Summer." I think The Ataris released like, five albums, but the only noteworthy track in my mind was "Boys of Summer." It wasn't even their song—the Eagles originally released it in 1984—but this was my jam throughout July and August of 2003. My jam, you guys.
Yellowcard—"Ocean Avenue." This was another one of those pop-punk bands that had more than one single, but this one was the best. The BEST. It came out in 2004 which is around the time that 'Laguna Beach' hit it big, and I always just picture Kristin and LC and Stephen when I hear this song. Don't ask me why.
Hoobastank—"The Reason." Listen, I liked this song a lot, but I remember my mom HATING it. She called them "Hoobastinks." So clever.
Bowling for Soup—"1985." This song mentions the best things that ever happened to pop culture in the 80's like Wham, Pretty in Pink and Van Halen. I look forward to another band doing this same thing in the future but calling it "2005." It's going to be great.
Papa Roach—"Scars." These guys look like Pete Wentz and sound like Fallout Boy, but unlike FOB, they only had one commercial hit. Oh well.
Article continues below advertisement
OK Go—"Here It Goes Again." I was in college when this song hit the radio, and I loved it. But then I saw the music video and you basically could not tear me away from TRL. That thing they do with the treadmills? They don't make 'em like this anymore, ladies and gents.
Snow Patrol—"Chasing Cars." This song was also a 2006 gem, and it was so good that it wons tons of awards and was nominated for a GRAMMY. "If I lay here/If I just lay here..." You hear those words and you start signing this song immediately. No? Just me?
Panic! At the Disco—"I Write Sins Not Tragedies." Even though this song was the band's only actual Top 40 hit, I had the whole album. The whole thing. And you know what? I saw these guys live in June of 2006 at Starland Ballroom which was a standing room only theater, so it was my first mosh pit concert ever. It was also the first concert to which I wore converse. I was so punk.
Red Jumpsuit Apparatus—"Face Down." I was an old lady when this song came out (I'm talking twenty-years-old here), and at the time I felt so cool that I liked it because, like Jimmy Eat World, this song was rocker-ish and I was pop-ish. My music taste was really maturing at this point, clearly.
Metro Station—"Shake It." This song, the lead singer of which is Miley Cyrus' brother, Trace Cyrus, came out at the same time that Hannah Montana was huge (2008), and I liked both that show and this band. 21 and still liking Hannah Montana? Yup, that definitely happened.