NEWS
OK! Old School: 8 Amazing Celeb Reality Shows You Probably Forgot About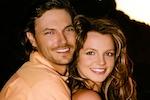 Article continues below advertisement
Photos: Celebs Tell OK! Their Celebrity Crushes From When They Were Teens
Britney and Kevin: Chaotic—This show was the epitome of "it's Britney, b*tch." Brit's then hubby, Kevin Federline, taped her on the road and it was as raw and intimate as it gets. This is how reality TV is done, people!
MTV The Diary of...—This was hands down the most revealing MTV reality show of all time. The MTV cameras followed along with a different celebrity every week as they tracked their day-to-day lives of being an on-the-road celeb. Below, we've chosen to feature a clip from Lindsay Lohan's episode as she was doing a press tour for Mean Girls, obviously.
MTV Rich Girls-—Back in 2003, daughter of designer, Tommy Hilfiger, Ally Hilfiger, gave us a behind-the-scenes look at her rich and fabulous life in the middle of the Big Apple. Not going to lie, we were pretty obsessed with this one.
Watch: The Best Old School Nickelodeon Game Shows
The Ashlee Simpson Show—Long before her days as Mrs. Pete Wentz, Ashlee had the MTV cameras following her (and then boyf, Ryan Cabrera) with her singing career, relationship woes and everyday life. Yup, they even aired her infamous Saturday Night Live fiasco.
Article continues below advertisement
Meet The Barkers—Blink 182 drumming extraordinaire, Travis Barker, and his then-wife (feels like we're using a lot of the phrase "then wife" in here...), Shanna Moakler invited the TV cameras into their home for a glimpse into their rockin' yet fabulous life.
House of Carters -—Seriously, what's not to love about a whole lot of Nick and Aaron Carter on TV?! Truth be told, Backstreet Boys and "Aaron's Party" might not be on the top of the charts nowadays, but our obsession with these bros will live on forever.
Life of Ryan—There's no denying it, Ryan Sheckler was our teenage crush because of this show. He was cute, he was a bad boy with tattoos and he was a tan-skinned skateboarder. Dreamy.
Paris Hilton's My New BFF—Becoming Paris Hilton's BFF sounded like a total dream come true for us. Don't lie, you used to feel the same too. We would watch along as lucky contestants would battle it out for Paris' hand in friendship. She made them do pretty insane stuff too, like in the clip below.