NEWS
OK! or OMG?!: Read Our Review of The World's End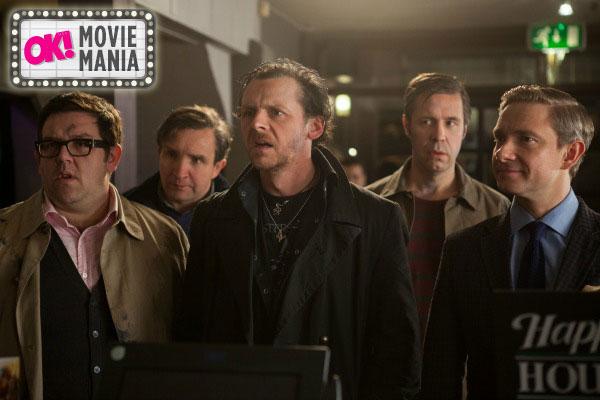 Full disclosure: this is the film I have been anticipating and looking forward to more than really any other event this year (whoops, sorry to all my friends with weddings and new children). Fuller disclosure: it exceeded my unbelievably high expectations.
For The World's End, besties Simon Pegg and Nick Frost are back at it sharing the screen, with Edgar Wright directing the magic they captured in their two previous films Shaun of the Dead and Hot Fuzz. If you even remotely enjoyed either of those movies, you'll love this one which rounds out the 3 Flavors Cornetto or Blood & Ice Cream trilogy. If you are unfamiliar with the word, a Cornetto is not just a delicious ice cream treat, it is also symbolic for the best trio of movies that will make you think about your life, want to punch a zombie, a zombie-like cop, or in this case specifically a zombie-like robot, and leave you gasping for air in between chuckles.
Article continues below advertisement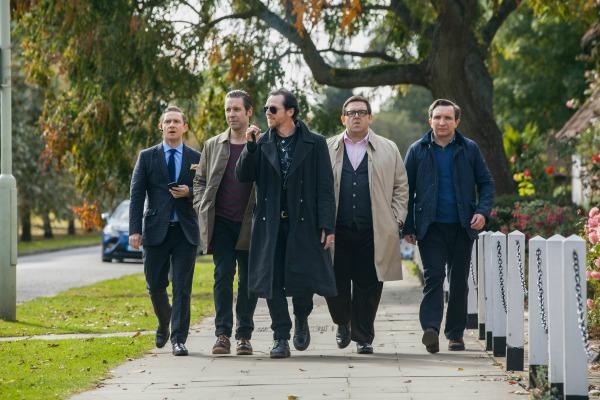 Edgar Wright is hands down my favorite director and with The World's End it seems like his previous feature films (Shaun, Fuzz and the life-changing Scott Pilgrim Vs. The World) were all just leading up to this one. The film is a master class in directing from the fast-paced editing to the fight choreography more elaborate than a Beyonce concert, and especially the quickest, wittiest and funniest jokes you'll see in a film all year that demand you see this movie more than once. I know I will.
OK! News: Even Beyonce needs a pep talk sometimes
Not only is Simon Pegg one of my favorite writer/actors but when he teams up with Nick Frost, you know something special is cookin'. It could not be more enjoyable to see them switch from their usual roles, with Nick playing Andy the straight man, his life seemingly together while Simon is the rambunctious Gary King, a wild guy with a wild plan.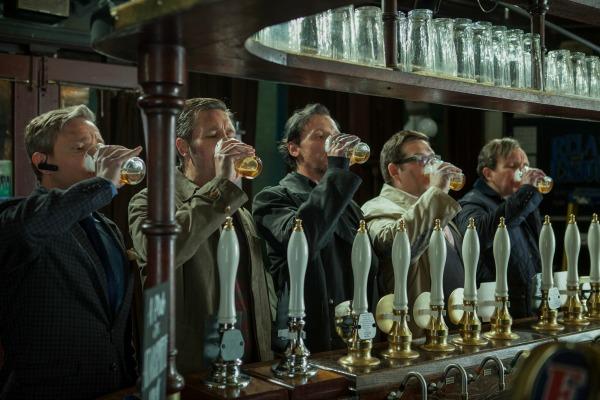 The Worlds End follows 5 dudes who attempt to recreate a night that happened 20 years ago when they embarked on a pub crawl but alas, did not complete it. That is not an option this time around. The guys go on an adventure that is silly and nostalgic and hilarious and awkward...and that's before the real kicker, um, kicks in.
Article continues below advertisement
OK! News: The pros and cons of Ben Affleck in the Batsuit
Going back to your hometown is always weird. You simultaneously want to run into people so that you can brag about your fancy job or your hot spouse or your adorable children, while secretly hoping you an avoid anyone you've ever spent time with in a classroom. But imagine if those people seemed...off? Robotic, even? This movie tackles that head on. Speaking of tackles...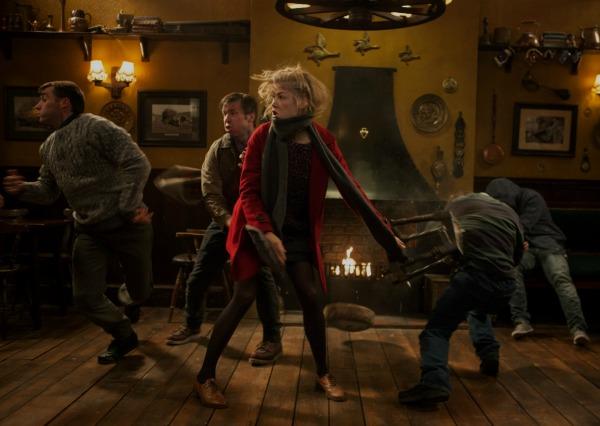 Sip! Punch! Spit! Kick! It all happens in mere seconds, where you can only hope your laughing keeps up with what your eyeballs can take in on the screen. This movie makes bar room brawls, robot invasions, and even losing touch with old friends the most enjoyable it's ever been. At one point during the movie I caught myself beaming. When was the last time a movie made your face hurt from alternating between smiling and laughing? I was hanging on ever word, every joke, every broken bar stool.
Article continues below advertisement
OK! News: What are you watching on Netflix this weekend?
As far as the supporting cast goes, I could watch Martin Freeman's facial expressions all day, I want to give a great big hug to Eddie Marsan, high five Paddy Considine and be best friends with Rosamund Pike. Plus several of your (ok, MY) favorite actors pop up roles throughout the film but I'll let you discover those for yourself.
I know, I know. I've used the word "favorite" an awful lot already so I was afraid of being a smidge biased but my passion for this film is not the exception. It seems to be the rule. People, critics and celebs have been enjoying it across the board, from those that are unfamiliar with Shaun or Fuzz to those that have memorized every word of dialogue from Spaced (what? you haven't seen that brilliant nerdy series? Don't talk to me until you have!).
OK! News: 4 things we need to see on the Reality Bites TV show
So gather your friends up, buy tickets for this movie immediately and plot out your pub crawl for the night. Because life, just like this movie, is about friendship, growing up, and enjoying a beer... or 12.
Are you seeing The World's End this weekend? Tell us what you think about it in the comments below or on Twitter @OKMagazine.