NEWS
'Pain & Gain' Is Out! Watch Mark Wahlberg's Funniest Moments Ever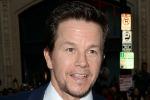 Article continues below advertisement
Okay, one more item centered on his torso. Here's Mark in his Marky Mark days, introducing his workout tape. Sample quote: "The biggest question people ask me is why am I doing a fitness video? I'm a rapper. But I've been into fitness for a while." No kidding!
But before you think of him as just a funny juicehead, watch this incredibly impressive verbal display in Ted:
Finally, I couldn't resist. Here's the classic Andy Samberg Saturday Night Live sketch in which he impersonates Mark Wahlberg... talking to animals. At the end of this clip, it segues into Mark confronting Andy about the impression.