NEWS
The PhilmGuy's DVD Review: 'The Social Network'; 'Piranha 3D'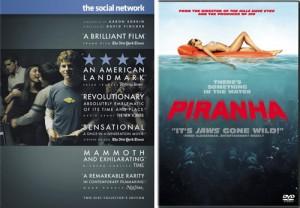 The Social Network – The prohibitive favorite to take home the best picture Oscar is an endlessly rewatchable keepsake on home video. Director David Fincher's blisteringly paced, studiously detailed and expertly-written film hums like a perfectly tuned engine. Many critics have drawn parallels to this tale of Facebook founder Mark Zuckerberg (played by an inspired Jesse Eisenberg) to Citizen Kane, and I think this film compares favorably to that timeless classic. The only downside of this otherwise immaculate Blu-ray release is that it lacks DVD and digital copies, but makes up for the shortcomings with intriguing commentary tracks and several background featurettes. Still, I suspect a blowout follow-up release is in store, perhaps later this year.
Article continues below advertisement
THE PHILMGUY'S DVD REVIEW: BIG LOVE; MACHETE
Dances With Wolves: 20th Anniversary Edition Blu-ray – Kevin Costner's 1991 Oscars-dominating opus holds up well, especially in this gorgeous transfer that captures the sweeping, wondrous detail of the untamed West. Costner directs and plays an American Lieutenant who befriends a Sioux tribe, understanding the ways of the civilization his organization is working to destroy. The extended cut of the movie includes more than 50 minutes of extra footage, most of which is unnecessary. Costner and producer Jim Wilson provide commentary and other extras include a making-of and retrospective documentaries.
OK! NEWS: THE PHILMGUY'S TOP 10 MOVIES OF 2010
Once Upon a Time in America Blu-ray – Sergio Leone's gangland epic tells a jarring tale of Jewish gangsters in America, spanning some 60 years in the 20th century. Robert De Niro, Joe Pesci, James Woods and Burt Young make up an excellent cast, and Leone's stunning images glisten in HD. Film historian Richard Schickel provides a commentary track, and there's a robust making-of doc, along with nearly 100 behind-the-scenes stills.
Article continues below advertisement
THE PHILMGUY REVIEWS: TRUE GRIT
Yo Gabba Gabba: Let's Visit the Doctor! – My favorite pre-school show impresses with yet another four-episode DVD collection, focusing on various aspects of hygiene and healthcare, helping ease kids' minds about visiting the doctor and dentist while stressing the importance of washing their hands. The hypnotically inane songs are as enjoyable as always, and the trippy visuals never bore.
Piranha 3D – I wish I'd seen this movie before I put my 2010 top 10 list together. A refreshing whirlwind of absurd mayhem, the campy thriller lets you watch Spring Break revelers scramble to avoid being systematically picked off by a determined group of flesh-eating fish. With a game cast (Ving Rhames, Jerry O'Connell, Elisabeth Shue, Richard Dreyfuss and a whole lot of unknown, scantily-clad actors in their 20s), ample gratuitous nudity and copious amounts of wildly creative violence, Piranha never bores and begs to be played on an endless loop during parties. Deleted scenes, filmmaker commentary and behind-the-scenes featurette prop up the package.