NEWS
'Real Housewives' Star Kyle Richards Reveals Secrets To A Happy Marriage With Mauricio Umansky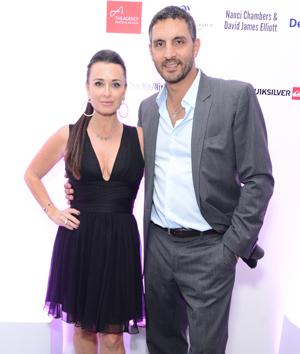 Article continues below advertisement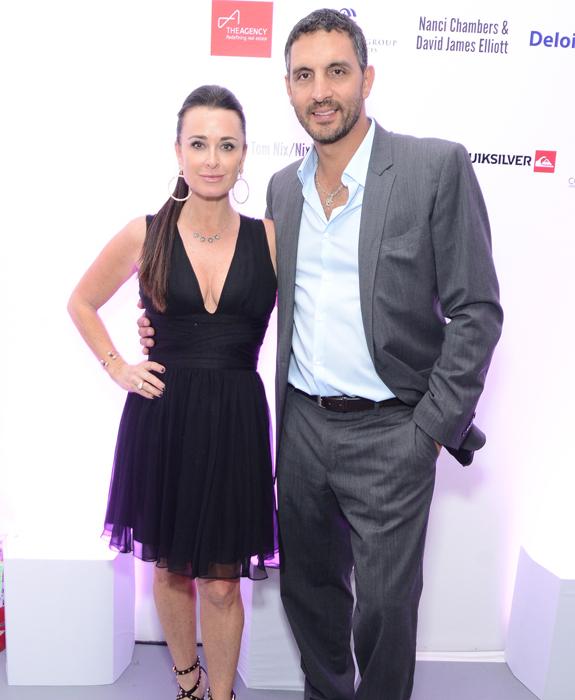 OK!: What is your secret to having such a long and happy marriage with husband Mauricio Umansky?
KR: You know, my husband and I, really do feel that we are soul mates. I really do. I know that people think, 'Oh I don't know', but I really do. In May it will be 19 years we've been together. I honestly do love him more than I did 19 years ago. We just get along. We're always on the same page for some reason.
PHOTOS: OH-SO-SWEET MOMENTS BETWEEN CELEBRITY PARENTS AND THEIR ADORABLE KIDS
It doesn't feel like a lot of work. There have been times in our life that it was. In our 20s, I would get so jealous or I would get mad. He was so immature at times. We were so young. When I was pregnant with our third, and, you know, I was throwing up in the toilet, nausea from being pregnant, and he goes, 'Honey. I feel so bad that you feel sick. If you need anything, I'm on the golf course.' I was like errr! Literally. We would fight about stuff like that, but at this stage of our lives, we've got all that stuff worked out, done.
Article continues below advertisement
OK! GALLERY: KYLE RICHARDS AND HER REAL HOUSEWIVES PALS PARTY AT HER NEW STORE OPENING
He's matured. We're a good match, but we also know that it's a job that you have to work at every single day. But it's a fun job if you love that person. It's like a plant that needs to be watered every day. This morning I brought him his coffee. He was like, 'My skin is dry', so I brought lotion. I asked him, 'Do you feel loved right now?' You know, you have to do those things and think about it.
OK!: Why did you want to be a part of Clorox Icktionary?
KR: Obviously, part of the job of being a mom—you get yourself in some very icky, messy situations. So, Clorox is a name I trust, and I knew this would be something fun to do. Here I am!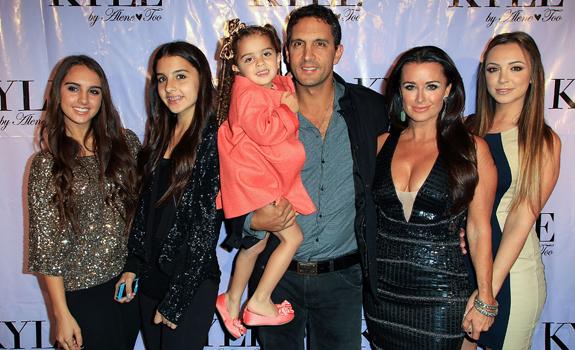 OK!: Tell me about some of the words that you contributed and how those came about?
KR: Well, somebody came up with icktionary.com, which is a wiki-style dictionary of words for these icky situations and also on the website, you can look at solutions, how to clean up those situations, and with the fun names. But my husband and I, we were celebrating our anniversary in Puerto Rico and we sat there coming up with these names. We just got carried away and the next thing you know, we're at a romantic restaurant that night, and we'd be like, how about this one. We're talking about the most disgusting things. We're coming up with these funny words. It was just fun. You can go on the website too and come up with your own names also. It's just a fun way to, kind of, laugh at situations that we never laugh at during the moment, but later we laugh at these disgusting things—whether you're a mom with babies or have dogs—there's always something.
Article continues below advertisement
OK!'S WILD NIGHT OUT WITH KYLE RICHARDS AND BRAVO GANG
OK!: Give me one of the names that you came up with?
KR: Smelldorado. That's where the cat box is. Eau de Toilette. That's the little area behind the toilet. It can be kind of a mess sometimes. Lady in Red. That's when someone spills red wine all over you. So just kind of fun things like that.
OK!: What's the ickiest situation you've had to deal with?
KR: One of my worst I really think in the 24 years being a mom, we were in Vale, Colorado skiing and my husband and I took the four girls to dinner. And all of a sudden I said to him, 'Portia is going to be sick. I can tell. She's going to be sick.' So I quickly picked her up, I was running to the bathroom. Everyone was already staring at us because they recognized us from the show. Everyone's watching. She literally projectile vomited, on me, my hair, my clothes, everywhere. So then, she continues again. She could not stop. I was screaming, 'I'm sorry! I'm sorry!' Everyone is staring, so then I asked somebody to get me some things to clean it up. Because you know, as a mom, you cannot have someone else clean up your child's mess. That was definitely one of my doozies. Portia's done that to me a couple times actually now that I think about it. I had a purse like this and we were at one of my favorite restaurants. She goes, 'I don't feel good.' And I opened up my bag because it was the only thing I could think of, and she threw up in my Bottega Veneta bag.
Article continues below advertisement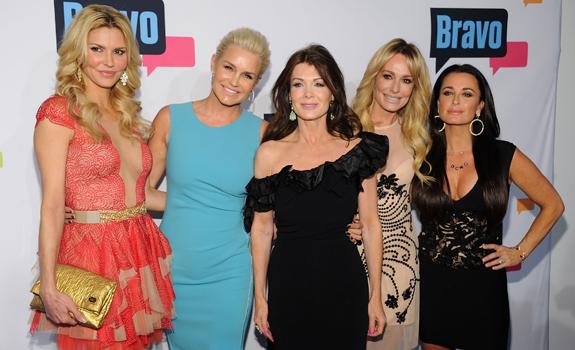 OK!: What was your highlight from this past season of Real Housewives of Beverly Hills?
KR: None. I'm kidding. What was the highlight? You know, I try to focus on the fun parts of the show and when we travel, we tend to have a lot of fun together, even though there always ends up being some argument or disagreement, we always do have a lot of fun together. You know, going to Ojai this season with all the girls was fun. When we did the scene with the flipping and acrobats in the room, we weren't filming anymore. The cameras were down. That was a handy-cam that one of the producers just grabbed while watching us have fun after the cameras all left, which a lot of people don't know so that's a little trivia there. You saw we were cracking up laughing. I literally peed my pants. I was dying. Yeah. Literally. You can go to icktionary.com and look up how you fix that situation. And then Lisa was crying because she knew that. Just seeing all of us doing the flips, and Adrienne who is always so reserved, I mean, we really had a lot of fun. I'd take those moments away.
Article continues below advertisement
18 THINGS WE LEARNED FROM THE REAL HOUSEWIVES OF BEVERLY HILLS REUNION
OK!: What's your relationship now with Lisa Vanderpump?
KR: I was really hurt after the reunion because I felt like they, you know, all attacked me and went after me and I felt like it was deliberate. My personality has always been like this. I not only forgive, I forget. I'm a happy person. I'm happy in my personal life, so I can't even hold on to that. I was hurt, but I get over things.
Article continues below advertisement
My weight has been like this my whole life so—like last season, I was like, 'I felt thin that day. Why did I look like that on camera?' So now I'm doing Weight Watchers again. I had my little Weight Watchers cheeseburger. I actually ate it for breakfast. Desperado.
PHOTOS: 10 REALITY STARS WHO HAVE BEEN IN MOVIES
OK!: What are you doing for the summer?
KR: I think we're taking the kids to Europe. That seems to be the vote right now. We take votes because they're so many of us. Usually, it's something by the ocean. Now the vote seems to be Italy.
What are your tips for a happy marriage or share some of your ickiest situations with us @OKMagazine!