NEWS
Red Carpet Confidential: Lady Gaga Talks About ARTPOP And Wearing The World's First-Ever Flying Dress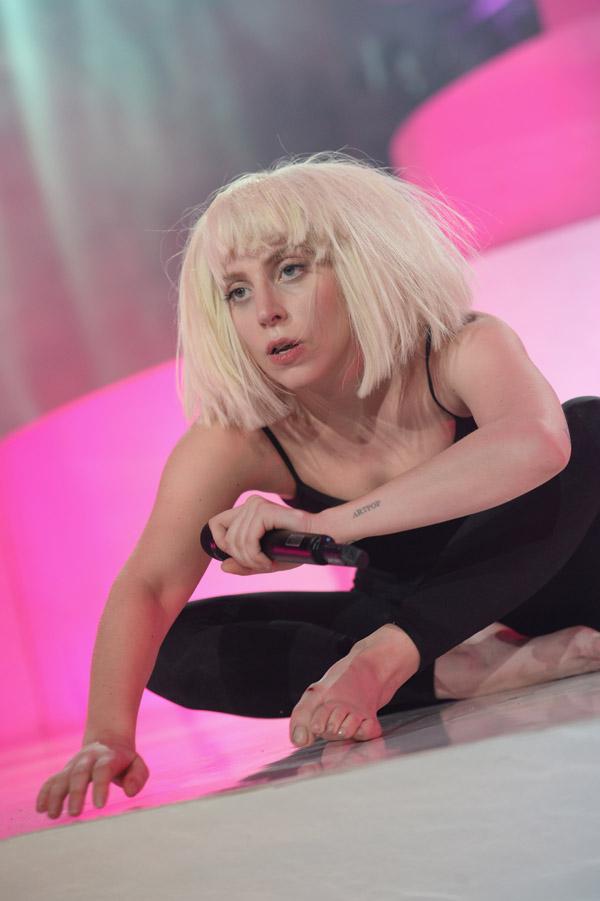 The future is going on for Lady Gaga, who charters a boat from NYC to the Brooklyn Navy Yard for guests to celebrate her new album, Artpop, which just came out at midnight.
A Jeff Koons-designed statue of Gaga giving birth to a blue ball, just like on the album cover, welcomes partygoers, who also get to experience the Benjamin Rollins Caldwell-designed computer chair showcased in her album artwork, and an array of food trucks serving treats like gourmet burgers and fries. Plus, Gaga performs at the event!
Article continues below advertisement
It's only natural that Gaga would want to look forward. She recently made headlines for her plans to become the first artist to perform in space in 2015.
OK! News: Details on Lady Gaga's Trip to Space
"I did not buy a ticket," she says Sunday during artRave, the official Artpop release party. "My ticket was given to me. I was asked specifically to sing, so I'm going to be the first recording artist to sing in space. I did not purchase my flight. This is a special festival event held by Zero G Colony, and I will be flying two months after the first commercial flights take off."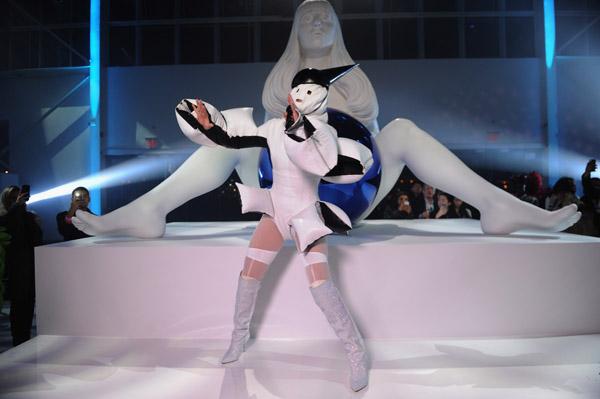 How will she deal with zero gravity?
"I'll have to check out the specs, and I'll let you know."
OK! News: Listen to New Music From Lady Gaga and Taylor Swift
Not only is the Grammy-winning singer excited about life on other planets, but she's also eager to help us earthlings reach our full potential. Case in point: The tech team from Haus of Gaga, TechHaus – Studio XO, is on hand to demonstrate Volantis, which is the world's first flying dress!
MORE ON:
Red Carpet Confidential
Article continues below advertisement
Now this is a sight to see—it feels like watching the Wright Brothers' first airplane flight. Lady Gaga suits up in the contraption, which encircles a dress, and blasts off. It's work-in-progress technology. It takes a loud 3-4 "flights," lifting about 3-4 feet off the ground and moving about ten feet, before making its way across the large venue. So cool.
How was it?
"It was so much fun," she says after high-fiving and hugging her team post-flight. "It was a blast. It's in the very early stages, Volantis. She'll get quieter, she'll move more gracefully, we'll be working on her landing. We're also dealing with pollution. As we continue to do our research, Volantis is going to get better and better."
Although the dress machine is not ready for extensive travel, the Volantis team will continue to work on it.
"I do believe that this has the potential to be real technology," Gaga says. "This idea of a flying vehicle that is green—if we could create airspace, there are so many possibilities."
OK! News: Do You Remember Lady Gaga's First-Ever Single?
Would you want to own your own flying dress? Will you pick up Lady Gaga's Artpop? Tweet us @OKMagazine