NEWS
Selena Gomez on Dealing with Justin Bieber's Alleged Baby Mama Drama: 'It's Not Easy'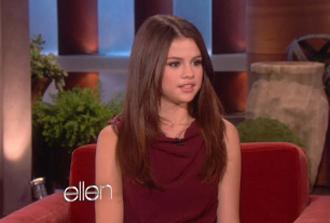 Poor Selena Gomez has had to be the strong woman standing by her man, Justin Bieber, during the alleged baby mama drama these past few weeks. The young singer admitted to Ellen DeGeneres that it hasn't been "easy."
OK! NEWS: SELENA GOMEZ STALKER DISMISSED
"I have to ask before we talk about anything else... . What a crazy last two weeks it's been in the news," Ellen told Selena in an interview airing today on The Ellen DeGeneres Show (via E! News). "You've been all right?"
Article continues below advertisement
"I have been, yeah," Selena said.
"Everything's all good now. You knew that all along, but it's nice to have everything out in the open now," Ellen said in reference to reports that Mariah Yeater has dropped the paternity case against Justin.
"Yeah, it's good to just kind of…be good," Justin's girlfriend agreed.
"Because that's hard," Ellen added. "That's hard to deal with all that stuff."
"Yeah, it's not easy," Selena admitted.