NEWS
Simon Cowell Sounds Off on 'Idol', 'X-Factor' and Squirrels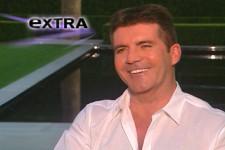 Who should replace Simon Cowell on American Idol? Who better to ask than Simon himself! Extra talked to the judge about his future on X-Factor, his possible Idol replacements and his new girlfriend!
IDOL RECAP: ELLEN JUDGES HER FIRST LIVE SHOW
What can people expect next from Simon how X-Factor?
"It's over a year away and a lot can happen in a year," Simon tells Extra. "I've always made it clear with Paula Abdul I would love to work with her, so we'll see what works out. It's not just my decision."
Article continues below advertisement
"What about Mario Lopez?" Extra suggests.
"Tell Mario to call me. I like Mario... he's good," Simon replies.
OK! NEWS: SIMON COWELL ON HIS SUCCESSOR, MISSING PAULA AND THE TRUTH ABOUT ELLEN
What does Simon think of all his rumored Idol replacements — like Howard Stern?
"The names I've heard... Jamie Foxx, Tommy Mottola. Howard, I don't think so... I would think Jamie," Simon says. "I really like Howard. I think he's winding everybody up at the moment. You know, I think if you're really serious about the job, you don't do it publicly."
As Simon finishes up his final season he's trying to enjoy the moment.
"You know it's kind of a weird feeling, but I made the decision months ago," he says. "In a way, I'm enjoying it. You know it's the last time, you've got to make the most of it."
OK! NEWS: MEET THE AMERICAN IDOL FINAL 24
But before he leaves he does have an apology to make!
"Angela, I apologize," he tells contestant Angela Martin, who made it to Hollywood for a third time, but not to the Top 24. "I genuinely do, because I think you should have been in the top 24."
One thing Simon is taking away from his time on American Idol is his current girlfriend Mezhgan Hussainy, a longtime makeup artist on the show, but it doesn't sound like he'll be settling down with her soon — or at least not having children.
"Uh... I'm thinking about getting a pet," he jokes. "A squirrel... ha ha ha ha!"
OK! NEWS: SIMON COWELL: MY GIRLFRIEND IS "THE ONE"
For more of Simon's interview tun in to Extra tonight!