NEWS
Simon Cowell On His Successor, Missing Paula and the Truth About Ellen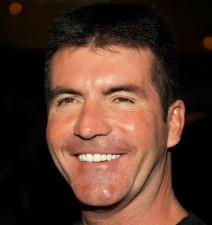 It's Simon Cowell's last season on American Idol, but typically the judge is sharing his opinions on everything: the key qualities of his replacement, his hopes for the show's winner, the truth about those Madonna rumors, how he misses Paula Abdul and what he really thinks of Ellen DeGeneres.
First off, his successor must "have a lot of experience in the music business. It is the most important thing," Simon told reporters yesterday.
Article continues below advertisement
OK! NEWS: MEET THE AMERICAN IDOL FINAL 24
"I think they'll find somebody who's got that kind of experience, whether it's a manager, artist, or like me, an A & R executive," he said.
Simon, 50, who is leaving the show after this season to start an American version of his British TV series, X Factor on Fox, indicated that would rule out rumored replacement Howard Stern.
"I know Howard's name has been in there for a while, but I'm fairly certain that there hasn't been an approach at any time for Howard to do the show," Simon said, adding that Howard doesn't seem "to fit the criteria" of having a musical background.
"He's played records. He's a DJ. He obviously wants the job. Good luck to him."
OK! NEWS: NICK LACHEY IS TOO NICE TO BE AMERICAN IDOL JUDGE
What about the possibility of blogger Perez Hilton taking the chair? "Perez would be funny. He's got a good taste in music, he's a personality — that could work."
Article continues below advertisement
To step into his shoes, though, "you've got to be good looking," Simon joked, but seriously, he added, "you've just got to know what you're talking about. I think more and more I'm starting to realize with these shows that we have to put people on the shows who actually know what they're talking about rather than guessing.
OK! NEWS: SIMON COWELL'S GIRLFRIEND IS "THE ONE"
"You've really got to have experience so you cannot just criticize. You can actually offer constructive advice as well. You've got to find somebody occasionally blunt, but not gratuitously rude.
"The good news for Fox is, there's no shortage of candidates," Simon said. "There's a lot of people. The hardest thing, actually, about finding a replacement is that when you hear people's names like Madonna.
OK! NEWS: MADONNA CONFIRMED AS JUDGE ON MARRIAGE REF
"It will never happen because you've got to give a massive time commitment, so that's always been the problem when you're trying to find people to do these shows. You've got to find people who are prepared to give that much time."
Article continues below advertisement
Does the new judge have to be British, for instance would Noel Gallagher from Oasis be a good pick? "Do you think people would understand him?" Simon laughed. "I know him, like him, he's quite funny."
OK! NEWS: OASIS SPLITS AFTER NOEL GALLAGHER'S SUDDEN EXIT
Simon said it's "very flattering" that many think he is irreplaceable on Idol, but stressed, "the show goes on".
As far as this season is concerned, Simon said: "There's definitely a better chance of a girl winning the show." And in a veiled dig at the previous two seasons' winners Kris Allen and David Cook, he said: "I'd love to find a Taylor Swift, somebody who's relevant rather than just a contest winner."
OK! NEWS: KRIS ALLEN RETURNS TO AMERICAN IDOL TO GIVE BACK
And he wants Lady Gaga as an Idol mentor this season: "She's the most relevant pop artist in the world at the moment."
Simon also addressed the rumors that he doesn't get along with new fellow judge Ellen DeGeneres. "I wouldn't say we didn't get on well, I don't know Ellen that well. It was a difficult position because she started work on the Hollywood week, which is quite a difficult show to do.
Article continues below advertisement
OK! NEWS: SIMON COWELL VS ELLEN DEGENERES ON AMERICAN IDOL
"There was one story I read that I turned up an hour late or something and she wanted to film. The truth was, I think, I turned up 15 or 20 minutes late because I did a press conference earlier in the day and they did start filming.
"That wasn't a particular problem. There was no fallout — I was trying to guide her through the week and that was about it."
OK! NEWS: RANDY JACKSON: IDOL IS ABOUT CONTESTANTS NOT JUDGES
He praised her as a judge so far, saying, "I think Ellen was a good choice. She actually is very responsible for people she has performing on her own show.
"I know that for a fact because I've dealt with her as a record label and she loves music and she's been an artist."
OK! NEWS: AMERICAN IDOL RATINGS ARE GOOD WITHOUT PAULA ABDUL
He admitted he does miss former judge Paula Abdul. "Paula's my friend, amazingly, even though we used to argue a lot. She was somebody I just got very close to over the years. We'd hang out together after the show. She always made me laugh. I do miss her."
Simon said of his Idol swan song season, "I want to go out on a high. I'm going to be sad when it all ends."