NEWS
Spencer "Pratt"les On Through Twitter, Attempts to Stir Up Controversy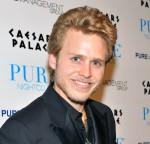 Spencer Pratt has been absent from the media for a while now. His split and reconciliation with wife Heidi Montag didn't garner the attention he'd probably hoped for, so what's a famewhore to do? Obviously, start multiple Twitter wars with people who have managed to maintain the fame he so desires.
On Thursday, Spencer took to his Twitter account attacking former Hills co-star Lauren Conrad, blogger Perez Hilton, and his former network, MTV.
Article continues below advertisement
Spencer on Lauren Conrad: " lets talk ratings when @laurenconrad was relevant for a sex tape at her peak HILLS rated 3+ million. Jersey Shore 6.9million avg"
" if i wanted LC i could of had her any of the mornings she climbed in to bed with Heidi and I to cuddle at theAPT"
OK! GALLERY: SPEIDI SPLIT A FACE; DEVIOUS DUO HAS PDA FEST AT ZOO
Spencer on Perez AND Lauren: "@laurenconrad on a scale of 1-10 how happy are you that bully @perezhilton won't be calling you by your lovely nickname "BEEF CURTAINS?" boo"
Article continues below advertisement
"why would i be nice to fake people like @perezhilton and @laurenconrad I actually know them for who they are. You fall for lies"
OK! NEWS: SPEIDI DIVORCE MAY NOT HAPPEN
Spencer on MTV:"@MTV I LOVE I STILL HAVE MORE FOLLOWERS THEN @MTV that makes me laugh? Don't you have a conglomerate behind you? Make some fake fans/follows"
"@MTV Just joshin'...nothing but love for you, MTV. Also loving all the upcoming change of management! Some jobs getting shifted around."
OK! GALLERY: HEIDI MONTAG MAKES A SAD SPECTACLE OF HERSELF POST-SPENCER SPLIT
Spencer's follow-up Tweet to MTV might make it seem like the first was all done in good fun, but we've all learned never to take the reality star at his word.
Remember how long it took for him to admit that he was the one who started the LC sex tape rumor and that he was the one who created the nickname "beef curtains" that he chides Perez for using?
Article continues below advertisement
OK! NEWS: SPENCER PRATT FINDS SEX TAPE FEATURING HEIDI MONTAG & KARISSA SHANNON
It is funny to watch Spencer acting holier-than-thou, though — attacking "bullies" and "liars" when those are the exact things that made him famous. Of course, according to him, that was all just a façade to keep up ratings.
He Tweeted, "duh i was a jerk on the hills. i was getting paid by @mtv to be the bad guy. Its called a storyline. I am a damn good Actor"
But the question is, if he was just a jerk for the money on The Hills, what's his excuse now?
By Sadie Gennis