NEWS
Tina Fey's Friends Find Humor in Her Mark Twain Prize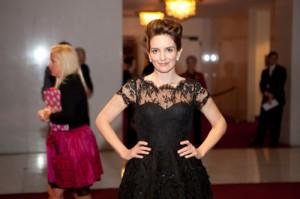 All of Tina Fey's friends were in attendance last night when the comedian was presented with the Mark Twain Prize for American Humor and they came prepared to praise her with humor.
OK! NEWS: TINA FEY HONORED FOR HAVING TOP HUMOR
The Emmy-winning actress is the 13th person to receive the prize and only the third woman behind Lily Tomlin and Whoopi Goldberg.
Washington, D.C. was filled with funniest stars last night for Tina's big night.
Article continues below advertisement
Steve Carell called Tina (via E! News) a "pretty cool cucumber" and "She is a very funny person, but she's surprisingly down-to-earth as well."
OK! NEWS: 30 ROCK SOUNDTRACK ALBUM TO FEATURE TINA FEY'S LIZ LEMON
Tina's 30 Rock co-stars really brought on the jokes.
"I was the first male cast member who tried to force an unwanted kiss on the first female head writer," Tracy Morgan said.
"Tina. Well, that's a funny name for a man," Alec Baldwin said with a southern accent and mustache. Women don't usually win his namesake prize, he continued, because "their brains aren't shaped right."
"Isn't it refreshing to find a comedian who is both really good and funny looking?" Steve Martin joked.
OK! GALLERY: BRAD, TINA & BEN'S MEGA SMILES FOR MEGAMIND
Tina, 40, is actually the youngest person ever to win the award and she's worked hard for it.
"You can't learn talent, but you can learn worth ethic," Seth Meyers said. "She's the hardest worker. She's an assassin."
"She makes fun of people really well—under her breath," Fred Armisen added. "It's so funny, so sharp."
The ceremony will air on PBS on Sunday so you can expect to hear even more jokes from other guests of the night including: Jon Hamm, Amy Poehler, Jimmy Fallon, Jane Krakowski, Jennifer Hudson and Betty White!