NEWS
Top 20 Perform Tonight on 'So You Think You Can Dance' — Will You Be Watching?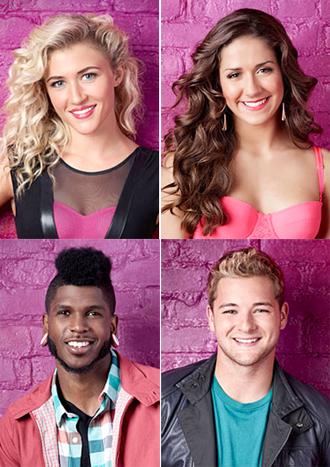 Although we've met the top 20 contestants who will compete on So You Think You Can Dance this season, tonight we finally get see them partner up and battle it out to be crowned America's Favorite Dancers. (And hear Cat Deeley's adorable British accent).
That's right, this year, SYTYCD will crown both a guy and a girl instead of just one contestant, meaning we get to vote for our Favorite Male Dancer and our Favorite Female Dancer. (So much more fun!)
Article continues below advertisement
Plus, we'll get to watch cool celebrity guest judges critique these incredible dancers all season! Lady Gaga even sat on the judges panel last year...
Here are the contestants' names, ages and dance styles — so watch out for them!
The Girls:
Alexa Anderson, 19, Contemporary
Amber Jackson, 21, Contemporary
Amelia Lowe, 18, Contemporary
Audrey Case, 18, Jazz
Eliana Girard, 21, Ballet
Janaya French, 20, Lyrical Contemporary
Article continues below advertisement
Janelle Issis, 24, Belly Dancing
Lindsay Arnold, 18, Latin Ballroom
Tiffany Maher, 19, Jazz
Witney Carson, 18, Latin Ballroom
OK! NEWS: SO YOU THINK YOU CAN DANCE RESULTS SHOW AXED BY FOX! WHAT CHANGES WILL NIGEL LYTHGOE MAKE?
The Guys:
Brandon Mitchell, 27, Stepping
Chehon Wespi-Tschopp, 23, Ballet
Cole Horibe, 26, Martial Arts Fusion
Cyrus "Glitch" Spencer, 22, Animation Popping and Robotics
Daniel Baker, 24, Ballet
Dareian Kujawa, 20, Contemporary
George Lawrence II, 19, Contemporary
Matthew Kazmierczak, 21, Contemporary
Nick Bloxsom-Carter, 20, Ballroom
Will Thomas, 19, Contemporary
Next week, one guy and one girl will be eliminated before the live show, because Fox canceled the SYTYCD results show! So vote for your favorites tonight...