NEWS
Torrey Devitto Spills on Her Hubby Paul Wesley, The 'PLL' Finale and Her Badass Role on 'Army Wives'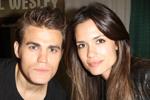 You probably recognize the gorg Torrey Devitto as Melissa from Pretty Little Liars or Meredith from The Vampire Diaries, but Torrey is now on season 7 of Army Wives, playing a bad-ass wife of a soldier who actually has a lot of female friends. A far cry from her other roles, right?
OK! Exclusive: Ken Baumann Dishes on The Final Season of Secret Life
And we caught up with Torrey to dish on why Army Wives is the complete opposite of Pretty Little Liars, which 90's heartthrob she used to send fan mail to, and what her hot husband Paul Wesley thinks of it her daring new role. Oh, and we also got Torrey to tell us what's up next for Melissa in tonight's PLL finale and next season. So keep scrolling!
Article continues below advertisement
OK!: Congrats on Army Wives! Tell me about your character, Maggie, and why you like her so much.
Torrey Devitto: Maggie to me is just a tough, strong woman. She's just a cool chick. I feel like if she were alive in real life I'd wanna be friends with her, which is something I can't say for all the characters I've played on TV (laughs).
OK! Exclusive: Ian Harding Dishes on Rosewood and Aria
OK!: Yeah, all your other characters are kinda mean….
TD: A little mean, a little crazy.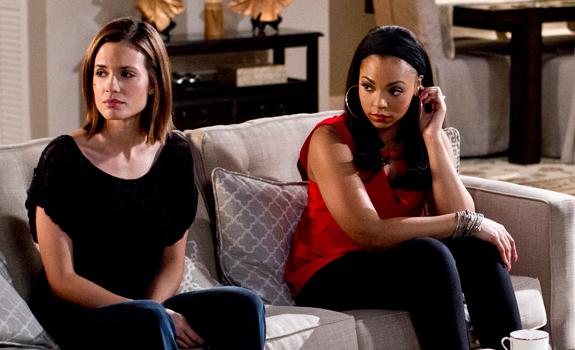 OK!: Is it cool to play something different?
TD: Yeah, it's cool to play. I love that this show has so much female camaraderie on it. The girls just all kind of have each others' backs. I just love the stuff that they get to do together. There's no female going against each other. They're all in it together.
OK!: So it's basically the opposite of Pretty Little Liars…
Article continues below advertisement
TD: Yup! Basically (laughs).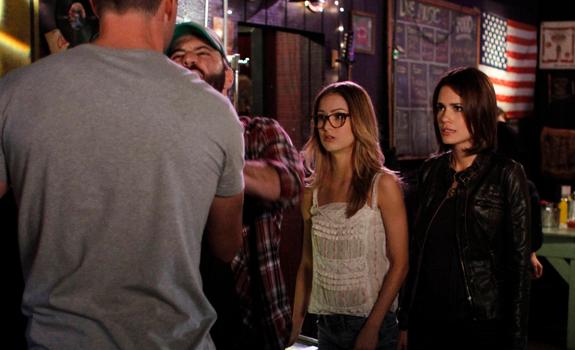 OK!: You've had a few scenes on the show where you hang out with male soldiers. Did your husband Paul (Wesley) get jealous that you were hanging out with so many guys?
TD: No, definitely not (laughs). He thinks it's cool. He loves my character. Cause he rides motorcycles as well as my character does and I've always been so skiddish around motorcycles and I'd refuse to even get on the back of his. But now I'm riding my own on the show so he think it's hilarious. He loves the whole thing. I send him pictures of me in boot camp and he thinks it's hilarious. He loves it.
Photos: Our Favorite TV Teachers, from Fitz to Feeney
OK!: Paul is SO many teens' celebrity crush. Who was yours when you were younger?
TD: Well, I actually found in my bedroom, when I was 13 I wrote Silver Chair fan mail. And it was really embarrassing and I'm so glad it never got sent because it was ridiculous. I also remember, like every other teenage girl from my time, when Romeo & Juliet came out I did a 15 minute presentation in school on Leonardo DiCaprio (laughs). So I was definitely in love with him when I was young.
Article continues below advertisement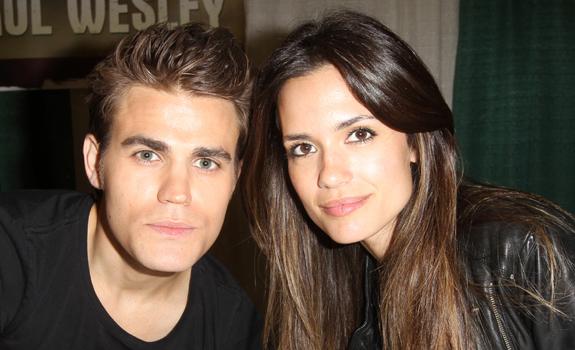 OK!: Oh yeah, the Titanic era was like huge.
TD: Yes. OMG, Romeo & Juliet, I think he broke all of our hearts. That hair that was falling in his eyes. Oh god, stop. He was terrible. He did us all in.
Photos: Paul Wesley and Torrey Devitto Stroll in NYC
OK! Agreed! Do you think there's a role for Paul on PLL?
TD: God I don't know, maybe he could be "A." I think that'd be a good role for him (Laughs).
OK!: I was gonna say I could totally see him like, conspiring with Toby…
TD: Exactly! We'll make that happen.
OK! News: Torrey Devitto is Totally Team Stefan
OK!: Do you think Maggie could survive in Rosewood?
TD: Yeah, I do actually! I think she could give everybody a run for their money. She could hold her own for sure. (Laughs).
OK!: On the reverse, do you think that Melissa could survive in the army?
TD: I'm not so sure Melissa would fit it on the Army Wives. I think they would kinda look at her like she was crazy with all these secrets that she's holding (laughs). But you never know!
Article continues below advertisement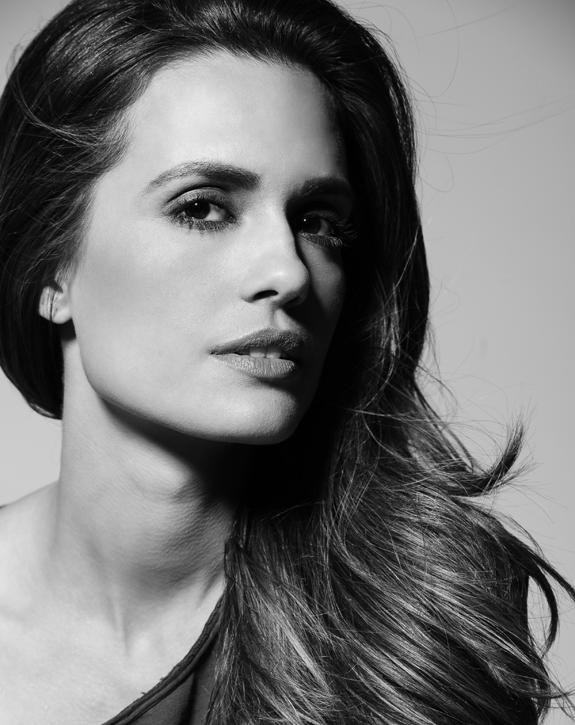 OK!: Tonight is the PLL finale – do you think Melissa is misunderstood or genuinely out to get the girls?
TD: It's crazy because I go back and fourth with all of that myself. One episode I'll get the script and I'll film it and I'll think I'll have Melissa figured out and then I'll get another script and it just throws me completely off and it's something about Melissa that I had no idea about. So I'm confused about that myself. She has these great scenes with Troian where it's like, "Oh she does kinda care about her sister, maybe we have her all wrong, she's not this mysterious evil person," and then something will happen and you're like, "Nope. Yeah, she's pretty evil." I honestly have no idea. I don't know. I just keep reading script after script to find it out myself.
OK! News: Is Spencer Hastings On the "A" Team?
OK!: Because there's a scene where Melissa visits Spencer in the mental hospital. Will she come to support her more throughout this whole weird thing she's going through?
TD: Well, at the end of the day I think she does love her sister but what's Melissa's capability of loving another being, what level of that I'm not quite sure. What hand does she really have in all things regardless of this sisterly bond that they could possibly have? I have no idea. But I think you haven't seen the last of Melissa for sure so that'll be explored further in the next season.