NEWS
Watch: Lea Michele Sits Down With Ellen Degeneres for First Televised Interview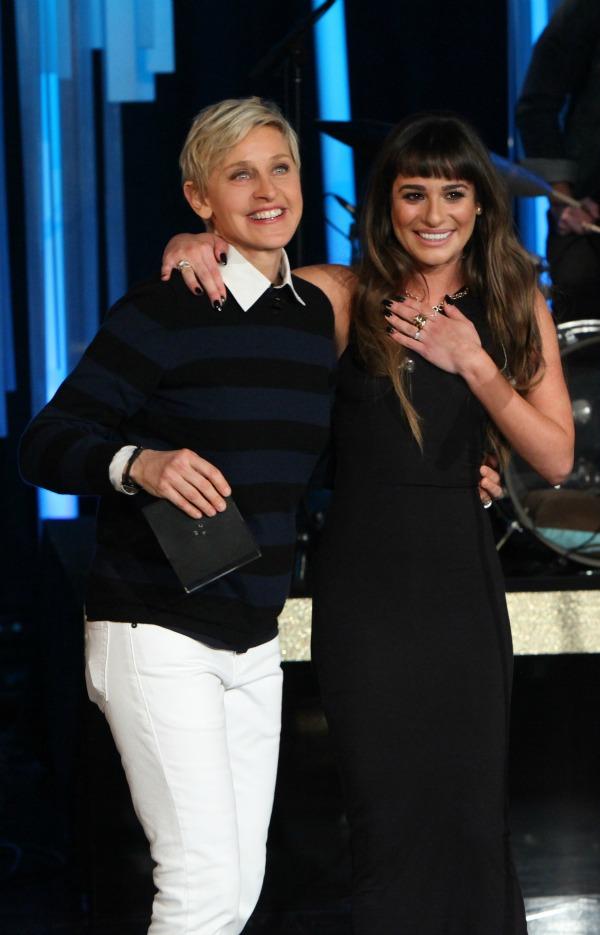 Lea Michele has sat down for her first television interview since the tragic passing of her boyfriend and co-star, Cory Monteith, and it airs today on The Ellen Degeneres Show. She opened up to Ellen about friendships that got her through the pain, and how working on Glee is helping her with her grief.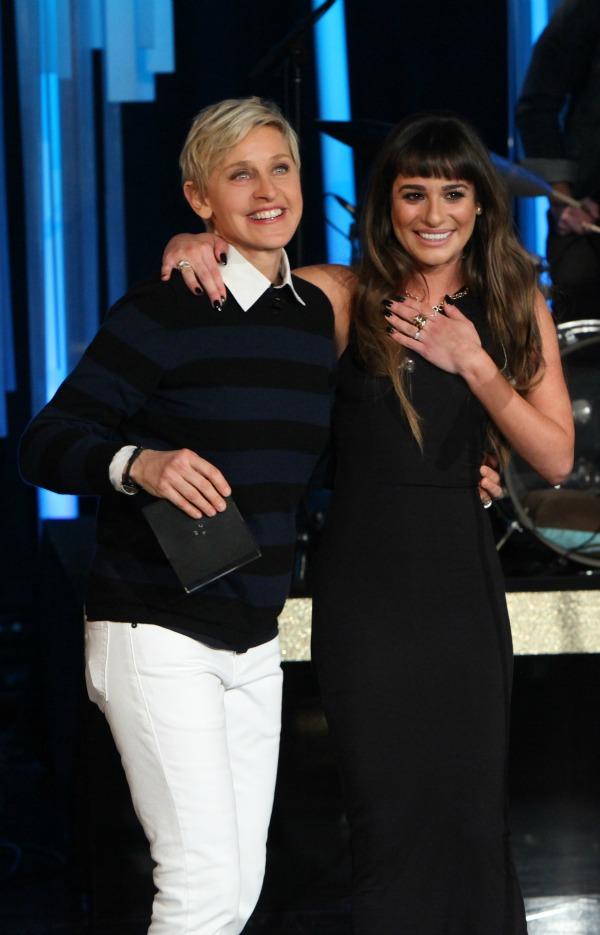 When Ellen asked her about her return to work, Lea explained how Glee creator Ryan Murphy handled the situation. "Ryan Murphy, who is so amazing, he came to Kate Hudson's house, and he said, 'What do you want to do? Whatever you want to do we'll do.' I said, 'I have to go back to work.'" She went on, "What people also don't understand is that going to work is no harder than being at home and being in the house and opening up a closet and seeing a pair of shoes... Grief goes with you every day, whatever you're doing."
Article continues below advertisement
OK! News: It's the anniversary of Spring Awakening! Watch old clips of Lea on Broadway.
Ellen brought up that Cory and Lea's relationship was first publicly outed on Ellen's show. "I remember when he came home that night he kind of puffed out his chest, and he was like, 'I talked about you on Ellen today," Lea said, wiping a tear away at the memory. "I literally lived every day of my life feeling like the luckiest girl in the whole world. I just thought he was the greatest man, and so at that moment, that memory, it means so much to me." Watch here:
youtube=https://www.youtube.com/watch?v=M1fuDAs8uUk&w=560&h=315
"I'm really happy because Cory got to hear all but two songs on the record.... Then after everything happened I met with Sia who's incredible and she said do you want to write anything about this?" Lea wrote "If You Say So" in his honor, then added the current single, "Cannon Ball." "I explained to Sia you know how grief really just, you can get sucked into it. You can literally lose yourself; if you don't actually die from it you can lose yourself completely. And I said to her, 'I need to get out. I need to get out of my house. He would want me to live my life. I have to do this.' She said, oh, that's so crazy cause I wrote this song it's called 'Cannon Ball' and you just said the lyrics."
This episode of The Ellen Degeneres Show airs today, December 12. Check your local listings to see where it airs near you! Do you plan on watching the show today? What do you think of Lea's comments about grief? Tell us in the comments below or tweet us @OKMagazine.