NEWS
What We Learned From This Week's Real Housewives of Miami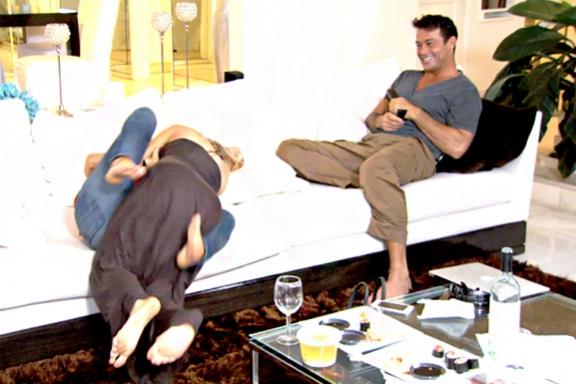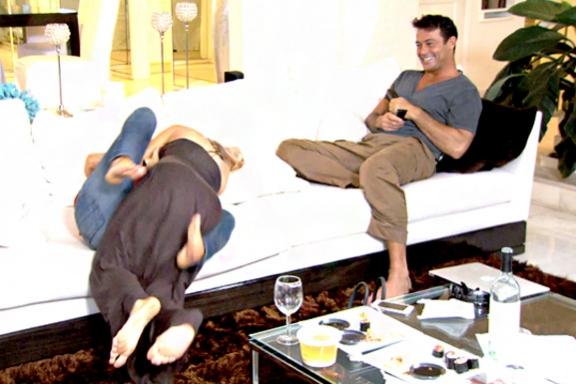 This week's episode of The Real Housewives of Miami kicks off with Joanna finally asking Lisa to be a bridesmaid. Yay! I've been waiting for this.
Watch: Lea Black Reacts To Last Night's RHOM Episode
Over at the Venue magazine office, Alexia is celebrating her birthday. Marysol stops by to drop off a gift and the ladies discuss the oddity that is Adriana and Frederic's wedding evite. Not only are the women slightly appalled by the fact that it's an evite, but the extremely detailed instructions about attire and other nonsense regarding the wedding is a bit...overwhelming. The ladies are not on board with the guests' wardrobe changes and Marysol wants to put a stop to it. "Friends don't let friends torture other friends," she says. Wise woman!
Article continues below advertisement
Back at Joanna and Romain's new abode, Lisa and Joanna have kicked a bottle of wine and are absolutely giddy. Lisa is determined to help get Joanna and Romain's sex life back on track and Romain is mortified, and rightfully so. Men don't like to share their business the way women do. It's a fact.
Watch: Alexia Echevarria Dishes On Her Friendship with Lea and the Upcoming Weddings
Lea arrives at Lisa's house with her brand new coveted Birkin bag and they conspire to keep the extravagant purchase from Lenny. Lea invites her to
Adriana and the A-Team are prepping to get IV cocktails. Am I the only one who has never heard of this before? This is really a thing? Marysol tries to convince Adriana to eliminate this whole costume change thing for her wedding guests but the bride-to-be doesn't want to hear it.
Lea gets together with Alexia for her birthday and takes the opportunity to give her a spiel about her skincare line. Alexia confronts her about not trying to reach out to Marysol's mom Elsa while she was in the hospital. Lea insists she sent cards, flowers and did try to get in touch. Which side is lying? I have my own opinions but I don't think we'll ever really know!
Article continues below advertisement
OK! News: Will We Ever Get Answers To These RHONJ Questions?
Joanna and Romain are back at sex therapy. Things get emotional when Romain starts talking about his childhood. The couple seems to have a breakthrough by the end of the session.
Adriana takes Frederic to Lenny to get him a "touch" of Botox. Should he really be doing this only a week and a half before their wedding? This is making me nervous.
Alexia and Herman's birthday is off to a great start despite a blip when Adriana confronts Lisa about also being Joanna's bridesmaid. People, can't we get over this? They move on and then...Lea arrives. Marysol goes after her about not getting in touch with her mother while she was in the hospital. They argue and Lea tries to leave. Lisa attempts to stand up for Lea but there's no use because Marysol isn't budging from her position that Lea is a terrible person. Ana is there to hurl a few insults about Lisa not choosing sides and says Lisa is defending for the sake of defending. Um, that seems like what you're doing for Marysol, Ana.
Next week it's Adriana's wedding day and things look intense!
What did you think of this week's RHOM? Tell us in the comments below or tweet @OKMagazine.