NEWS
What Would the Countess Do?: Environmental Causes; Harsh Critics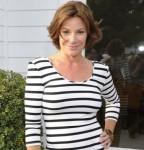 When it comes to etiquette, manners and overall good behavior, even celebrities need help navigating the rough waters of stardom! It's a good thing Countess LuAnn de Lesseps of the Real Housewives of New York is joining forces with OK! to school them on the right thing to do! In a rough situation, we just ask, "What Would the Countess Do?" This week she tackles royal weddings and returning phone calls in the age of social media networks!
Article continues below advertisement
OK! WHAT WOULD THE COUNTESS DO?: MARRYING ROYALTY; RETURNING PHONE CALLS
How important is it for celebrities to set a good example when it comes to environmental causes? How do you pick which charities and causes to support?
It is very important for celebrities to set a good example when it comes to the environment, but I believe keeping our planet clean and green starts at home. I teach my children the importance of recycling, eating local and organic foods and leaving only their footprints behind wherever they go. For charities, I give my time and resources to the American Cancer Society and the ACE Partnership for the homeless because I care deeply about each organization's mission and goals.
Tip: If you can't give money, donate your time.
OK! WHAT WOULD THE COUNTESS DO?: CELEBRITY MEMOIRS; ADVICE FOR D.C. HOUSEWIVES
Jennifer Aniston is always in the public eye, it seems, and this time around she's having to defend herself against a very harsh critic, Bill O'Reilly, who said she's glamorizing single motherhood by being in The Switch. How do you deal with such vocal characters with grace?
As a single mother, I can attest that balancing family and work is very challenging and takes a tremendous amount of organization and patience. If you're not Jennifer Anniston, single motherhood is anything but glamorous and they don't need Bill O'Reilly's opinions on how they live their lives. The best way to deal with vocal critics is to either ignore them or confront their allegations with tact and grace.