NEWS
Amber Heard Says She 'Fell Head Over Heels In Love' With Johnny Depp, Claims He 'Disappeared At One Point'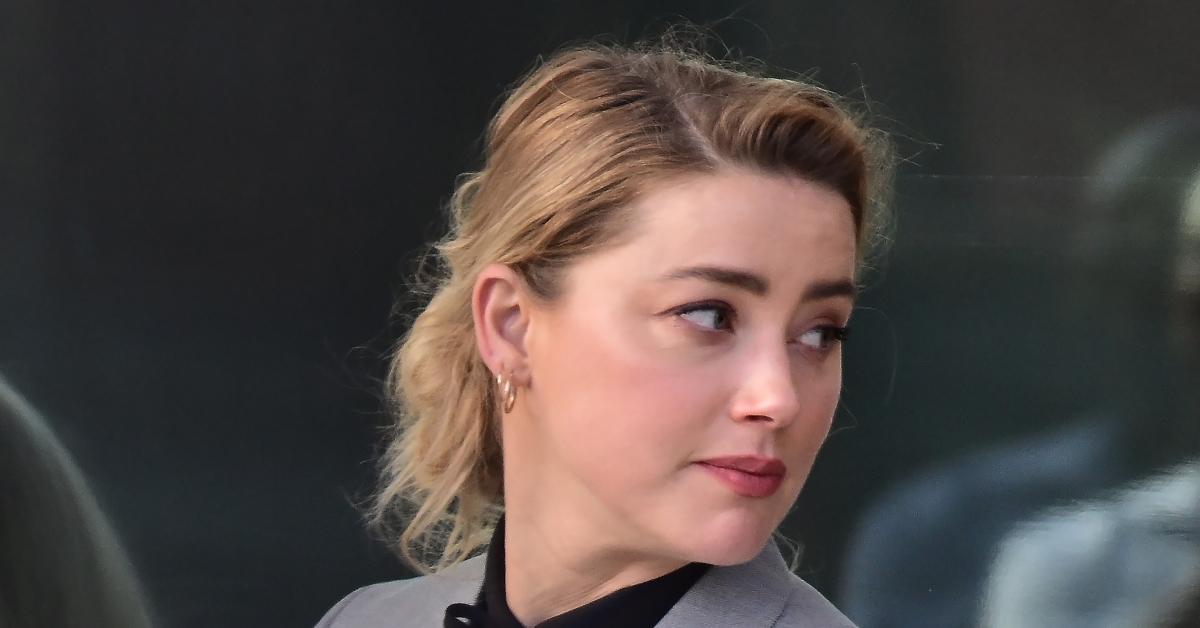 Amber Heard is getting candid about her relationship with ex Johnny Depp. On Wednesday, May 4, the actress admitted her feelings for him were real.
"He disappeared at one point and came back and was dealing with a health issue and asked if I would him in The Bahamas?" she said while on the stand. "That is when I learned he had an island. I was on a trip with a friend of mine to Spain, and it was the holidays, and I re-routed my trip so I could land in Miami instead of L.A. We had this beautiful less than a week just being on beautiful sandy beaches. It's a scene that I had never experienced. It was a beautiful place, a beautiful time, and I fell head over heels in love with this man."
Article continues below advertisement
When the two got together, Depp, 58, was technically still with his partner, Vanessa Paradis, so the actor and Heard had to keep a low profile. Since Depp was constantly filming, Heard would "cook, stay at home and have dinner ready."
She explained, "We would have these little bubbles scattered throughout the Southwest as he was filming. When I first arrived at one of these locations, it was the first time he had told me had a health issue — something with his liver. That is why he wasn't drinking. He was drinking a lot of tea, like a lot of tea."
Heard also shared that Depp had an affinity towards knives. "When he loves things, he does lots of it. He had these daggers he had given me, really beautiful in design. He talked a lot about having a knife and gun collection," she said.
Article continues below advertisement
Article continues below advertisement
Heard also spoke out about how Depp was "so generous" to her family early on. "He met my dad and my dad is a big personality — he is a rowdy guy, and Johnny just all of the sudden he had this Southern accent and was really buddy-buddy with him. They seemed to get along very well — just instantly he was giving my dad gifts, he gave him guns, knives. Johnny just really showered my dad. My dad is a working man — salt of the earth guy, and he was just floored he was getting all of these amazing gifts and invited to come onto all of these locations. I think my dad would have married him himself if I hadn't," she stated. "He gave my mom jewelry while I was visiting Johnny on Lone Ranger in the Southwest. He gave her this turquoise necklace. They were definitely taken by him."
Things were all rosy — until they got dark. "When he first started drinking, I didn't think much of it, but all of the sudden, the behavior started going in line with him disappearing. He would just be different. He would accuse me of saying something else or in a different way. It was mostly my clothing at the time and me working. I found myself trying to not talk about auditions because it would change the mood so dramatically," she said.
One time, Heard was wearing this dress that she loved, but Depp didn't say anything about her outfit. "This is after he stopped talking to me for some time. He wouldn't explain why he was acting different. I didn't know what I had done wrong. When I brought up the dress and the event, I said, 'Did you see that thing?' He said, 'The whole world saw that, kid. That's how the whole world will remember you.' I felt good, and he said, 'Yeah, kid, that's what you're putting out in the world and that is all they will see you as. My dress was low-cut, I get it, but I felt really embarrassed and horrible that I wore that. I felt like, 'How could I have made that choice?' I started to believe that that made a lot of sense, of course. Clothing in general — it wasn't like, 'Hey, you're not allowed to wear that.' It was like, 'Oh, that's what you're wearing. No wonder you get cast in those roles.' It continued. Then there would be a blow-up. At first it would be throw something, smash some things. He loves to smash up a place, an apartment. He threw a glass at me, I remember it was summer, and he just threw this glass across the kitchen. It didn't hit me, but I remember thinking it could have easily hit me."
Article continues below advertisement
He would "disappear" and come back, saying he was getting clean and sober. "Then he would go back to this wonderful just unbelievably nice, sensitive, kind, warm, generous, interesting funny man that I loved. He would make me feel so loved. I would feel so distant from that thing that was so scary that I would not even recognize it and that was how our relationship kind of started developing that year," she said.
At one point, she claimed Depp "slapped" her across the face. "I thought, 'This must be a joke' because I didn't know what was going on, just laughing still. I thought he would tell me it's a joke, but he didn't. You think you're funny b**ch? He slapped me again. It was clear it wasn't a joke anymore and I stopped laughing, but I didn't know what else to do. I didn't know what to do — I as a woman had never been hit like that. I'm an adult, and I am sitting next to the man I love, and I missed the point. Second slap: I know he's not kidding, so I just stared at him. I didn't say anything, I didn't react, move, freak out. I just started at him because I didn't know what else to do. He slaps me one more time — hard."
"I am all the sudden realizing that the worst thing just happened to me. I realized, 'I wish so much he said he was joking.' It didn't physically hurt me, I was just sitting there on this carpet, looking at the dirty carpet how I wound up on this carpet. I didn't know what to do, I didn't know how to react. I just sat there thinking, 'God, did he just hit me?' No, I didn't want to leave him. I didn't want to have the man I was in love with. I know you don't come back from that. I know you can't hit a woman, you can't hit anyone, you can't just hit somebody — I knew it was wrong, and I knew I had to leave him," she continued. "I wish I could say I walked out of that house and I stuck up for myself, but I was just looking at the dirty carpet, trying to walk out the door because I knew I needed to, and I really slowly stood up, and I remember looking at him in the eye because I didn't know what else to do. Before I know it, he starts crying. I have never seen an adult man cry."
"He grabs my hands, and he is saying to me, 'I will never do that again. I am so sorry, baby. I put the f**ker away. I thought I put the monster away, it's done,'" she recalled of the situation. "I didn't have words, I didn't know what to say. I just remember thinking, he was crying. I knew I couldn't forgive him, it means it will happen again."
"I was heartbroken," she said, admitting that she drove home.