COUPLES
Troubled Comedian Andy Dick Announces Engagement — But Fiancé Elisa Jordana Admits 'It's Not Going Well'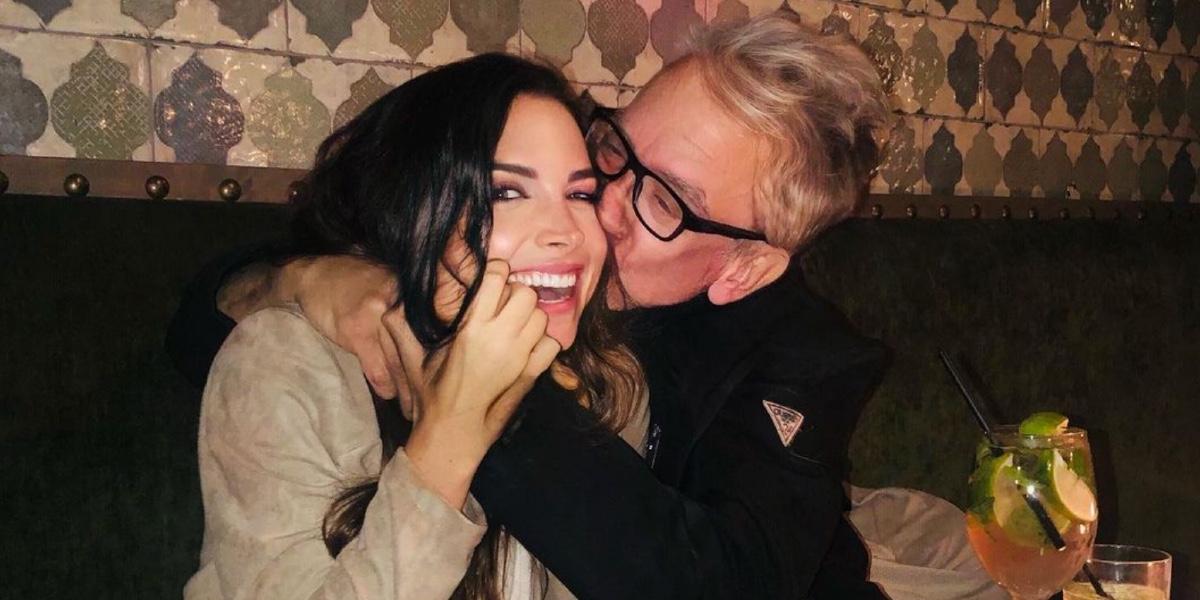 Congratulations?
Comedian Andy Dick popped the question to Elisa Jordana, with whom he appears on the YouTube comedy show Kermit and Friends.
Article continues below advertisement
Article continues below advertisement
The 32-year-old brunette beauty confirmed she accepted her beau's proposal last month.
"He asked me at six in the morning a few Sundays back, and I said yes," she told Page Six. "We are always working on the relationship, so as long as nothing weird happens it is happening. My mom is coming in June for my birthday, so hopefully then."
Jordana is a former member of the dance-pop band Cobra Starship and probably best known for her appearances on The Howard Stern Show. She previously dated Howard Stern writer Benjy Bronk and was on the show so often she became known as "Ms. Howard TV."
The native also appeared in the SyFy television movie Sharknado: The 4th Awakens and on the Fuse TV reality television series Redemption Song, a show hosted by professional wrestler Chris Jericho where 11 women competed to win a record deal with Geffen Records.
Article continues below advertisement
Article continues below advertisement
But despite the joyous news, the couple seems to be on shaky ground. The pair were then set to wed on a Valentine's Day episode, but he didn't show up.
"So I've been engaged for one week," the bride-to-be said. "It's not going well. I haven't spoken to my fiancé since he proposed to me, and I saw he posted an Instagram story with someone's nipple in it."
On February 21, Dick was back on the show, but seemed disheveled, slurred his words and was even kissing another woman.
Article continues below advertisement
JEANNIE MAI DETAILS HER PAST DRUG USE ON 'THE REAL' — BUT SNAPS AT COHOST FOR PUTTING HER ON BLAST
The NewsRadio star has notoriously struggled with drug and alcohol abuse over the years and has entered into rehab programs 20 times in an effort to become sober.
He has also gotten in trouble with the law many times over. On May 15, 1999, Dick was charged with drug possession, driving under the influence of alcohol/drugs, and hit-and-run driving after he crashed his car into a utility pole in Hollywood. He later pleaded guilty to the felony of cocaine possession and two other misdemeanor charges: cannabis possession and possession of a "smoking device."
On December 4, 2004, Dick was arrested for indecent exposure after he exposed his buttocks at a local McDonald's. The following year he dropped his pants and exposed his genitals to the audience at Yuk Yuk's comedy club in Edmonton, Alberta. He was ushered off the stage, and the second night was cancelled.
The same year, Dick groped Pamela Anderson during her 2005 Comedy Central Roast. He joked that he was her plastic surgeon and used the premise to repeatedly grab her breasts. During the roast, Dick also attempted to grope Courtney Love, who proceeded to slap him across the face.
Article continues below advertisement
COMING CLEAN! LUCY HALE, BRAD PITT & MORE STARS OPEN UP ABOUT LIVING BOOZE-FREE
In February 2007, the Less Than Perfect star was forcibly removed from the stage during an appearance on Jimmy Kimmel Live!, after repeatedly touching guest Ivanka Trump. Jimmy Kimmel called in his security guards who assisted as Kimmel dragged Dick off by his legs.
The late night host later said, "Andy did a segment, he was a little out of it. [When Ivanka] came out, he wanted a big, wet kiss. It was time for Andy to go, so I escorted him out by his feet."
Kimmel added, "He always makes me a little uncomfortable, you have no idea what he's going to do next."
On July 16, 2008, the Andy Dick Show star was arrested in Murrieta, Calif., on suspicion of drug possession and sexual battery. He exposed the breasts of a 17-year-old girl when he allegedly grabbed and pulled down her tank top and brassiere. During a search of his person, police reported finding a small quantity of cannabis and one Xanax tablet in his front pants pocket. He was released from jail after posting $5,000 bail.
Dick eventually pleaded guilty to misdemeanor battery and marijuana possession. He was sentenced to three years probation, had to pay about $700 in fines, and was ordered to wear an alcohol-monitoring bracelet for one year.
Article continues below advertisement
On January 23, 2010, Dick was arrested about 4 a.m. at a bar in Huntington, W. Va., on charges of sexual abuse after reportedly groping a bartender and a patron. He was released from jail after pleading not guilty and posting $60,000 bail. Criminal charges of first degree sexual abuse were later dismissed after Dick completed the pretrial diversion program
In January 2011, Dick was thrown out of the AVN Awards, a pornographic movie awards ceremony, after repeatedly groping and stalking adult film actress Tera Patrick and drag queen Chi Chi LaRue. He later claimed to have stayed clean for at least three months after this relapse.
SEEING GREEN? FROM LADY GAGA TO KENDALL JENNER, MEET HOLLYWOOD'S STINGIEST STARS
In April 2011, Dick was at a party connected with the Newport Beach Film Festival. He appeared intoxicated, exposed himself, urinated on a backdrop and afterwards destroyed it by pulling it down. The organizers claimed that this caused thousands of dollars of damage.
In October 2017, Dick was fired from a role in the independent film Raising Buchanan due to allegations of inappropriate behavior which, according to The Hollywood Reporter, "included groping people's genitals, unwanted kissing/licking and sexual propositions of at least four members of the production."
While he denied most of the allegations, he said, "I might have kissed somebody on the cheek to say goodbye and then licked them. That's my thing – I licked Carrie Fisher at a roast. It's me being funny."
It would later be revealed that in the same month he had also been fired and escorted off the set from another film, Vampire Dad, due to what was referred to as "multiple, flagrant acts of improper conduct and inappropriate contact with several crew members." He later said, "I overtook my medication and took too many Xanax and I was a bit loopy." He said, "I won't do it anymore. I won't lick anyone's face anymore. We have an agreement."
Dick was most recently charged with misdemeanor sexual battery and battery charges in June 2018 for allegedly groping a woman in April that year. He pleaded not guilty in October 2019 to charges he grabbed an Uber driver by the genitals.